What's New!
August 13, 2020
Alma 53:23
BOOK OF MORMON ART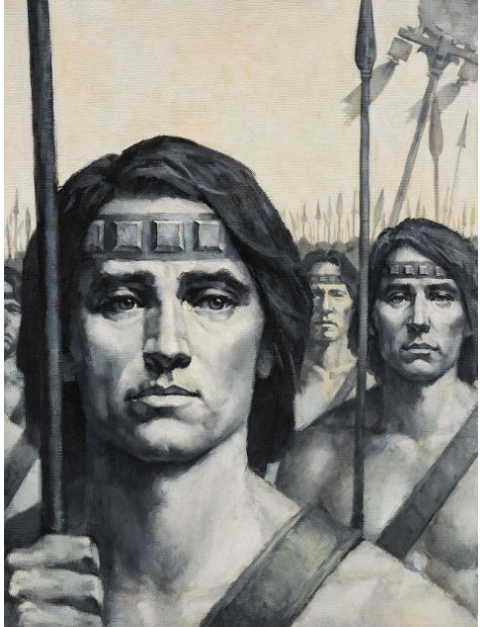 Two Thousand Lamanite Warriors Go to Battle
Artist unknown
Acrylic on canvas
August 12, 2020
Alma 56:48
BOOK OF MORMON ART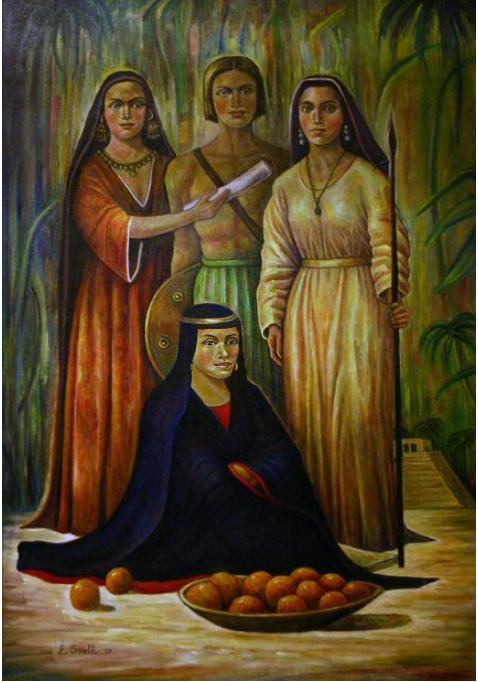 What Power a Mother's Teachings
Elaine Smith
Oil on canvas, 1999
August 10, 2020
Alma 56:47
BOOK OF MORMON ART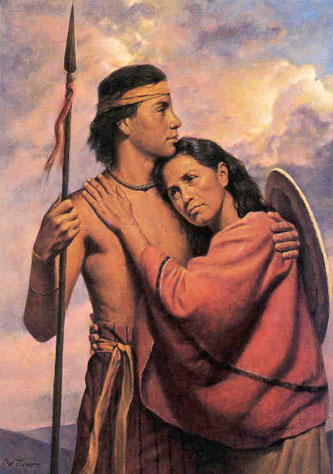 Del Parson
This image was inspired by my wife and son when he was leaving on his mission. We were at the airport saying our good-byes, and I watched him as he hugged my wife. She was hanging on, having a very hard time letting him go, and he was hugging her, but he was looking beyond her — toward the airplane. He was obviously ready to go. The expression on her face was one of trepidation. It was as if she were asking herself, "Have I prepared him for this? Have I done all I could?" While his expression was one of eager determination. He had been preparing so long for this and he was ready to get started.
That moment made me think of the story of the Stripling Warriors. Those two thousand young men had never fought before. They had no idea what they were up against, or what to expect going into battle against the Lamanites, but that didn't matter to them. They were prepared in spirit and in faith. They knew that the things their mothers had taught them were true, and they were willing to march into the unknown, with their strength and courage coming from their faith. I think about those young men and their resolve to defend their families and their homes. They went forth with bravery and they succeeded. Then I think about their mothers. I know how worried and afraid they must have been. That's what moms do. They worry and they wonder if they have prepared their sons. That is really the feeling I wanted to portray in this painting.
August 9, 2020
Alma 50:1-6
BOOK OF MORMON ART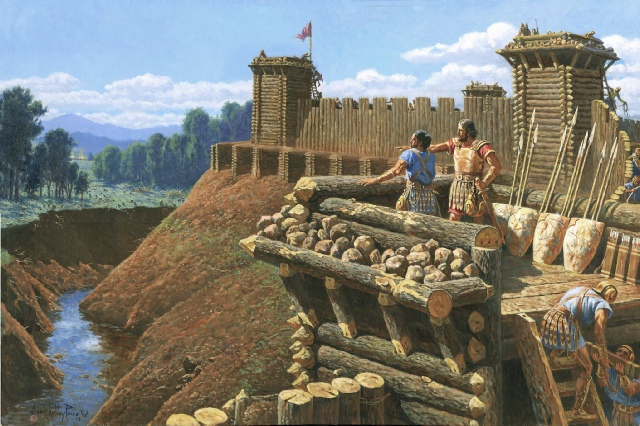 Moroni Fortifies the Land of the Nephites
Clark Kelley Price
July 24, 2020
Alma 39-42
BOOK OF MORMON ART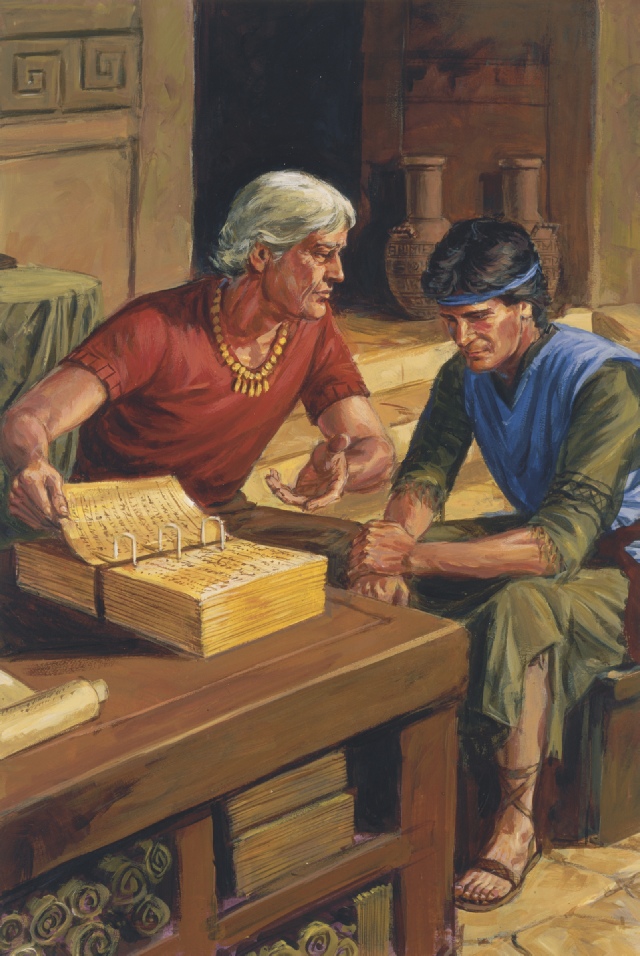 Alma the Younger Counseling His Son
July 23, 2020
Alma 36:12
BOOK OF MORMON ART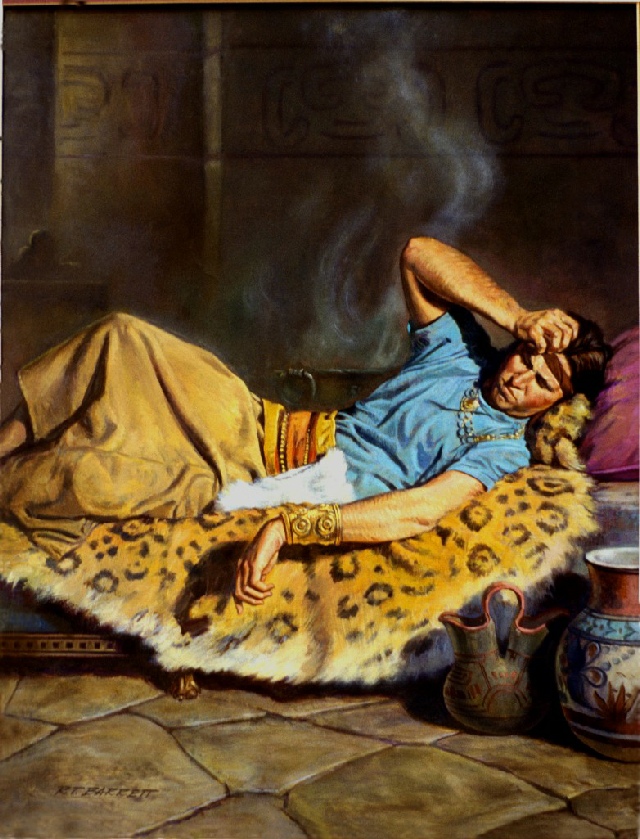 Robert T. Barrett
July 22, 2020
Alma 37:23
BOOK OF MORMON ART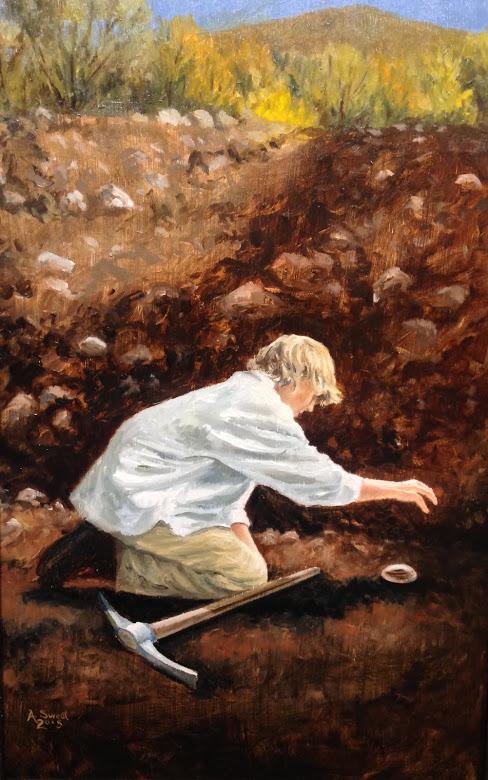 Anthony Sweat
Recently the Church published the first known photographs of one of Joseph Smith's seer stones. Although sources vary, Joseph Smith apparently found a seer stone when he was 16-years-old while digging a well near his home. Using this stone, Joseph developed his capacity as a seer, searching for buried treasure and lost items. He would later apply this gift to translate the Book of Mormon. With the Hill Cumorah in the background, this painting depicts the youthful Joseph finding his stone, prophesied in the Book of Mormon, "I will prepare unto my servant Gazelem, a stone" (Alma 37:23).
July 21, 2020
Alma 37:44
BOOK OF MORMON ART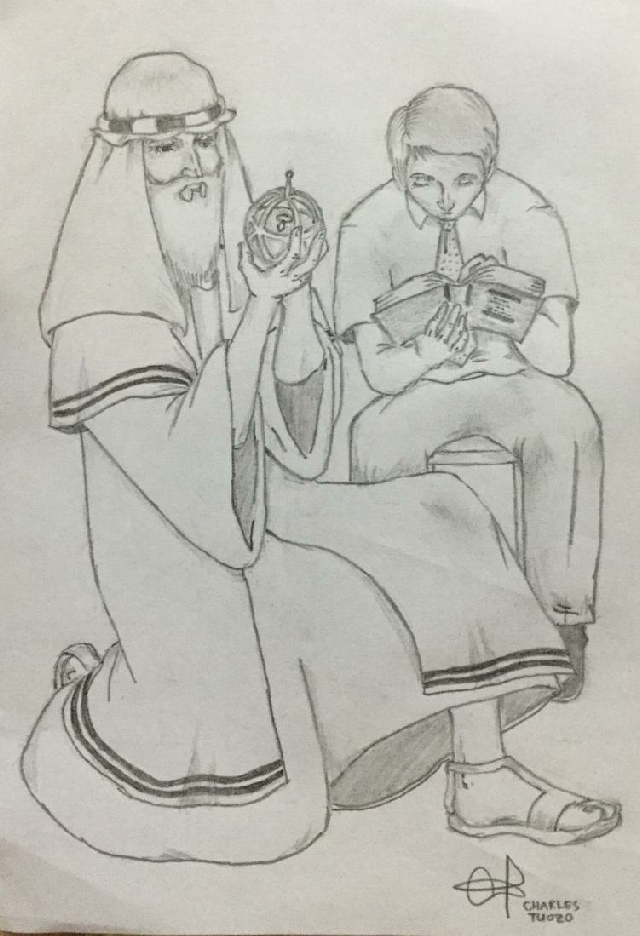 Charles Tuozo
Like the Liahona that guided Lehi and his family, The Book of Mormon is our guide to eternal life.
July 20, 2020
Alma 32:28
BOOK OF MORMON ART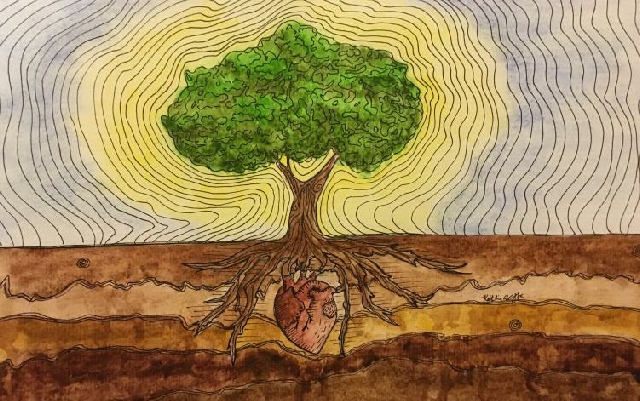 Kaitlin Acosta
In my painting I wanted to depict the tree of life. When I created it, I thought of Alma 32:28 and it says,"Now, we will compare the word unto a seed. Now, if ye give place, that a seed may be planted in your heart, behold, if it be a true seed, or a good seed, if ye do not cast it out by your unbelief, that ye will resist the Spirit of the Lord, behold, it will begin to swell within your breasts; and when you feel these swelling motions, ye will begin to say within yourselves—It must needs be that this is a good seed, or that the word is good, for it beginneth to enlarge my soul; yea, it beginneth to enlighten my understanding, yea, it beginneth to be delicious to me." I included a heart in the roots to symbolize our testimonies. Like any seed, it needs water, sunlight, and soil. A tree can not thrive on human food. So like a seed of a tree, what we put into our hearts determines what our growth will be. I also included layers of soil to symbolize time. Testimonies aren't always immediate. It takes time, effort, and trust in the Lord. When we do the small and simple things, we will see incredible blessings and grow into our fullest potential.
July 18, 2020
Alma 32:41
BOOK OF MORMON ART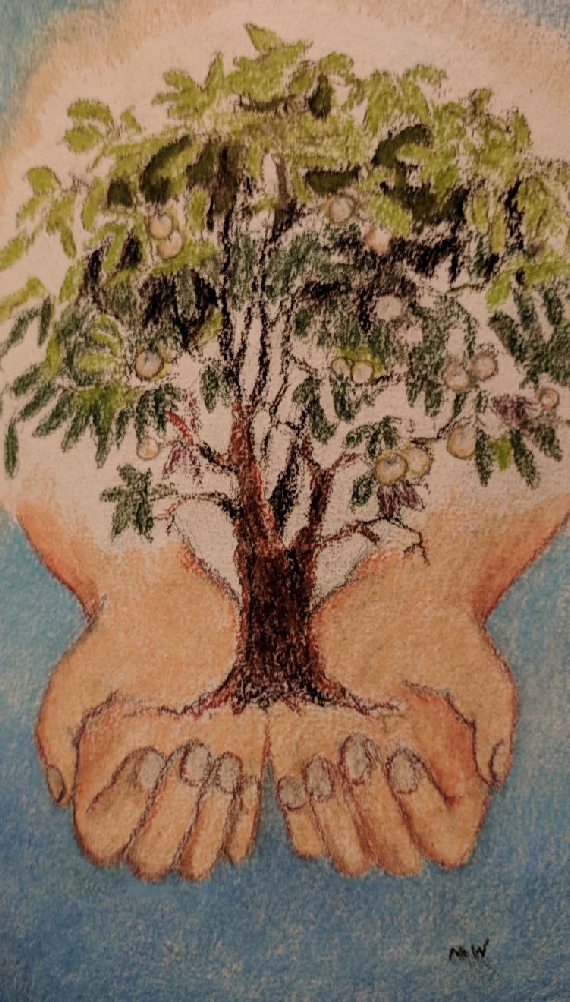 Marie Withers
In Alma 32, the scriptures describe how we plant the seed of faith, give it care and nourishment, and it will become a great tree. Alma 32:41: "But if ye will nourish the word, yea, nourish the tree as it beginneth to grow, by your faith with great diligence, and with patience, looking forward to the fruit thereof, it shall take root; and behold it shall be a tree springing up unto everlasting life." Normally I paint in oils, but this piece was created in pastels.
July 16, 2020
Alma 32:43
BOOK OF MORMON ART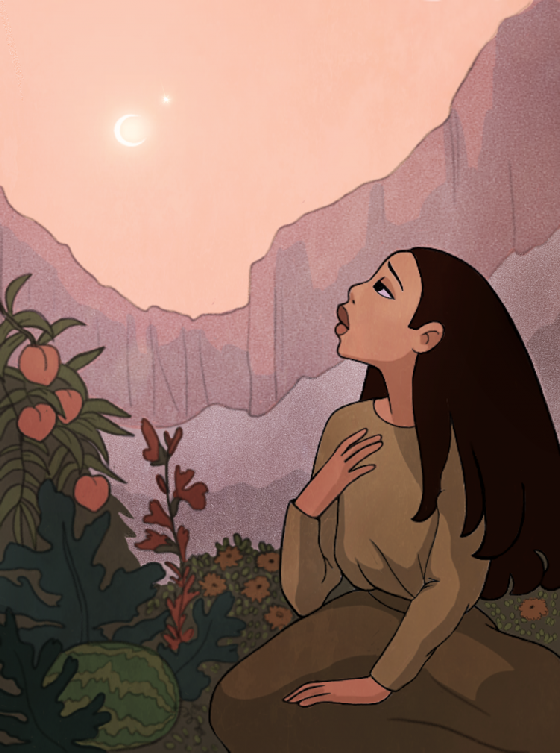 Courtney von Savoye
This piece won First Place in the 2018 Book of Mormon Central Art Contest.
This piece was inspired by Alma 32 in the Book of Mormon. In this chapter Alma explains the nature of faith being something believed and not seen. As faith grows it is like a seed being planted in a person's heart and if they are faithful and learn more of the gospel they are blessed with fruit. This is represented in this piece with a girl giving thanks for the fruit that was grown in a barren desert. Since she was faithful she was able to receive her reward and can now grow stronger. The moon and star represents the spirit since her gaze is aimed up toward heaven.
July 15, 2020
Alma 32:30
BOOK OF MORMON ART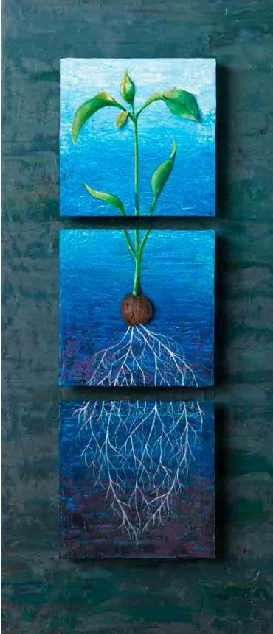 Natalie Christensen
oil on canvas with clay and shell
"Some of the most wonderful works of God that I have witnessed were the conversions I saw while serving a mission. I witnessed many miracles as I taught the gospel and watched lives change. I made this piece to show the progress of an individual's conversion. It is more of a process than one large experience, and I wanted to give each stage its own attention. The planting of the seed is just as important as the nurturing of the young plant. As a person matures in the gospel, roots of understanding and commitment reach into the rich soil to provide strength and support for the new life, now visible to others. Conversion happens between individuals and God, but I was blessed to be able to observe the process."