What's New!
June 2, 2020
Alma 7:10
BOOK OF MORMON ART
Jorge Cocco Santangelo
June 1, 2020
Alma 5:34
BOOK OF MORMON SCULPTURE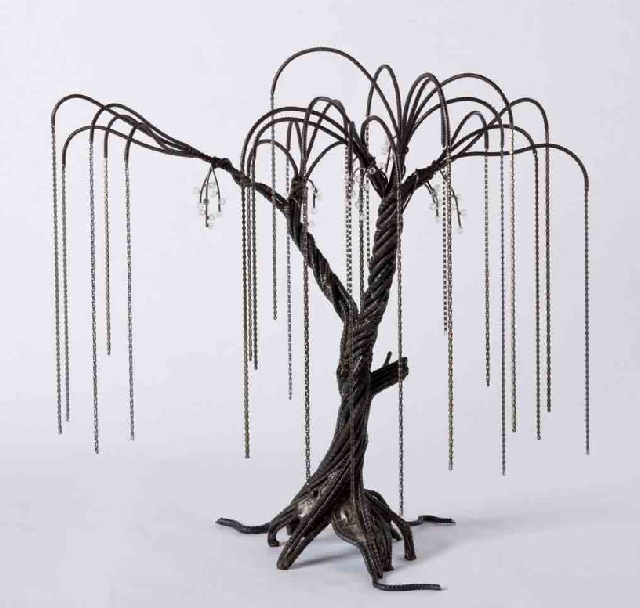 rebar and steel sculpture
"I believe one of the most wonderful works of the Lord is the tree of life. To create the trunk of the tree, I had to heat the rebar to be able to twist it into the shape I desired—just as our Heavenly Father uses trials in our lives to mold us into the person He envisions us to be. Gears were added to the trunk—like experiences in our lives that give us strength and character. The bicycle chains add movement to the tree and the ability to change. The marbles are attached to the tree with magnets and can be removed, symbolizing the partaking of the fruit of the tree, or the love of God."
May 31, 2020
1 Nephi 1:17,18
BOOK OF MORMON ART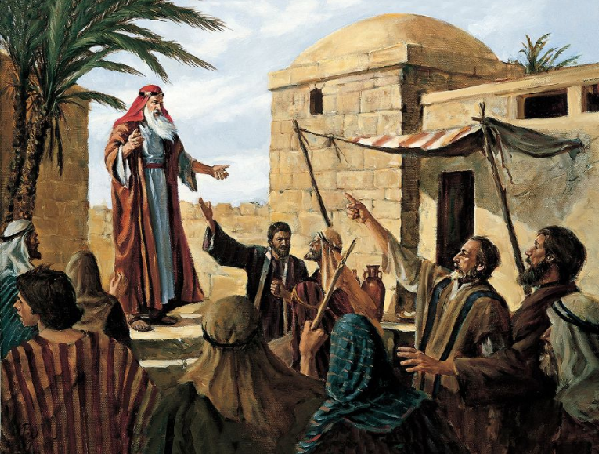 Del Parson
Oil on canvas, 1977
May 30, 2020
2 Nephi 29:8
BOOK OF MORMON ART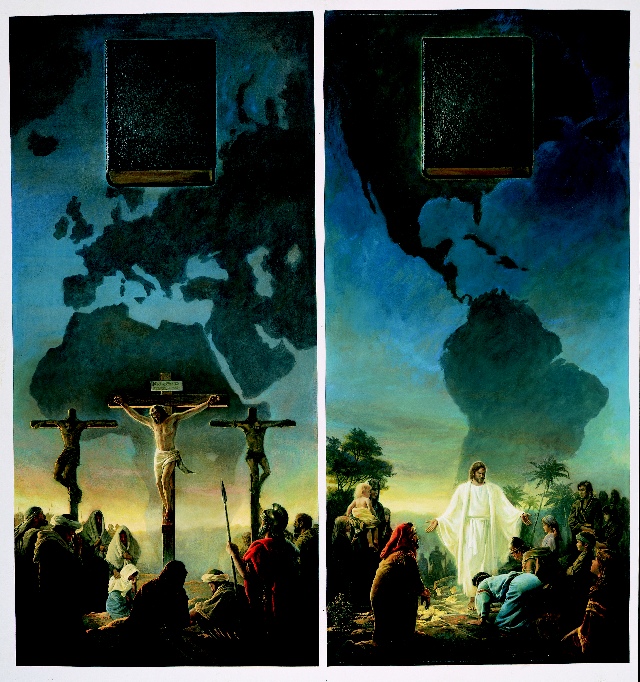 The Bible and the Book of Mormon Testify
That Jesus Christ Is the Savior of the World
Greg Olsen
acrylic on paper, 1989
May 29, 2020
1 Nephi 14:7
BOOK OF MORMON NEEDLEWORK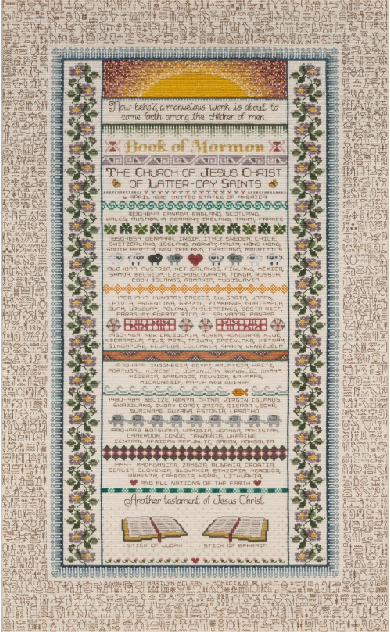 Marilyn McLean
thread on fabric, 1999
May 28, 2020
2 Nephi 29:9
BOOK OF MORMON ART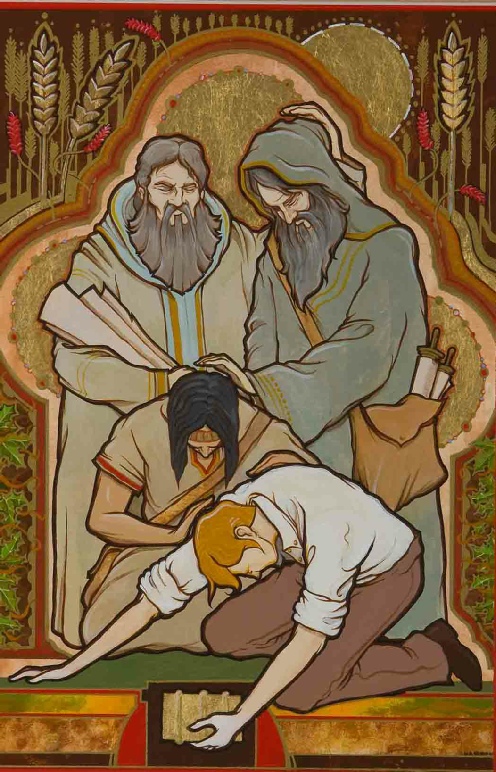 mixed media 2008
This artwork depicts the fulfillment of prophecies given through the Lord's prophets. There are four prophets: Isaiah with his prophetic writings, Ezekiel with scrolls of scripture from two nations, Moroni humbly kneeling over the plates he diligently kept, and Joseph Smith retrieving the record and fulfilling a long-awaited promise. Framing the prophets are motifs from the scriptures—golden wheat woven with tares as described in the parables of Christ, as well as vines and branches, further connecting the Lord to his messengers. I have made an effort to progress from the color and texture of the area surrounding the ancient prophets to a modern style and palette used beneath the modern prophet, Joseph Smith. Each element, color, and figure testifies of the continuation of the Lord's pattern of calling prophets to lead His people.
May 27, 2020
Alma 1:15
BOOK OF MORMON ART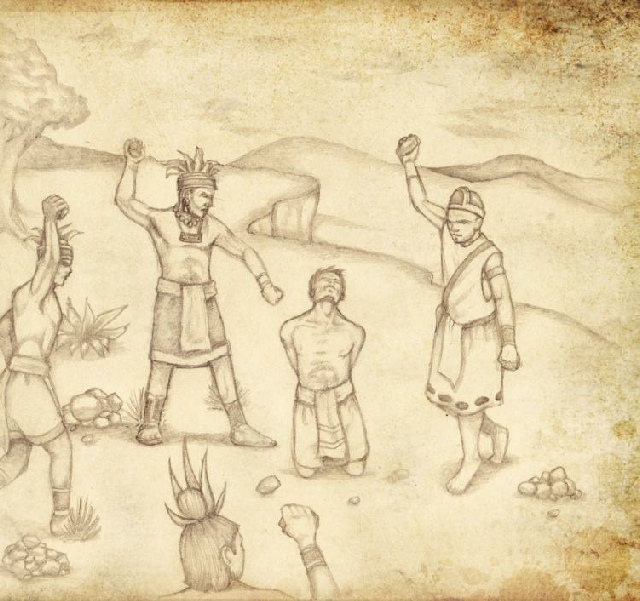 Jody Livingston
May 26, 2020
Alma 2:34
BOOK OF MORMON ART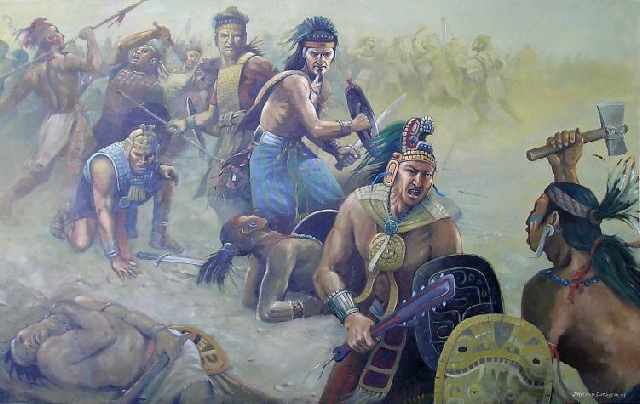 Jorge Cocco Santangelo
May 25, 2020
Mosiah 29:33
BOOK OF MORMON ART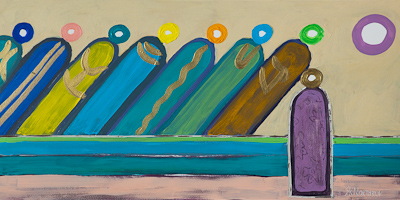 The Burden of the Righteous King
Stephanie Kay Northrup
Acrylic on Carved Hardboard, 24" by 12"
"And many more things did King Mosiah write unto them, unfolding unto them all the trials and troubles of a righteous king, yea, all the travails of soul for their people, and also all the murmurings of the people to their king;...And he told them that these things ought not to be; but that the burden should come upon all the people, that every man might bear his part...Therefore they relinquished their desires for a king, and became exceedingly anxious that every man should have an equal chance throughout all the land; yea, and every man expressed a willingness to answer for his own sins (Mosiah 29:33-34, 38)." The burdens of his people weigh this king down like a peg being driven into the ground! We know that King Mosiah did not "exact riches" of his people, thus each is depicted with a touch of gold, and the only gold on Mosiah lies on his head/crown.
May 24, 2020
1 Nephi 4:28
BOOK OF MORMON ART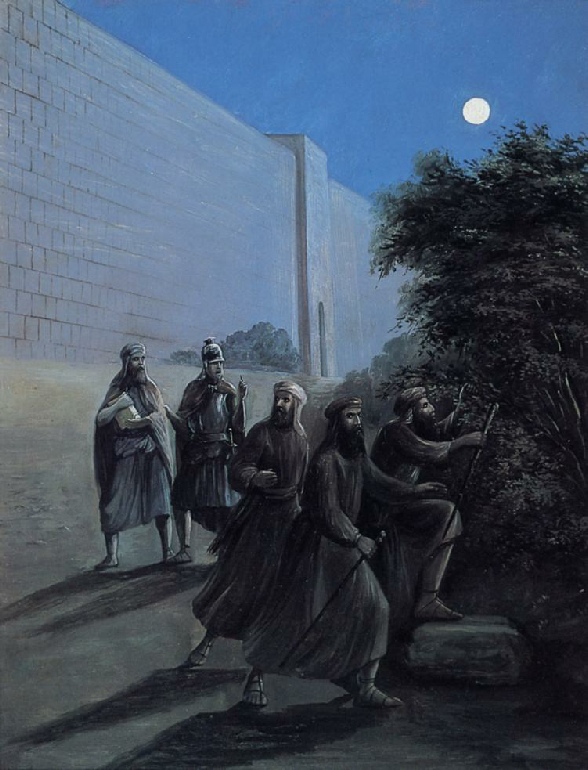 Nephi and Zoram with the Brass Plates
C.C.A. Christensen
Oil on board, 1890.
Lehi sent his sons back to Jerusalem to obtain genealogical and religious records. Nephi acquired the records with considerable difficulty, through divine aid, and persuaded Zoram, a servant who delivered the precious items to Nephi, to join his family in the wilderness. In this night scene Nephi and Zoram meet Nephi's brothers outside the walls of Jerusalem. The brothers, mistaking their identity, flee in panic. There is charming melodrama in the expressive nature of this painting.
May 23, 2020
1 Nephi 4:24
BOOK OF MORMON ART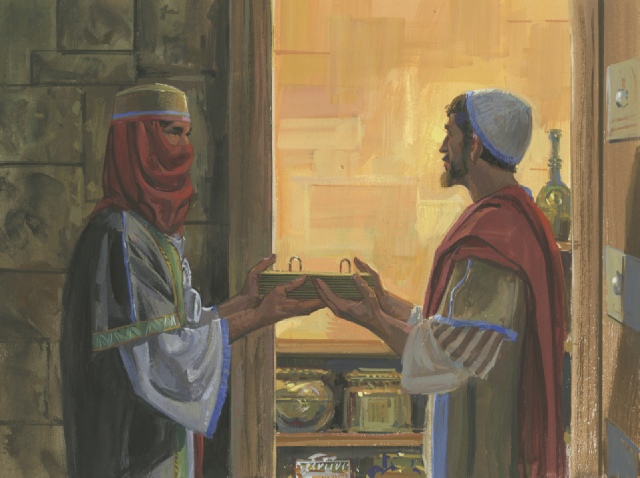 Jerry Thompson
A painting by Jerry Thompson depicting Nephi and Zoram talking; Primary manual 3-43
May 22, 2020
Mosiah 4:19
BOOK OF MORMON ART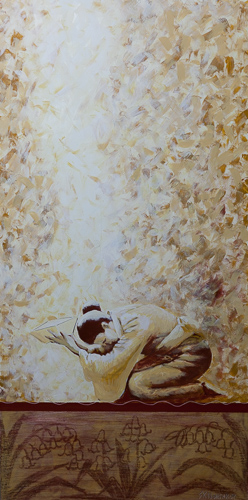 Stephanie Kay Northrup
"This is the same theme as my other piece by the same title that was shown at the LDS Church History Museum, just a more realistic take on the figure begging. This piece will be shown at St. Matthew Lutheran Church in Waco from Oct 27 to Nov 4, 2012. The bluebells represent grattitude in the Japanese language of flowers.
"Consider the lillies of the field, how they grow; they toil not, neither do they spin:
And yet I say unto you, That even Solomon in all his glory was not arrayed like one of these...shall he not much more clothe you, O ye of little faith?" Matthew 6:28-30"
May 21, 2020
Mosiah 4:19
BOOK OF MORMON ART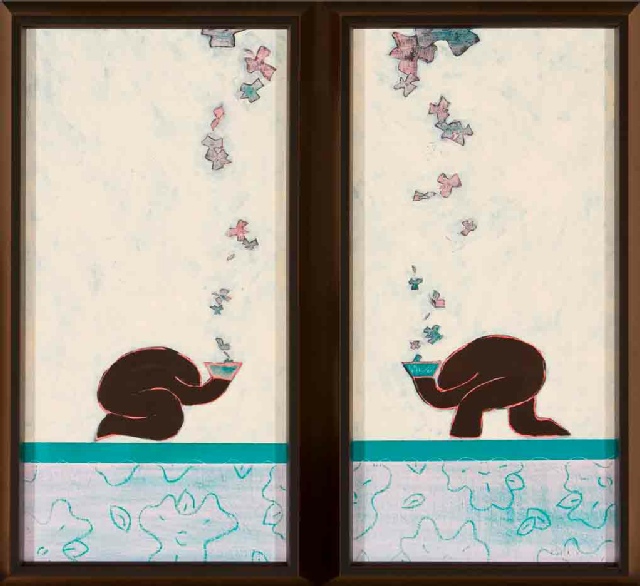 Stephanie Kay Northrup
acrylic on panels
May 20, 2020
Mosiah 27:29
BOOK OF MORMON ART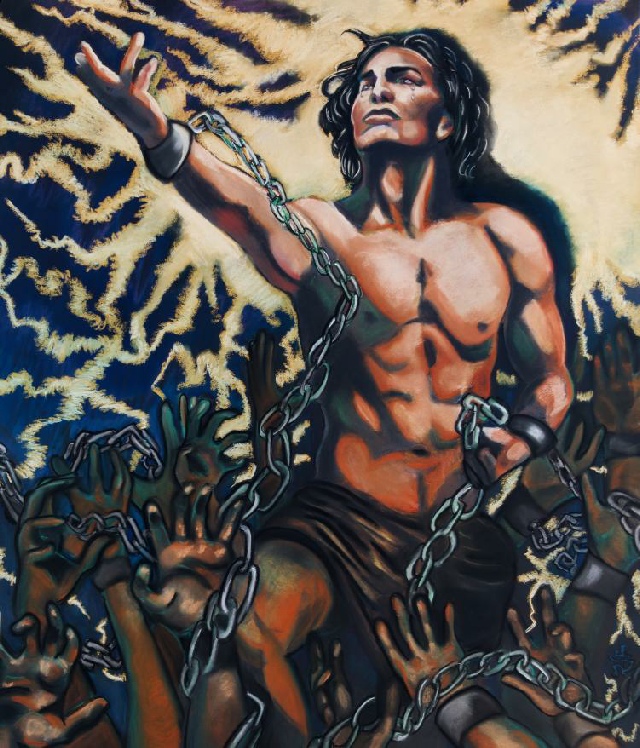 Alma's Bondage: In the Gall of Bitterness
Tiffany Brazell
Honorable Mention in the 2017 Book of Mormon Central Art Contest
In creating this image, I was thinking of Mosiah 27:29: "My soul hath been redeemed from the gall of bitterness and bonds of iniquity. I was in the darkest abyss; but now I behold the marvelous light of God. My soul was racked with eternal torment; but I am snatched, and my soul is pained no more." This is his moment of epiphany.
May 18, 2020
Mosiah 27:14
BOOK OF MORMON ART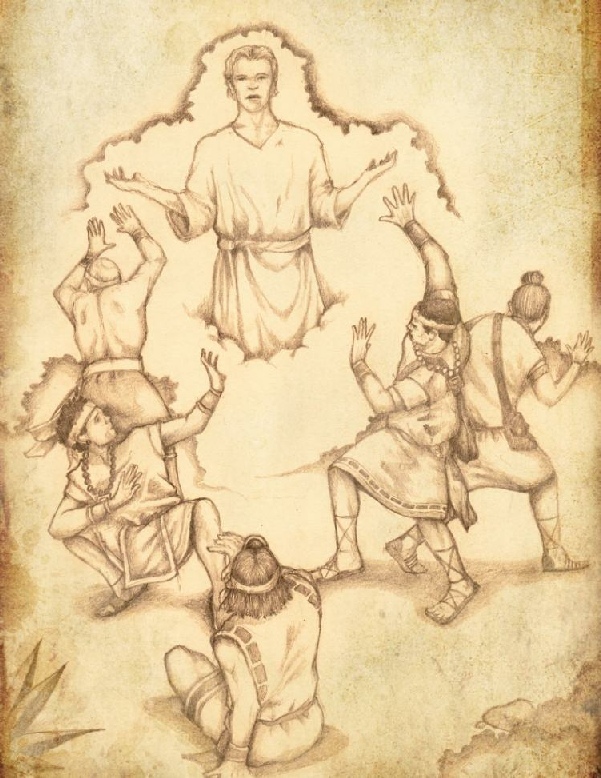 Angel Appears to Alma the Younger and the Sons of Mosiah
Jody Livingston
May 17, 2020
Mosiah 27:36
BOOK OF MORMON ART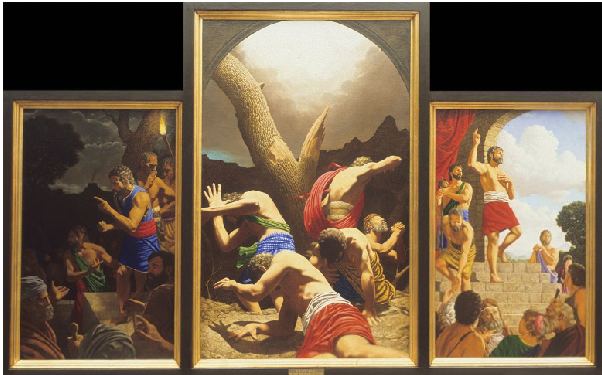 The Conversion of Alma the Younger and the Sons of Mosiah
Oil on wood.
May 14, 2020
Mosiah 19:6
BOOK OF MORMON ART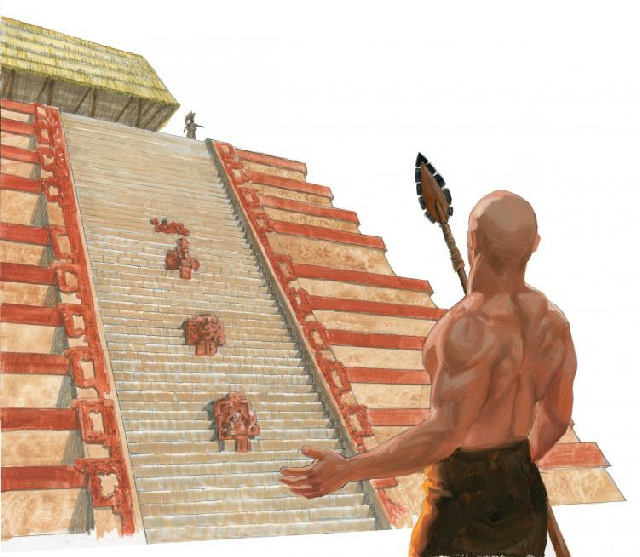 James H. Fullmer
May 13, 2020
Mosiah 18:13
BOOK OF MORMON ART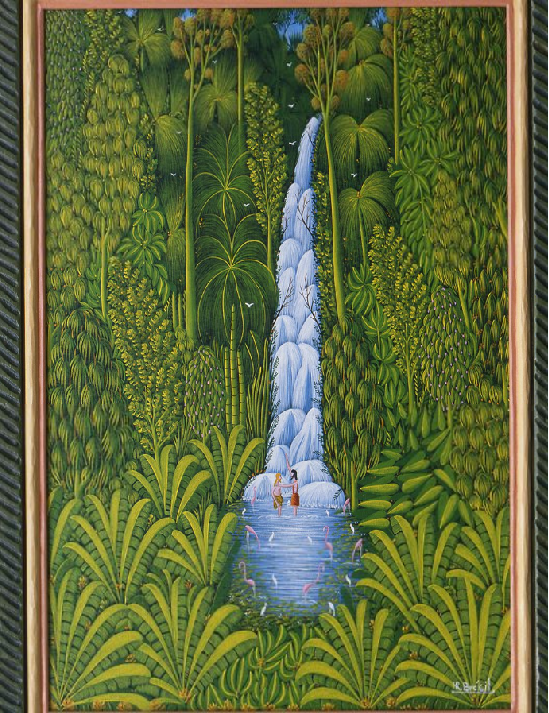 Baptizing in the Waters of Mormon
Oil on canvas
May 12, 2020
Mosiah 18:13
BOOK OF MORMON ART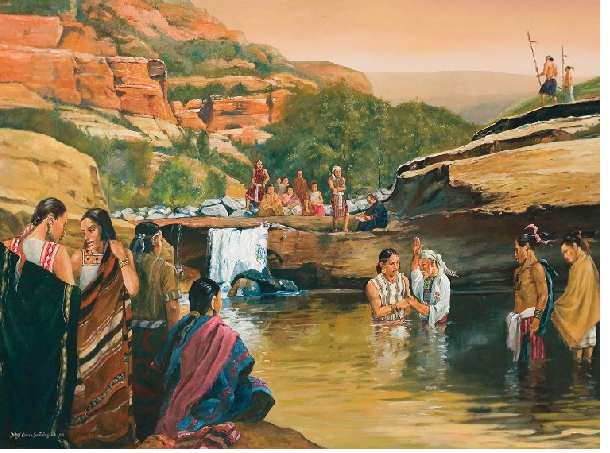 Oil on canvas
May 11, 2020
Mosiah 18:12
BOOK OF MORMON ART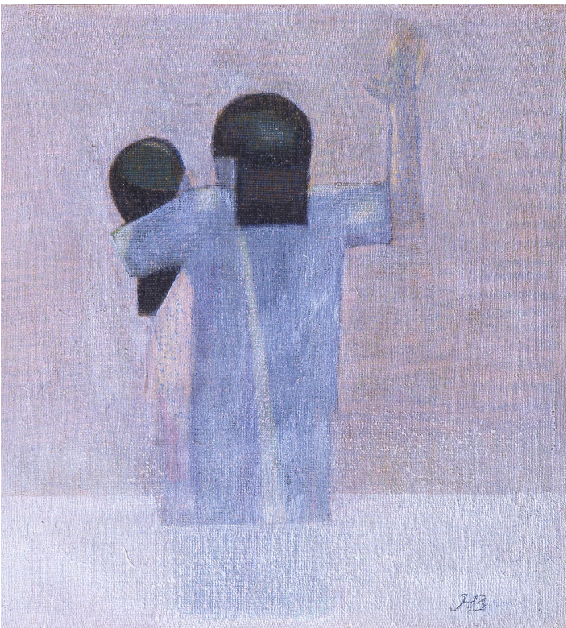 Johan Helge Benthin
Oil on textile