What's New!
May 18, 2019
Jacob 5:72
BOOK OF MORMON ART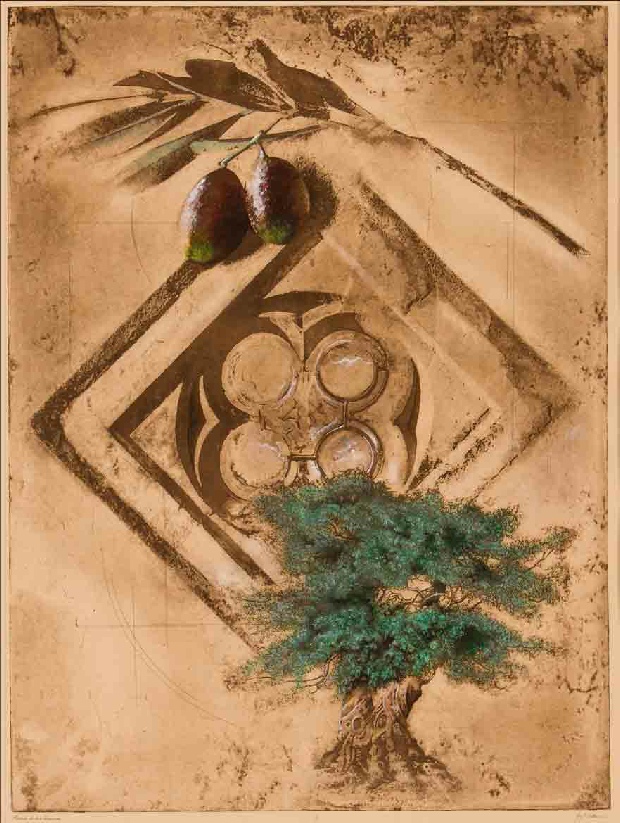 Jay Wallace
tinted intaglio print on paper
The allegory of the olive tree, recorded in Jacob 5, makes known to me God's wonderful works. It is an allegory of the Master, of His devotion and work in the vineyard throughout the world and of the work of his servants. The olive tree is one of the archetypal elements of the earth, known for its ability to grow in dry, unforgiving soil. In the center of the artwork lies the quatrefoil from Christian symbolism. A window represents the four gospels and all servants who labor diligently for the salvation of man. In Native American culture, the leaves of the quatrefoil symbolize the four outermost parts of the vineyard.
Mosiah 14:2
BOOK OF MORMON ART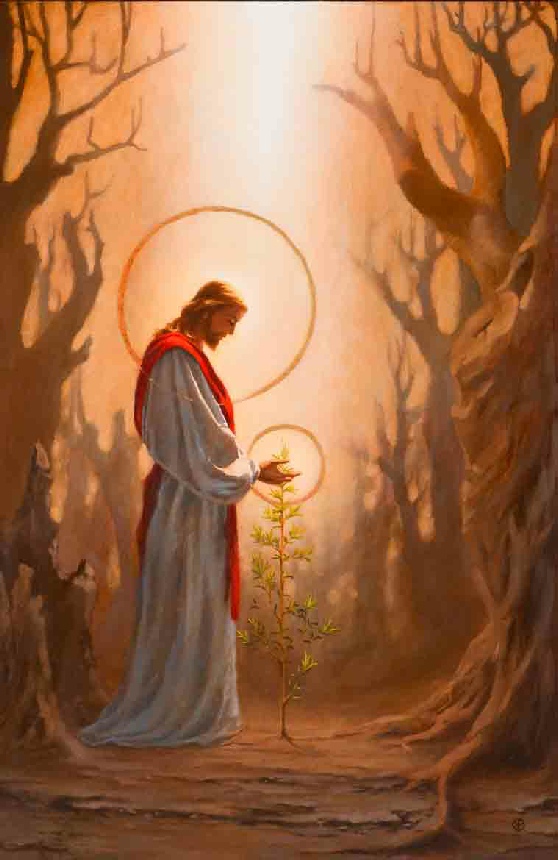 Jennifer Yvonne Paget
oil on panel
This painting depicts various aspects of the Atonement. It is based on Isaiah 53:2, "For he shall grow up before him as a tender plant, and as a root out of a dry ground." The most wonderful work of God is the Atonement. The Father sent His Son "as a tender plant" to suffer for our sins. The Savior made old become new, and He still continues to do so with our lives. In the midst of the wasteland of the world, Christ is the only way of light and life.
3 Nephi 23:1
BOOK OF MORMON QUILT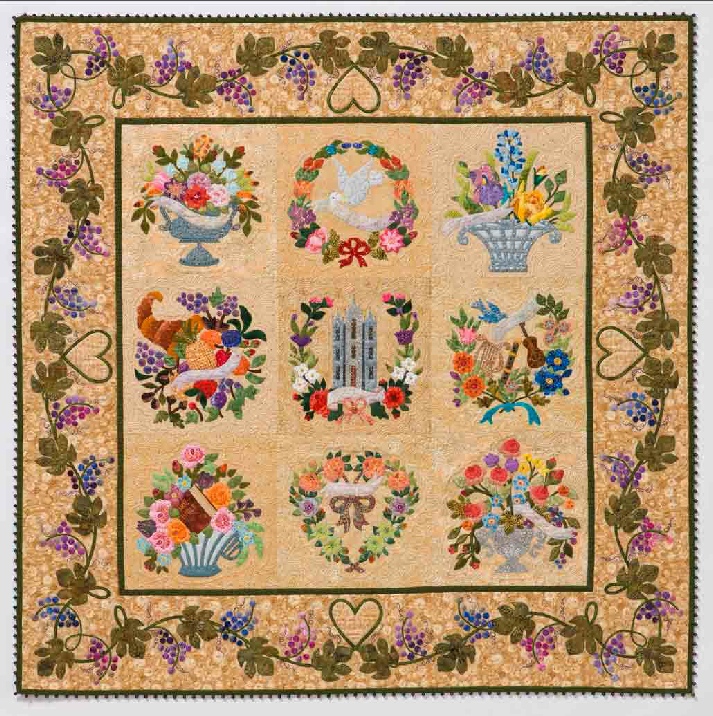 Joyce Stewart
cotton fabric with crystal embellishments
Scriptures from Isaiah are represented on banners in each of the nine floral blocks. The Salt Lake Temple is depicted in the center block. The grapevine border suggests abundance of life and the life of the Savior.
Jacob 5:74
BOOK OF MORMON ART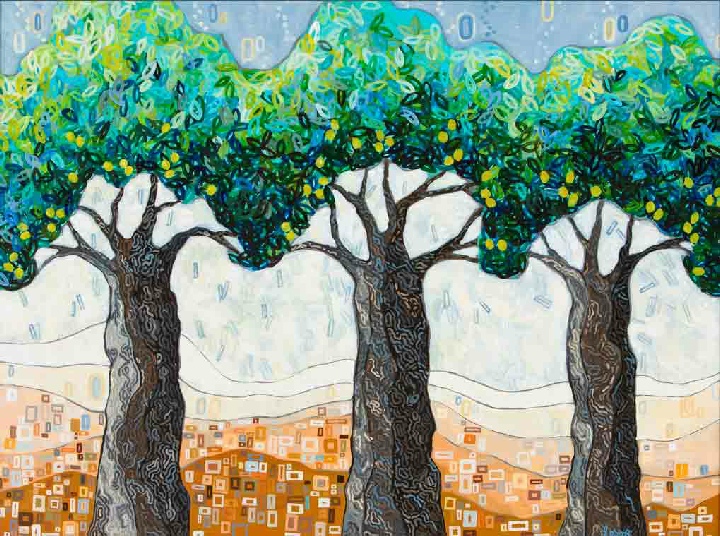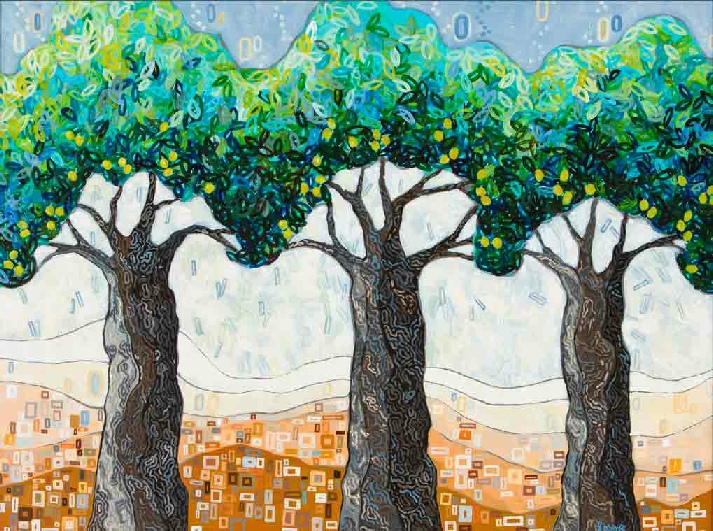 Leslie Graff
acrylic on canvas
This piece explores the symbolic use of olive trees in the scriptures. Jeremiah 11:16 states that it is an honor to be likened to an olive tree: "The Lord called thy name, A green olive tree, fair, and of goodly fruit." The promise of God's covenant blessings is symbolized in the tame olive trees, and our individual lives and works in the good fruit. The painting is set in the modern day to represent the gathering of the house of Israel and the final proliferation of good fruit. It testifies of the Savior's ministry of hope and salvation.
1 Nephi 8:24
BOOK OF MORMON STAINED GLASS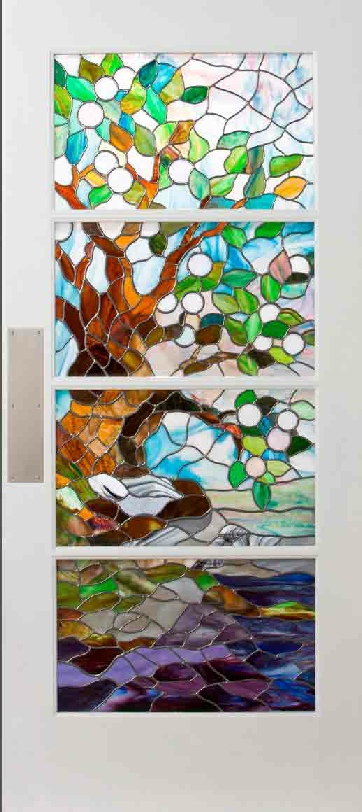 Leslie Vaun Martin
leaded stained glass door
"Behold, I have dreamed a dream" (1 Nephi 8:2), Lehi proclaimed to his family. He then described a tree whose bright, white fruit filled his soul with great joy. With the feeling of a tender parent, Lehi entreated his family to partake of the fruit of the tree—the love of God. In this piece, the tree of life feeds on the fountain of living waters. Its gnarly trunk, rooted in the rock of revelation, gives foothold to all who climb to partake of the fruit. Light enlivens the roots, leaves, and fruit. Righteous desire starts us on the path; joy is our reward.
1 Nephi 8:26
BOOK OF MORMON SCULPTURE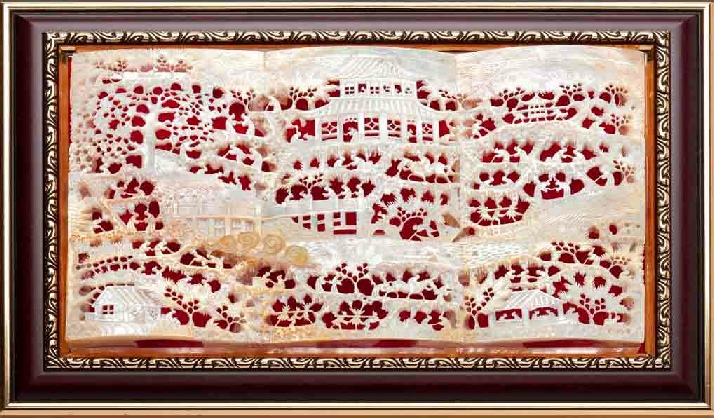 The Vision of Lehi (The Tree of Life)
Lukchau Tang
Pearl shell sculpture
"This work is pieced together with pearl shells, featuring ancient Chinese architecture and people. The colors displayed by the pearl shells are more dazzling than ivory and will not fade. That is why I chose pearl shells."
May 12, 2019
3 Nephi 18:7
BOOK OF MORMON SCULPTURE

Jacob Elton Dobson
Hydrocal plaster
May 11, 2019
3 Nephi 17:7
BOOK OF MORMON SCULPTURE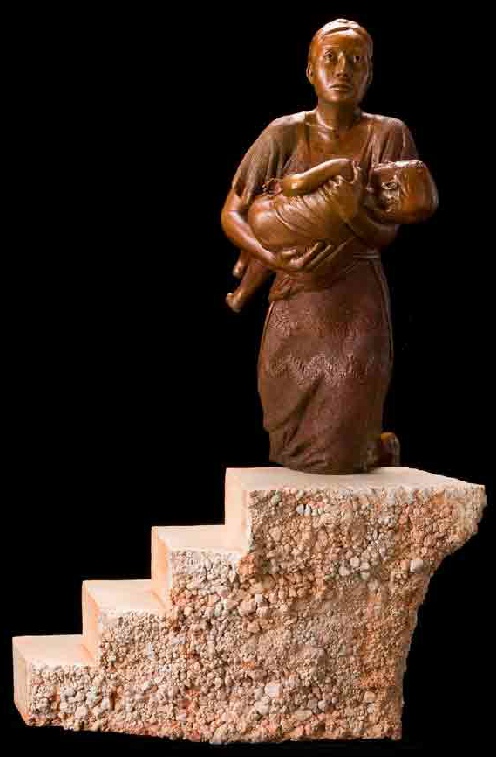 And Christ Did Heal His Other Sheep
Jacob Elton Dobson
2012 – cast bronze figure, cement base
" I have done two versions of this sculpture. The first represented Christ healing in the Old World. This version represents the Book of Mormon account of Christ healing His "other sheep . . . which are not of this fold" (John 10:16). Christ asked the people if there were any sick among them and said, "Bring them hither and I will heal them, for I have compassion upon you; my bowels are filled with mercy. . . . And he did heal them every one as they were brought forth unto him. . . . And it came to pass that he commanded that their little children should be brought. . . . And he spake unto the multitude, and said unto them: Behold your little ones" (3 Nephi 17:7, 9, 11, 23)."
May 10, 2019
3 Nephi 19:4
BOOK OF MORMON MOLDED AND PAINTED CLAY SCULPTURE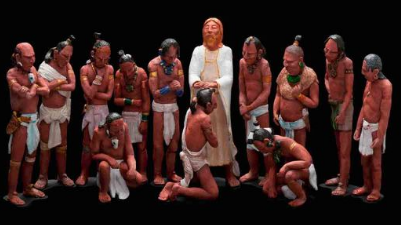 Filiberto Gutierrez
2012
"I can almost name each piece as I form it, for its expression of solemnity almost brings out a personality that I can recognize. The scriptural source for this sculpture is 3 Nephi, chapters 12, 15, and 28, in the Book of Mormon."
May 9, 2019
Jacob 7:11
None of the Prophets Have Written, Nor Prophesied,
Save They Have Spoken Concerning This Christ
Benjamin Austin Pack
Oil on panel. 2012
The message of this painting is that Christ is the source we look to for our salvation. Prophets have testified of Christ's mission and His saving role throughout the ages. Prophets today repeat what has been said concerning Him, prophesy of His future coming, and teach us what He would have us do. The prophet in this painting represents all the prophets throughout time. The words coming from his mouth are statements found in the scriptures about Christ. How marvelous are God's works in giving us prophets to lead us to Him.
Mosiah 4:12
BOOK OF MORMON ART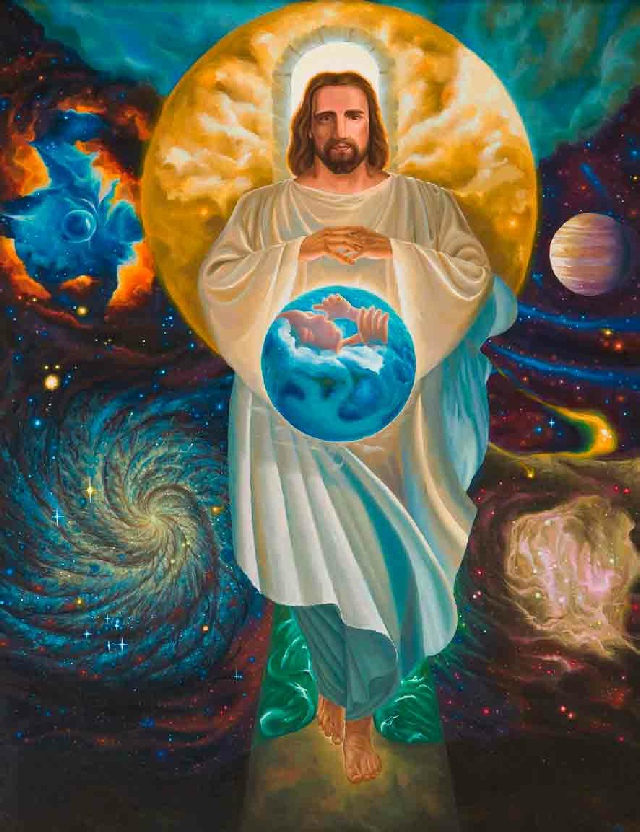 Chalermchai Hanjakkham
1981, Thailand – oil on canvas
Our Savior created all things with His love through His words, and we can feel God's love through all things around us. The followers of Christ can inherit eternal life, for everyone who keeps the Lord's commandments, acts in faith, and works righteousness will receive a crown of eternal life. "For behold, this is my work and my glory—to bring to pass the immortality and eternal life of man" (Moses 1:39).
1 Nephi 11:25
BOOK OF MORMON ART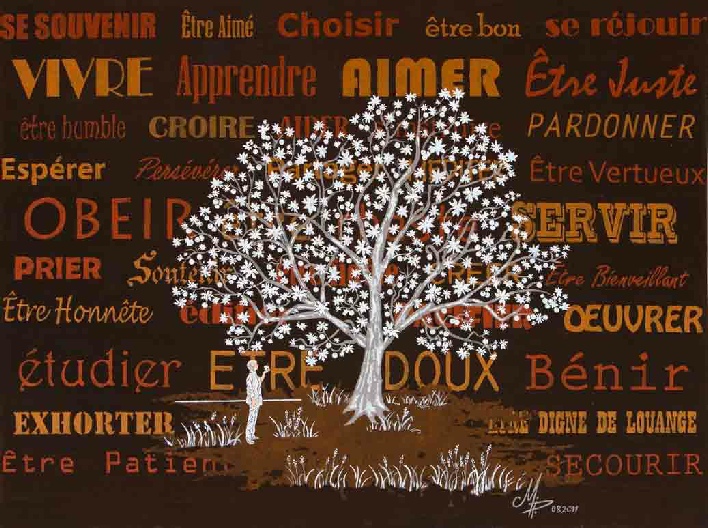 Taste of the Fruit of the Tree of Life
Denis Gerard Daniel Mejean
France, 2012 – acrylic on canvas
In his dream, Lehi tastes of the fruit of the tree and recognizes the love of God. We also can taste of the love of God by acting as His true disciples.
May 6, 2019
1 Nephi 8:10-12
BOOK OF MORMON WORKED METAL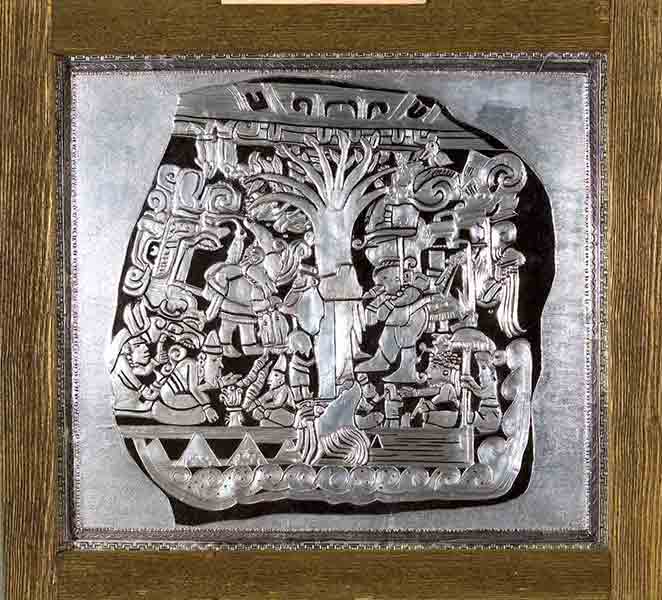 Araceli Andrade
I beheld a tree, whose fruit was desirable to make one happy. And it came to pass that I did go forth and partake of the fruit thereof; and I beheld that it was most sweet, above all that I ever before tasted. Yea, and I beheld that the fruit thereof was white, to exceed all the whiteness that I had ever seen. And as I partook of the fruit thereof it filled my soul with exceedingly great joy; wherefore, I began to be desirous that my family should partake of it also; for I knew that it was desirable above all other fruit. —1 Nephi 8:10–12
Ether 1:41
BOOK OF MORMON ART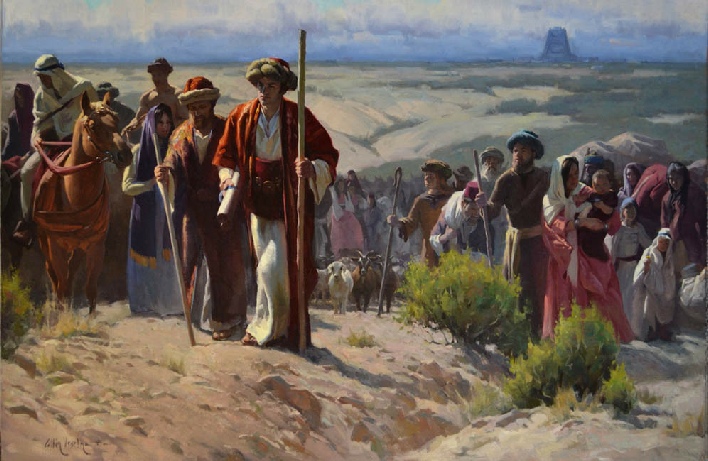 Albin Veselka
on linen 2012
When asked what he would like his work to be known for Albin responded; "If I can enrich the lives of those who view my work in any way, I have accomplished my goal. There is something of the divine that comes through the work of one who has mastered his mode of expression and who has something good to say. When that message comes through and awakens something within the viewer that improves his or her life; that, I believe, is the higher purpose of art. That's what I strive for."
1 Nephi 4:38
BOOK OF MORMON CUTOUT PAPER ART

Aniko Brewer
2012
"At first Nephi could not get the brass plates from Laban, but Nephi chose to be obedient, and the Lord prepared a way. Nephi obtained the plates and gave them to his father, Lehi."
Alma 30:44
Book of Mormon Art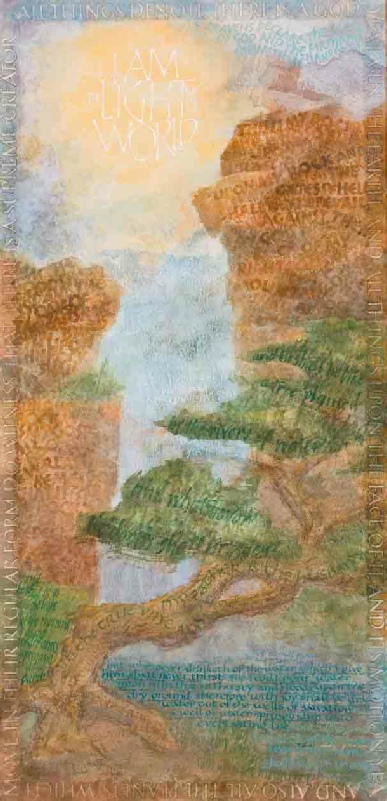 All Things Denote There Is a God
Joan Layton Merrell
Acylic, gouache, colored pencil
Many scriptures use things we see around us every day as symbols of the Savior and His gospel. I included scriptures within the landscape to visually connect the Creator with His wondrous creations, as referred to in Alma 30:44: "All things denote there is a God; yea, even the earth, and all things that are upon the face of it."
Ether 2:24
Book of Mormon Art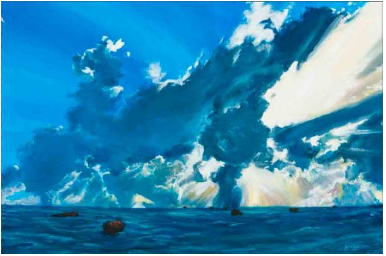 I Will Bring You Up Again Out of the Depths
Jonathan Arthur Clarke
"For the mountain waves shall dash upon you. Nevertheless, I will bring you up again out of the depths of the sea; for the winds have gone forth out of my mouth, and also the rains and the floods have I sent forth" (Ether 2:24). The Jaredites "did sing praises unto the Lord" (Ether 6:9) throughout their journey of 344 days upon the waters. They endured the terrible tempests with gladness, knowing it was the Lord who caused the furious wind. They viewed their trials as a manifestation of divine guidance, "and it came to pass that the wind did never cease to blow towards the promised land while they were upon the waters" (Ether 6:8).
Alma 32:30
Book of Mormon Art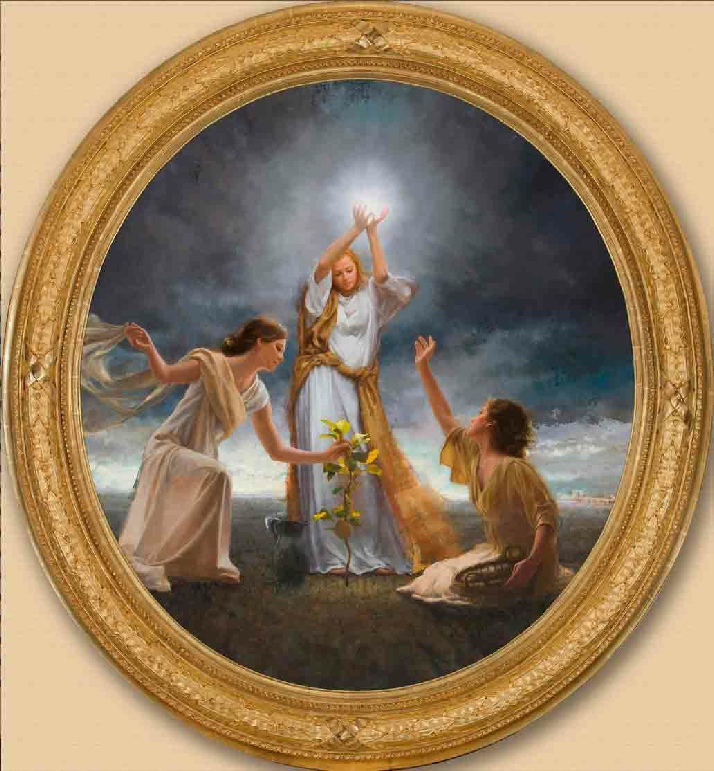 Jonathan Linton
Oil on linen panel
The kneeling figure of Faith calls to the viewer with her right hand as she carefully nurtures a young plant with her left hand. This tender plant is the word of the gospel, as Alma describes (see Alma 32). Hope, the figure on the right, waits patiently but expectantly for the fruit the plant will one day bear as she looks toward Charity. Charity, the pure love of Christ, which "never faileth," stands in the others' company, representing the transcendence of charity, as Paul so eloquently describes (see 1 Corinthians 13). Charity holds a light that gives life to the growing plant so that it "swelleth, and sprouteth" and eventually flourishes and bears fruit (Alma 32:30).
Book of Mormon Art
Alma 42:24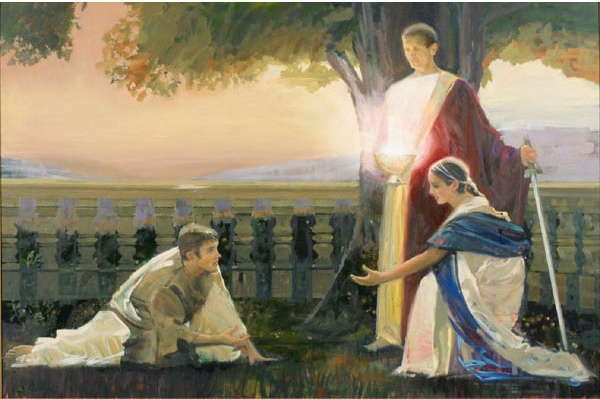 Mercy Claimeth All Which is Her Own
Jonathan Linton
A personification of the role of Christ's atonement in the relationship between mercy, justice, God, and man. Inspired by the 42nd chapter of the Book of Alma, in the Book of Mormon
Book of Mormon Art
1 Nephi 16:16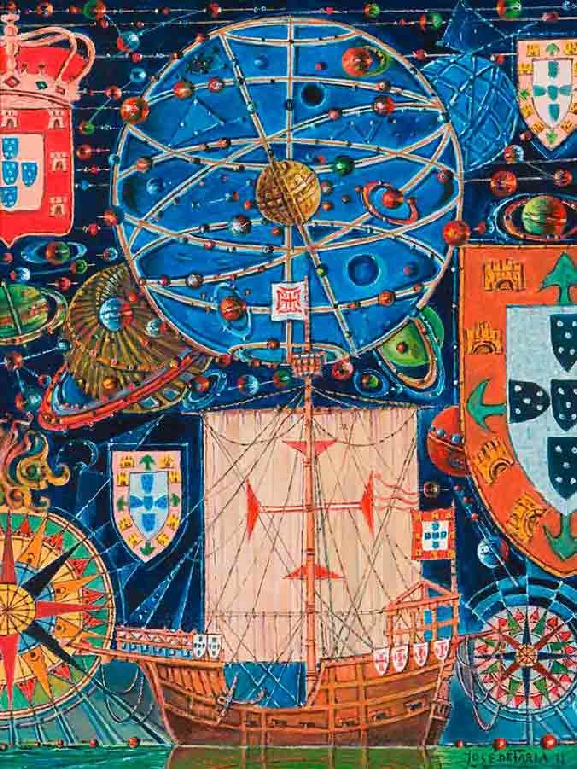 José de Faria
Oil on canvas
My painting was inspired by the story of the Liahona in the Book of Mormon. "And it came to pass that as my father arose in the morning, and went forth to the tent door, to his great astonishment he beheld upon the ground a round ball of curious workmanship; and it was of fine brass. And within the ball were two spindles; and the one pointed the way whither we should go into the wilderness. . . . And we did follow the directions of the ball, which led us in the more fertile parts of the wilderness" (1 Nephi 16:10, 16).
1 Nephi 11:22
BOOK OF MORMON ART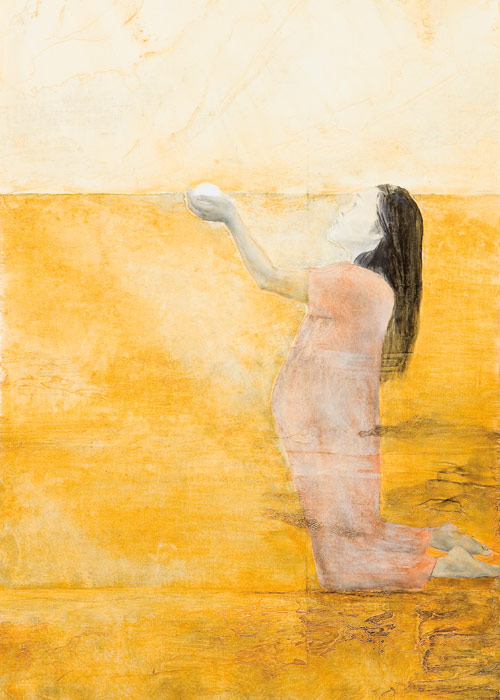 Nanako Hayashi
Tasting the fruit of joy, which is the love of God, encourages us to "make known his wonderful works among the people" (Doctrine & Covenants 65:4).
May 5, 2019
Moroni 10:33
BOOK OF MORMON SCULPTURE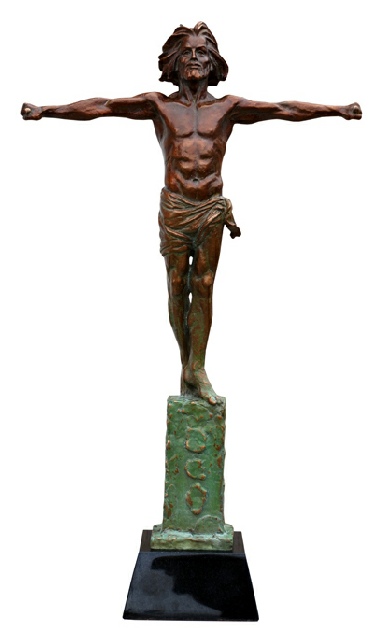 Empowered
Gary Lee Price
https://garyleeprice.com/product/empowered/
I have created a Jesus that in spite of the crowds, politics and persecutions, has risen above unfathomable pain- in fact accepted and embraced discomfort to the point of gratitude, grace, and empowerment.
And as we all appreciate so very much those that blaze the path before us, may we look to our prophets and mentors as examples and segues that enable and empower us to new heights, higher dimensions and a much grander vision!
May 3, 2019
BOOK OF MORMON ART - LOTS OF IT!
1 Nephi 8:19
BOOK OF MORMON FIRED CLAY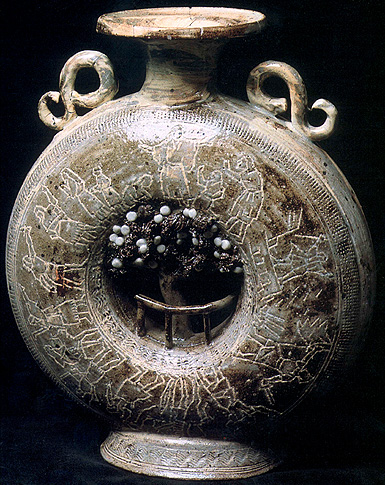 Become Familiar with the Scriptures
Taichi Aoba, Sai jo-Shi, Ehime-ken, Japan
1993. (35 x 26 x 10 cm).
Lehi's vision of the tree of life is encircled by other key stories from the Book of Mormon.
1 Nephi 8:33
BOOK OF MORMON RETABLO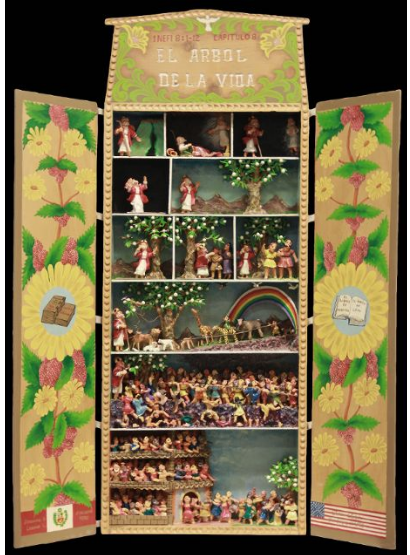 The Tree of Life, (el árbol de la vida)
Jeronimo Lozano, Salt Lake City, Utah, United States
1995. Painted plaster paste on wood (122 x 96 x 18 cm).
Using the compartments of a traditional Peruvian retablo, the artist depicts Lehi's dream in sequence. (Photograph by R. T. Clark.)
1 Nephi 11:26
BOOK OF MORMON SCULPTURE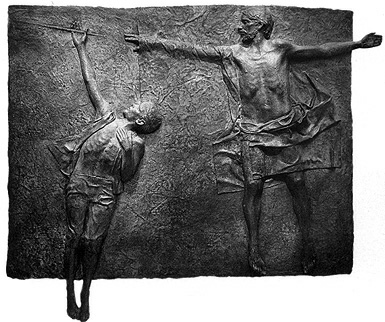 The Rod and the Veil, 1975
Franz Johansen, Provo, Utah, United States
cast bronze (252 x 213 x 16 cm).
The crucified Savior's hand reaching through the veil between mortality and immortality becomes an extension of the iron rod. The boy strives upward to grasp the rod.
1 Nephi 8:35
BOOK OF MORMON APPLIQUE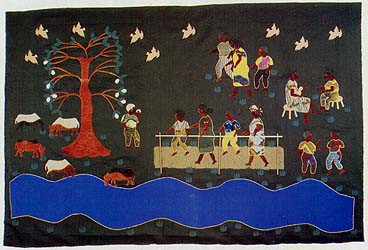 Abu Hassan Conteh, Freetown, Sierra Leone
Applique, fabric on fabric (152 x 99 cm). 1994
Cattle, a traditional African instrument of exchange used to seal sacred contracts, here represent the covenant white-haired Lehi is making with the Lord. His family, upper right, make their way to the tree, but Laman and Lemuel and two seated figures are interested only in worldly things.
1 Nephi 11:7
BOOK OF MORMON ART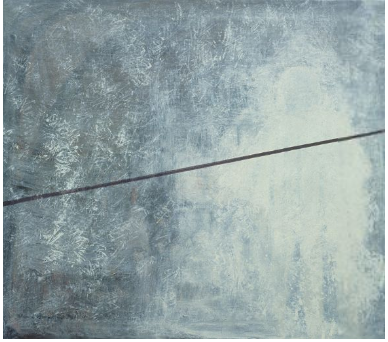 Johan Helge Benthin, Hoschstadt, Germany
Oil on canvas (78 x 71 cm).
The artist concentrates on one single element of Lehi's dream, the iron rod, that leads to the glowing figure representing the Savior. (Photograph by R. T. Clark.)
1 Nephi 8:15
BOOK OF MORMON SCULPTURE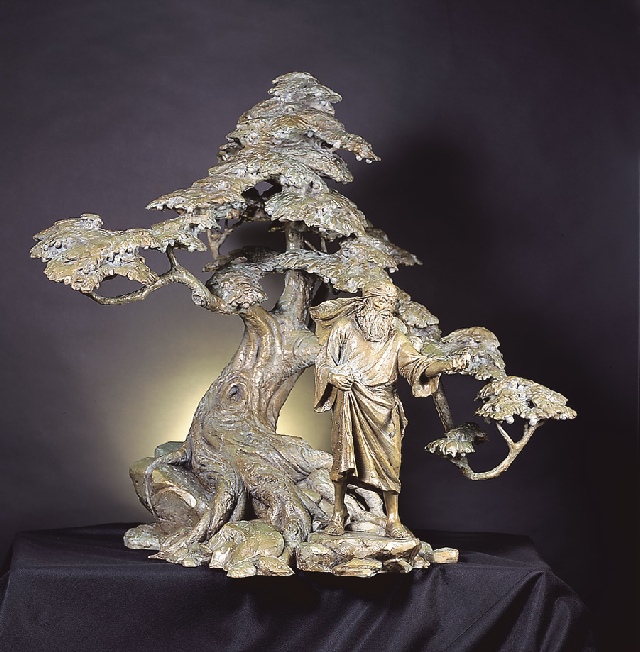 Sharing the Fruit of the Tree of Life
Gary Lee Price. 2000
"Other than Lehi's awesome description of this great vision and metaphor for life, I've always been most impressed by his instant reaction to share the incredibly brilliant and delicious fruit with his family. Nephi tells us that his father saw a symbol for the 'love of God' and that it is the most desirable thing there is! What could be greater or more powerful than unconditional, eternal love? Little wonder Lehi wanted to share that with those he loved most!
"I envision the symbolic tree as one that has withstood the test of time. A tree that despite the elements and the centuries of seasons, has not only survived, but thrived! Its roots have sunk deep into the life-giving earth. It draws continual nourishment year after year – readily giving all of its precious fruit; as an oasis in the desert, to any and all travelers needing its life-sustaining energy.
"It is my hope an as artist that Lehi's vision of the Tree of Life will inspire all of us to reach deeper inside ourselves and find that unquenchable source of love that nourishes and uplifts all we meet."
3 Nephi 9:18
BOOK OF MORMON SCULPTURE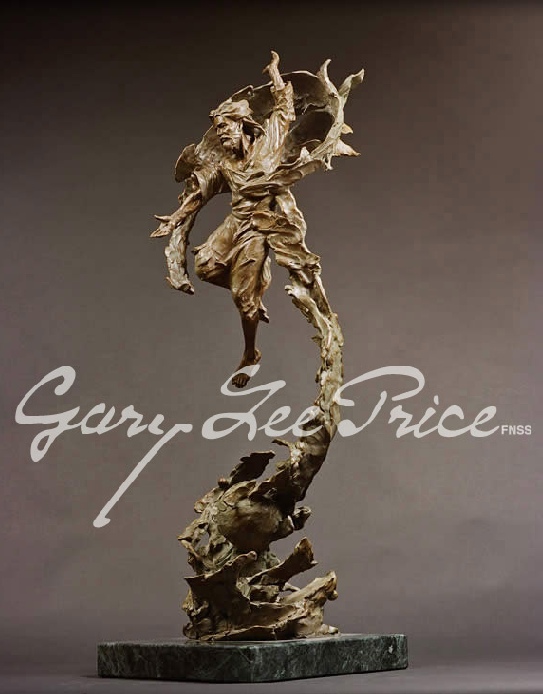 Gary Lee Price
Bronze statue of Jesus Christ
Let the sky divide its doors
And the gates of the universe be open;
For the Son of Man descends forth
Coming in His glory through the clouds.
Let angels sound their trumpets
Piercing the veil of darkness on the earth,
The Creator has left His throne,
Thunder His declaration of departure!
Let the sun burn brightly
Bursting with the illumination of glad tidings,
That all the faithful
Who witness His fulfillment
May rush forth to greet their Lord.
Let the meek and lowly
Raise their weary voices in jubilation,
Their Friend and Master has come.
Let the sorrowful and the sick
Weep no more,
The Healer descends from Heaven!
Let the world tremble at His coming,
Charity His chariot,
Mercy His mighty robe,
And love His glory forever!
Alpha and Omega is here!
Let the bells of the millennium ring forth!
Poem by Howard Rainer, Native American Poet
Mosiah 4:15
BOOK OF MORMON SCULPTURE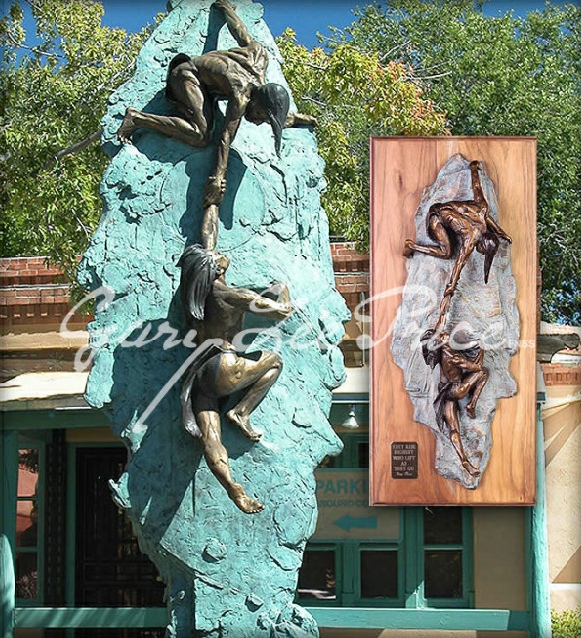 Ascent
Bronze outdoor sculpture of Native Americans climbing up a cliff
Grab hold,

And take this hand that
Reaches out to you.
Look up
Into my eyes;
My spirit
Cries out to you:
Friendship is my thought.
Let us climb
The jagged cliffs of life
And fight the ascent of
Opposition together.
If I can lift you today,
You will look back
And grab the hands of a thousand more.
That is the way
The Great Spirit would have it!
-Howard Rainer, Native American Poet
Two Native Americans are struggling on the face of a jagged cliff. The one above reaches out and extends himself, grasping for the one below. The one below looks up and also reaches out to receive the hand of safety and strength. Climbing the mountain of life we learn, grow and, hopefully, increase in wisdom. As we continue the trek, we realize it is not just about ourselves. It is then that we pause, turn around, and reach out our hand in assistance to those who can benefit from our travels.
This sculpture epitomizes the struggle to overcome opposition and difficult personal challenges and the absolute need we have for others to reach out, bring us in and raise us up.
Having grown up in the West and being a small part Cherokee, I've always had an affinity for capturing the spirit of my forefathers. I have aspired to create pieces that have depth. I have wanted to portray individuals of grace, strength, and beauty.
Several years prior to creating this piece, I went through a series of personal crises. It was a very difficult time for me and yet, as always, I was taken care of. Several close friends reached out and lifted me up in my hour of need. While creating this sculpture, I reached within. I relied on my own experiences, ones that showed me that people really do care and that our true friends are those who do not judge or shun, but rather reach out and bring us in. These are the individuals with complete grace, absolute strength, and true beauty.
The letters I've received from people describing how a piece has inspired or lifted them are many. The ones describing 'The Ascent' are the most numerous and most touching.
4 Nephi 1:17
BOOK OF MORMON SCULPTURE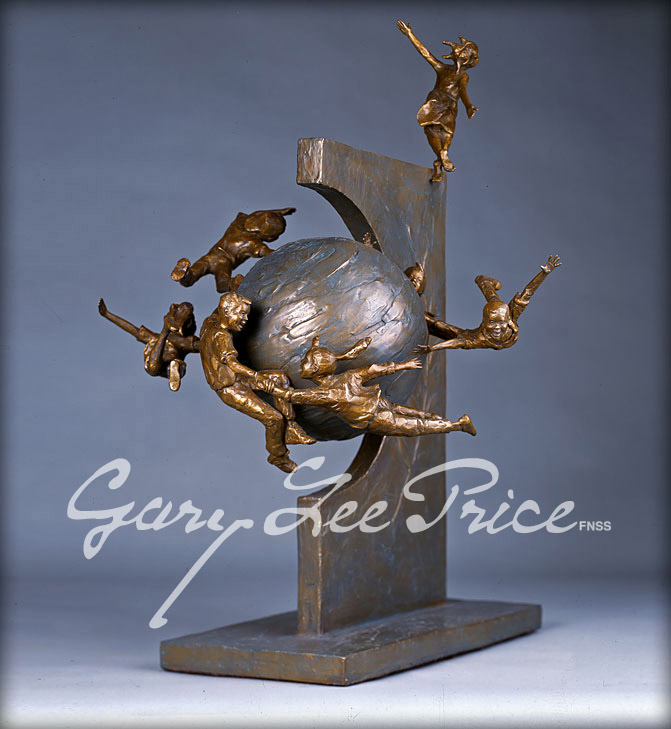 Gary Lee Price
Bronze sculpture of children flying around the world
"To be able to fly is so symbolic of freedom and possibilities; and flying around a sphere, to me, represents the joy we experience in this life, and in the sphere of worlds to come!
"Imagine a world without limits, without boundaries, without prejudice and blame. Imagine an existence full of self-confidence, self-esteem and not only tolerance, but love for others regardless of color, socio-economic or any other standing. To me that is what the future holds. That is what children represent and that is the type of world I would like to help others imagine so it can come to pass.
"I believe sculpture can have a tremendous, uplifting influence on us and so I envision this piece as a large, life-size work where its message can ring loud and clear. 'Celebration!' is just that, a celebration of life and aspirations."
3 Nephi 13:11
BOOK OF MORMON SCULPTURE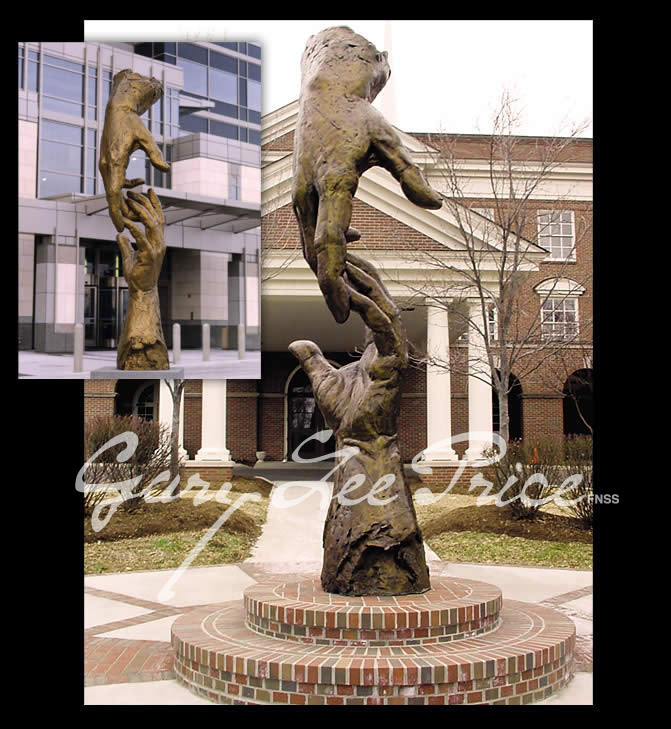 Gary Lee Price
Bronze sculpture of hands
"I believe it is indeed a 'religious' experience when thoughts, ideas and knowledge come together in ways that all are empowered! This sculpture represents the very moment – that exact instant when we have taken that incredible leap of faith, reaching out into the unknown in hope that we will find comfort, solace, peace, love and understanding. As we reach that milestone in our journey, we discover that we are not alone or forsaken at all and that the very act of exercising our faith eventually, if not immediately, yields the very fruit that is so divinely and deliciously suited to our specific needs!
"My favorite verse in the entire world, 'Ask and it shall be given you; seek, and ye shall find; knock, and it shall be opened unto you. For everyone that asketh receiveth; and he that seeketh findeth; and to him that knocketh it shall be opened'!"