What's New!
October 20
From Baptist Preacher to Mormon Teacher, by Wain Myers
See excerpts from Brother Myers' interactions with the Book of Mormon here:
October 19
This concludes our study of 1 Nephi. Check out how often God is mentioned in 1 Nephi, and the variety of names that Nephi uses to describe Him, to help us understand His attributes and purpose in our lives.
October 17
1 Nephi 8:10
BOOK OF MORMON ART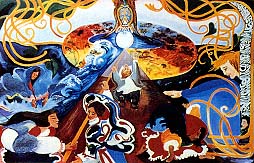 Joseph Smith and the Tree of Life
Juan M. Escobedo
1987, Caliente, Nevada, United States; oil on board (127 x 76 cm).
The Prophet Joseph Smith leads the way in this Mexican folk art interpretation of the tree of life.
October 16
Songs to Accompany the Book of Mormon
When Jesus came to the Promised Land, he took the little children, one by one, and blessed them.
Brooke White sings "Something Divine."
So don't forget where you came from,
And don't forget what you can become.
'Cause there's something inside,
Something divine.
October 14
Book of Mormon Library Tour
The Holy Qur'an - Another Testament of Restored Truth, by Jonathan Crockett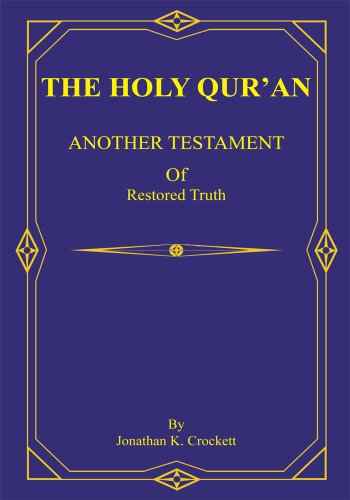 The Holy Qur'an – Another Testament of Restored Truth, by Jonathan K. Crockett.
The thesis of this unique book is that the major theme of the Qur'an is that God has always, for all people, called a prophet or messenger or warner. Some listen and most do not. Then, after the days of that prophet, apostacy occurs, and then God calls another prophet. The author quotes quite a lot of the Qur'an, and his thesis – the apostacy and restoration cycle – is easily and thoroughly proven. The book is repetitive, because the Qur'an is repetitive.
Crockett carefully examines the Qur'an verse by verse, and asserts that in the Qur'an are many hints or Signs of the coming Restoration by the Prophet Joseph Smith, including the Book of Mormon. A reader may not agree with every detail of the author's interpretation, but he makes a compelling case,
I really like this book because it's a gentle invitation, "Come and see." In our current culture with much focus on Muslims and radical Muslims, going to the source seems the wisest way to truly learn what they believe, or what they ought to believe. But reading the Qur'an itself seems such a daunting undertaking! Reading this book, which is mostly composed of verses of the Qur'an, feels like having an enthusiastic guide, stopping occasionally to say, "Look at this! Consider this!" He doesn't interrupt too frequently; sometimes he's silent, letting me appreciate the beauty or wisdom of the book, or wonder what it's all about. But there is plenty of commentary to help me bridge the gap between the truth I know and the truth that may be contained in the Holy Qur'an.
See excerpts and additional commentary at:
October 13
Through the Book of Mormon with God
1 Nephi 21 (and Isaiah 49) may present a history and prophecy of the future of America, the Promised Land.
October 9
1 Nephi 8:9
BOOK OF MORMON CARVED WOOD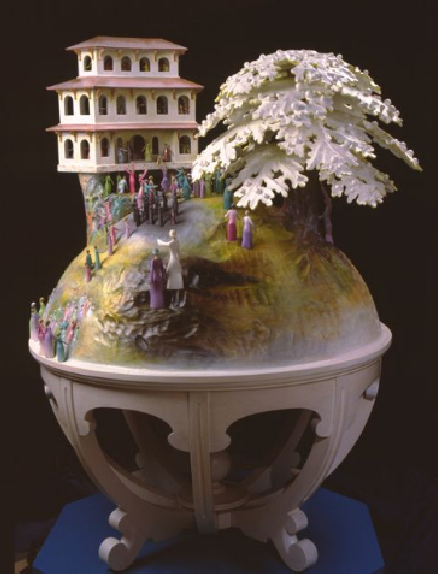 Lehi's Dream of the Tree of Life, 1995
Kurt Sjökvist, Mockfjärd, Sweden
Carved wood, painted (157 x 101 x 101 centimeters).
Lehi's reference to "a large and spacious field, as if it had been a world" is interpreted as a globe upon which the allegory is presented.
October 7
Book of Mormon Music - Jacob 4:3
In the Book of Mormon, Jacob explained that they kept a record so that their children would know of their fathers, and particularly of their faith. He wrote to bring people to Christ.
Alessandra Sorace sings a very stirring "Find Us Faithful," by Steve Green.
We're pilgrims on the journey
Of the narrow road
And those who've gone before us line the way
Cheering on the faithful, encouraging the weary
Their lives a stirring testament to God's sustaining grace
Surrounded by so great a cloud of witnesses
Let us run the race not only for the prize
But as those who've gone before us
Let us leave to those behind us
The heritage of faithfulness
Passed on through godly lives.
Oh may all who come behind us find us faithful
May the fire of our devotion light their way
May the footprints that we leave
Lead them to believe
And the lives we live inspire them to obey
Oh may all who come behind us find us faithful
After all our hopes and dreams have come and gone
And our children sift through all we've left behind
May the clues that they discover
And the memories they uncover
Become the light that leads them
To the road we each must find
September 22
Happy Moroni Day! Share the Book of Mormon with a friend!
Joseph Smith:
"On the twenty second day of September, One thousand Eight hundred and twenty seven, having went as usual at the end of another year to the place where they were deposited, the same heavenly messenger delivered them up to me with this charge that I should be responsible for them." [PJS 1:283; see HC 1:17]
Lucy Smith:
"On the night of the twenty-first, I sat up very late, as my business pressed upon my hands, and I did not retire until past twelve. About twelve o'clock, Joseph came to me and asked me if I had a chest with a lock and key. ..."
"Shortly after this, Joseph's wife passed through the room with her bonnet and riding dress; and in a few minutes they left together, taking Mr. Knight's horse and wagon." [REH 137; see EMD 326]
Joseph Smith's younger sister, Katharine Smith Salisbury added the additional information that Joseph was to meet the angel at Cumorah at 2:00 AM to receive the plates.
"I well remember the trials my brother had, before he obtained the records. After he had the vision, he went frequently to the hill, and upon returning would tell us, 'I have seen the records, also the brass plates and the sword of Laban with the breast plate and interpreters.' He would ask father why he could not get them? The time had not yet come, but when it did arrive he was commanded to go on the 22d day of September 1827 at 2 o'clock." [EMD 1:521]
September 21
In the short book of 1 Nephi 9, Nephi explains why he wrote two separate sets of plates, which we refer to as the large and small plates. Thoughtful commentators across the web have written on these verses, including their thoughts on the omniscience of God. One intriguing article discusses "The Beaver Skin Hat: How Joseph Interpreted the Plates." Another, appearing on a movie review website, compares the baseball book Moneyball and its author and subject with the Book of Mormon and Joseph Smith.
September 20
Through the Book of Mormon with God - 1 Nephi 20
This is by far the most important page to read on this website. You will be astounded with the message which Isaiah wrote in the Bible 2,800 years ago, as recorded in Isaiah 48, and more perfectly transcribed in 1 Nephi 20. This message is vital for everyone to read and understand!