What's New!
March 18, 2018
MUSIC TO ACCOMPANY THE BOOK OF MORMON
Alma 62:41
The Book of Mormon recounts a time of lingering war. Many became hardened, but many others were humbled and softened by their afflictions.
As part of the BBC commemoration of the centenary of World War 1, Libera travelled to France and Belgium in May to film a special 'Songs of Praise' programme.
"Rest in Peace." Words and music by Peter Skellern
For all who need comfort, for all those who mourn
All those whom we cherished will be reborn
All those whom we love but see no more
They are not perished, but gone before
And lie in the tender arms of he
Who died for us all to set us free
From hatred and anger and cruel tyranny
May they rest in peace, and rise in glory
All suffering and sorrow will be no more
They'll vanish like shadows at heaven's door
All anguish and grieving will one day be healed
When all of God's purpose will be revealed
Though now for a season lost from sight
The innocent slain in the blindness of right
Are now in the warmth of God's glorious light
Where they rest in peace, and rise in glory
January 30, 2018
BOOK OF MORMON ART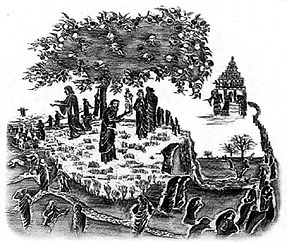 Victoria, British Columbia, Canada
Beeswax on rice paper (71 x 61 cm).
The artist suggests that some who set out for the fruitful tree of life may be lured toward barren trees shown at the right of the print.
December 25, 2017
Merry Christmas! You'll find more Christmas songs to enjoy at 1 Nephi 1:13, including:
Angels We Have Heard On High, by the Piano Guys, the Mormon Tabernacle Choir, Hollens, David Archuleta

Hallelujah - The Christmas Version, by Bethel Church and Kaylee Rogers and Killard House School Choir

Little Drumer Boy, by Matt Nickel Music

Wexford Carol, by Yoyo Ma
December 22, 2017
An Internet Tour of 1 Nephi 12
Many thought-provoking insights into the imagery of Lehi's dream/ Nephi's vision, particularly on the mists of darkness and the great and spacious building. Here are a few high-lights:
On Rumors of War: Finding Peace Within, by Pam Espinosa

Colors in the Book of Mormon, at How Deep Can You Dig?

Technology, at Mindful Exposure

Three Effects of the Mists of Darkness, at Latter-day Commentary

Mists of Darkness, at Cancer Chronicles

What Was the Great and Terrible Gulf in Lehi's Dream? At Book of Mormon Central

The River by the Tree, at New Cook Thang

Vain Imaginations, by Luther Tychoievich
December 21, 2017
Tito Momen, with Jeff Benedict.
From the Author's Note:
"I was raised in a village in Nigeria where my family practiced a harsh form of Islam. When I was a teenager my father sent me to a radical Islamic school in Syria. Later I studied with members of the Muslim Brotherhood in Egypt while pursuing a degree in Islamic studies. It was there, of all places, that I discovered Christianity, a faith I had been taught to despise, along with Judaism. I am the last person you might expect to become a Christian. But I did. And for that I was disowned by my family and sentenced to life in prison. . . .
"Although I was falsely imprisoned, beaten, and ridiculed, I don't harbor any bitterness. Nor do I blame Islam. I recognize that my life experience with Islam has been one of extremes in terms of intolerance and violence. But there are millions of good and sincere Muslims in many countries who love God and family while practicing Islam in a tolerant and positive manner. I consider them my brothers and sisters. At the same time, I am indebted to Jesus Christ and countless Christians from many sects and churches who have accepted me. This book is a tribute to their kindness."
Brother Momen's life journey is astounding to read. He discovered Jesus Christ as his Savior through the Book of Mormon, and stayed true to that testimony through all his trials.
Read another excerpt from his book at 3 Nephi 11:14 in Book of Mormon Library.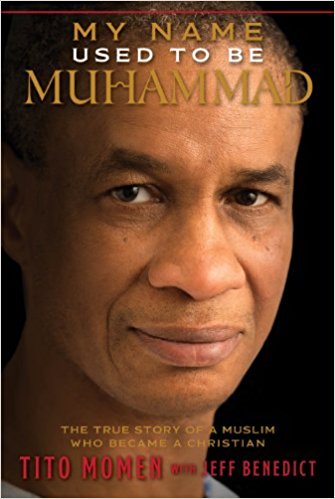 December 20, 2017
BOOK OF MORMON ART by Joseph Smith's Son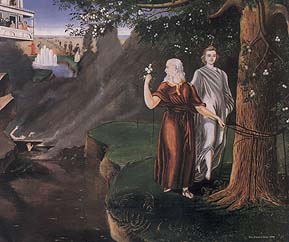 Lehi's Dream
David Hyrum Smith
about 1875. oil on canvas (61 x 45 cm).
The artist was born a few months after his father, the Prophet Joseph Smith, was martyred in 1844.
In the painting, Lehi is accompanied by the "Spirit of the Lord" (see 1 Ne. 8:5–6; 1 Ne. 11:11).
(Courtesy of Reorganized Church of Jesus Christ of Latter Day Saints Archives, Independence, Missouri; photograph by R. T. Clark.)
December 18, 2017
An Internet Tour of 1 Nephi 11
Thinkers from around the net weigh in on Nephi's tremendous vision and prophetic interpretation of his father's Tree of Life dream. Among the many great insights are some particularly suited to ponder during the Christmas season, such as
A Book of Mormon Christmas, by Jessica Clark

Why Mormons Do Not worship Mary, by Tresa Edmonds

What does the Virgin Mary have to do with the Tree of Life? At Book of Mormon Central

Cookies and the Annunciation to the Virgin Mary in the Qur'an: Three Inspired Accounts, by James Weller at Actually Textual

The Condescension of Christmas, by Anthony Sweat, at Red-Headed Hostess

Mary and Joseph: Heirs of David, Highly Favored, Guardians of Our Lord, by Robert J. Matthews

What do Mormons Believe about Mary and Joseph? By Terrie Lynn Bittner

Christmas and What It Means to the World, at Mormon Women Stand

The Anticipation of the Coming of the Lord Jesus Christ, at Earn Write

Watching in Wonder, at Arkansas Bentonville Mission
December 13, 2017
Lehi's heartfelt "last lecture" to his rebellious sons contains sound doctrine for all of us in mortality. He encourages them to choose God, to choose the freedom offered by Jesus Christ, the Redeemer.
December 9, 2017
Seven Claims of the Book of Mormon: A Collection of Evidences.
John A. Widstoe and Franklin S. Harris, Jr.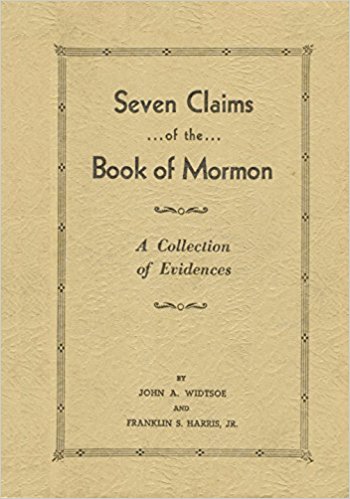 This book was first published in 1937, eighty years ago, and over a hundred years after the publication of the Book of Mormon.
The "Seven Claims" are:
1. The Book of Mormon had a miraculous origin.
2. The Book of Mormon was written on gold plates in Reformed Egyptian by a succession of historians.
3. There existed a populous American civilization in antiquity.
4. The American aborigines are in part of Hebrew descent.
5. Jesus Christ visited the American continent.
6. The contents of the Book of Mormon are inspired.
7. The Book of Mormon offers a certain test of its authenticity.
Each of the claims has several sub-topics. The book is, indeed, a collection. Much of it is composed of quotes by scholars. The author explains, "During the last century a host of capable students have set forth numerous evidences in support of Mormon claims. These reports are scattered over the whole field of Mormon literature and therefore often inaccessible to students and defenders of the Gospel who are engaged in travel and unable to carry with them a sufficient supply of books. This book was prepared in London within easy reach of the library of the British Museum, and it was possible therefore to check every quotation against original sources."
It is interesting to read this snapshot of what was known about the Book of Mormon's claims at this time period. In the intervening years much more evidence has been found supporting the Book of Mormon. No matter the accumulation of evidence, it doesn't seem to create faith in the minds of readers. The last chapter, expounding, of course, on Moroni's promise of a receiving a witness from the Spirit, is always the key to that.
Read excerpts from the book: