Library Tour of 1 Nephi 18-20
1 Nephi 18
1 And it came to pass that they did worship the Lord, and did go forth with me; and we did work timbers of curious workmanship. And the Lord did show me from time to time after what manner I should work the timbers of the ship.
2 Now I, Nephi, did not work the timbers after the manner which was learned by men, neither did I build the ship after the manner of men; but I did build it after the manner which the Lord had shown unto me; wherefore, it was not after the manner of men.
3 And I, Nephi, did go into the mount oft, and I did pray oft unto the Lord; wherefore the Lord showed unto me great things.
4 And it came to pass that after I had finished the ship, according to the word of the Lord, my brethren beheld that it was good, and that the workmanship thereof was exceedingly fine; wherefore, they did humble themselves again before the Lord.
5 And it came to pass that the voice of the Lord came unto my father, that we should arise and go down into the ship.
6 And it came to pass that on the morrow, after we had prepared all things, much fruits and meat from the wilderness, and honey in abundance, and provisions according to that which the Lord had commanded us, we did go down into the ship, with all our loading and our seeds, and whatsoever thing we had brought with us, every one according to his age; wherefore, we did all go down into the ship, with our wives and our children.
7 And now, my father had begat two sons in the wilderness; the elder was called Jacob and the younger Joseph.
8 And it came to pass after we had all gone down into the ship, and had taken with us our provisions and things which had been commanded us, we did put forth into the sea and were driven forth before the wind towards the promised land.
9 And after we had been driven forth before the wind for the space of many days, behold, my brethren and the sons of Ishmael and also their wives began to make themselves merry, insomuch that they began to dance, and to sing, and to speak with much rudeness, yea, even that they did forget by what power they had been brought thither; yea, they were lifted up unto exceeding rudeness.
10 And I, Nephi, began to fear exceedingly lest the Lord should be angry with us, and smite us because of our iniquity, that we should be swallowed up in the depths of the sea; wherefore, I, Nephi, began to speak to them with much soberness; but behold they were angry with me, saying: We will not that our younger brother shall be a ruler over us.
11 And it came to pass that Laman and Lemuel did take me and bind me with cords, and they did treat me with much harshness; nevertheless, the Lord did suffer it that he might show forth his power, unto the fulfilling of his word which he had spoken concerning the wicked.
12 And it came to pass that after they had bound me insomuch that I could not move, the compass, which had been prepared of the Lord, did cease to work.
13 Wherefore, they knew not whither they should steer the ship, insomuch that there arose a great storm, yea, a great and terrible tempest, and we were driven back upon the waters for the space of three days; and they began to be frightened exceedingly lest they should be drowned in the sea; nevertheless they did not loose me.
14 And on the fourth day, which we had been driven back, the tempest began to be exceedingly sore.
15 And it came to pass that we were about to be swallowed up in the depths of the sea. And after we had been driven back upon the waters for the space of four days, my brethren began to see that the judgments of God were upon them, and that they must perish save that they should repent of their iniquities; wherefore, they came unto me, and loosed the bands which were upon my wrist, and behold they had swollen exceedingly; and also mine ankles were much swollen, and great was the soreness thereof.
16 Nevertheless, I did look unto my God, and I did praise him all the day long; and I did not murmur against the Lord because of mine afflictions.
17 Now my father, Lehi, had said many things unto them, and also unto the sons of Ishmael; but, behold, they did breathe out much threatenings against anyone that should speak for me; and my parents being stricken in years, and having suffered much grief because of their children, they were brought down, yea, even upon their sick-beds.
18 Because of their grief and much sorrow, and the iniquity of my brethren, they were brought near even to be carried out of this time to meet their God; yea, their grey hairs were about to be brought down to lie low in the dust; yea, even they were near to be cast with sorrow into a watery grave.
19 And Jacob and Joseph also, being young, having need of much nourishment, were grieved because of the afflictions of their mother; and also my wife with her tears and prayers, and also my children, did not soften the hearts of my brethren that they would loose me.
20 And there was nothing save it were the power of God, which threatened them with destruction, could soften their hearts; wherefore, when they saw that they were about to be swallowed up in the depths of the sea they repented of the thing which they had done, insomuch that they loosed me.
21 And it came to pass after they had loosed me, behold, I took the compass, and it did work whither I desired it. And it came to pass that I prayed unto the Lord; and after I had prayed the winds did cease, and the storm did cease, and there was a great calm.
22 And it came to pass that I, Nephi, did guide the ship, that we sailed again towards the promised land.
23 And it came to pass that after we had sailed for the space of many days we did arrive at the promised land; and we went forth upon the land, and did pitch our tents; and we did call it the promised land.
24 And it came to pass that we did begin to till the earth, and we began to plant seeds; yea, we did put all our seeds into the earth, which we had brought from the land of Jerusalem. And it came to pass that they did grow exceedingly; wherefore, we were blessed in abundance.
25 And it came to pass that we did find upon the land of promise, as we journeyed in the wilderness, that there were beasts in the forests of every kind, both the cow and the ox, and the ass and the horse, and the goat and the wild goat, and all manner of wild animals, which were for the use of men. And we did find all manner of ore, both of gold, and of silver, and of copper.
1 Nephi 19
1 And it came to pass that the Lord commanded me, wherefore I did make plates of ore that I might engraven upon them the record of my people. And upon the plates which I made I did engraven the record of my father, and also our journeyings in the wilderness, and the prophecies of my father; and also many of mine own prophecies have I engraven upon them.
2 And I knew not at the time when I made them that I should be commanded of the Lord to make these plates; wherefore, the record of my father, and the genealogy of his fathers, and the more part of all our proceedings in the wilderness are engraven upon those first plates of which I have spoken; wherefore, the things which transpired before I made these plates are, of a truth, more particularly made mention upon the first plates.
3 And after I had made these plates by way of commandment, I, Nephi, received a commandment that the ministry and the prophecies, the more plain and precious parts of them, should be written upon these plates; and that the things which were written should be kept for the instruction of my people, who should possess the land, and also for other wise purposes, which purposes are known unto the Lord.
4 Wherefore, I, Nephi, did make a record upon the other plates, which gives an account, or which gives a greater account of the wars and contentions and destructions of my people. And this have I done, and commanded my people what they should do after I was gone; and that these plates should be handed down from one generation to another, or from one prophet to another, until further commandments of the Lord.
5 And an account of my making these plates shall be given hereafter; and then, behold, I proceed according to that which I have spoken; and this I do that the more sacred things may be kept for the knowledge of my people.
6 Nevertheless, I do not write anything upon plates save it be that I think it be sacred. And now, if I do err, even did they err of old; not that I would excuse myself because of other men, but because of the weakness which is in me, according to the flesh, I would excuse myself.
7 For the things which some men esteem to be of great worth, both to the body and soul, others set at naught and trample under their feet. Yea, even the very God of Israel do men trample under their feet; I say, trample under their feet but I would speak in other words -- they set him at naught, and hearken not to the voice of his counsels.
8 And behold he cometh, according to the words of the angel, in six hundred years from the time my father left Jerusalem.
9 And the world, because of their iniquity, shall judge him to be a thing of naught; wherefore they scourge him, and he suffereth it; and they smite him, and he suffereth it. Yea, they spit upon him, and he suffereth it, because of his loving kindness and his long-suffering towards the children of men.
10 And the God of our fathers, who were led out of Egypt, out of bondage, and also were preserved in the wilderness by him, yea, the God of Abraham, and of Isaac, and the God of Jacob, yieldeth himself, according to the words of the angel, as a man, into the hands of wicked men, to be lifted up, according to the words of Zenock, and to be crucified, according to the words of Neum, and to be buried in a sepulchre, according to the words of Zenos, which he spake concerning the three days of darkness, which should be a sign given of his death unto those who should inhabit the isles of the sea, more especially given unto those who are of the house of Israel.
11 For thus spake the prophet: The Lord God surely shall visit all the house of Israel at that day, some with his voice, because of their righteousness, unto their great joy and salvation, and others with the thunderings and the lightnings of his power, by tempest, by fire, and by smoke, and vapor of darkness, and by the opening of the earth, and by mountains which shall be carried up.
12 And all these things must surely come, saith the prophet Zenos. And the rocks of the earth must rend; and because of the groanings of the earth, many of the kings of the isles of the sea shall be wrought upon by the Spirit of God, to exclaim: The God of nature suffers.
13 And as for those who are at Jerusalem, saith the prophet, they shall be scourged by all people, because they crucify the God of Israel, and turn their hearts aside, rejecting signs and wonders, and the power and glory of the God of Israel.
14 And because they turn their hearts aside, saith the prophet, and have despised the Holy One of Israel, they shall wander in the flesh, and perish, and become a hiss and a byword, and be hated among all nations.
15 Nevertheless, when that day cometh, saith the prophet, that they no more turn aside their hearts against the Holy One of Israel, then will he remember the covenants which he made to their fathers.
16 Yea, then will he remember the isles of the sea; yea, and all the people who are of the house of Israel, will I gather in, saith the Lord, according to the words of the prophet Zenos, from the four quarters of the earth.
17 Yea, and all the earth shall see the salvation of the Lord, saith the prophet; every nation, kindred, tongue and people shall be blessed.
18 And I, Nephi, have written these things unto my people, that perhaps I might persuade them that they would remember the Lord their Redeemer.
19 Wherefore, I speak unto all the house of Israel, if it so be that they should obtain these things.
20 For behold, I have workings in the spirit, which doth weary me even that all my joints are weak, for those who are at Jerusalem; for had not the Lord been merciful, to show unto me concerning them, even as he had prophets of old, I should have perished also.
21 And he surely did show unto the prophets of old all things concerning them; and also he did show unto many concerning us; wherefore, it must needs be that we know concerning them for they are written upon the plates of brass.
22 Now it came to pass that I, Nephi, did teach my brethren these things; and it came to pass that I did read many things to them, which were engraven upon the plates of brass, that they might know concerning the doings of the Lord in other lands, among people of old.
23 And I did read many things unto them which were written in the books of Moses; but that I might more fully persuade them to believe in the Lord their Redeemer I did read unto them that which was written by the prophet Isaiah; for I did liken all scriptures unto us, that it might be for our profit and learning.
24 Wherefore I spake unto them, saying: Hear ye the words of the prophet, ye who are a remnant of the house of Israel, a branch who have been broken off; hear ye the words of the prophet, which were written unto all the house of Israel, and liken them unto yourselves, that ye may have hope as well as your brethren from whom ye have been broken off; for after this manner has the prophet written.
1 Nephi 20
1 Hearken and hear this, O house of Jacob, who are called by the name of Israel, and are come forth out of the waters of Judah, or out of the waters of baptism, who swear by the name of the Lord, and make mention of the God of Israel, yet they swear not in truth nor in righteousness.
2 Nevertheless, they call themselves of the holy city, but they do not stay themselves upon the God of Israel, who is the Lord of Hosts; yea, the Lord of Hosts is his name.
3 Behold, I have declared the former things from the beginning; and they went forth out of my mouth, and I showed them. I did show them suddenly.
4 And I did it because I knew that thou art obstinate, and thy neck is an iron sinew, and thy brow brass;
5 And I have even from the beginning declared to thee; before it came to pass I showed them thee; and I showed them for fear lest thou shouldst say -- mine idol hath done them, and my graven image, and my molten image hath commanded them.
6 Thou hast seen and heard all this; and will ye not declare them? And that I have showed thee new things from this time, even hidden things, and thou didst not know them.
7 They are created now, and not from the beginning, even before the day when thou heardest them not they were declared unto thee, lest thou shouldst say -- Behold I knew them.
8 Yea, and thou heardest not; yea, thou knewest not; yea, from that time thine ear was not opened; for I knew that thou wouldst deal very treacherously, and wast called a transgressor from the womb.
9 Nevertheless, for my name's sake will I defer mine anger, and for my praise will I refrain from thee, that I cut thee not off.
10 For, behold, I have refined thee, I have chosen thee in the furnace of affliction.
11 For mine own sake, yea, for mine own sake will I do this, for I will not suffer my name to be polluted, and I will not give my glory unto another.
12 Hearken unto me, O Jacob, and Israel my called, for I am he; I am the first, and I am also the last.
13 Mine hand hath also laid the foundation of the earth, and my right hand hath spanned the heavens. I call unto them and they stand up together.
14 All ye, assemble yourselves, and hear; who among them hath declared these things unto them? The Lord hath loved him; yea, and he will fulfill his word which he hath declared by them; and he will do his pleasure on Babylon, and his arm shall come upon the Chaldeans.
15 Also, saith the Lord; I the Lord, yea, I have spoken; yea, I have called him to declare, I have brought him, and he shall make his way prosperous.
16 Come ye near unto me; I have not spoken in secret; from the beginning, from the time that it was declared have I spoken; and the Lord God, and his Spirit, hath sent me.
Pressing Forward with the Book of Mormon: The FARMS Updates of the 1990s. Edited by John W. Welch & Melvin J. Thorne
Chapter 66 – "Can the 1834 Affidavits Attacking the Smith Family Be Trusted?" Research by Daniel C. Peterson and Donald L. Enders, originally published in Insights (September 1993): 2.
This brief chapter references a scholarly work by Donald L. Ender, a senior curator at the Museum of Church History and Art in Salt Lake City.
Background: In 1834, Philastus Hurlbut traveled to Palmyra, New York, on a dirt-digging expedition. He was hired by an anti-Mormon committee in Ohio to interview neighbors of the Smith family and discover their "bad character." He successfully did so, publishing a number of these affidavits in "Mormonism Unveiled," by Eber D. Howe, the first anti-Mormon book. The claims are varied and creative, but most focus on the Smiths or Joseph Smith being lazy and indolent, money-digging, dishonest, and drunkards. These statements have been used ever since to discredit the character of Joseph Smith and those associated with him.
In general, people react in two different ways to these claims. Mormons, particularly those with testimonies, reject them as simply untrue. Unbelievers, led by anti-Mormons, accept them as factual.
Dr. Enders' work finally allows an unbiased, quantifiable examination of the claims of laziness and indolence. For example, statements said things such as the Smiths' "great object appeared to be, to live without work." "It was a mystery to their neighbors how they got their living."
Sifting through many different sorts of records, Dr. Enders discovered that the farm owned by the Smiths was assessed a higher value per acre than all but one of the ten farms owned by four of the most prominent affidavit-writers. It takes hard work, not laziness and indolence, to make a productive and valuable farm. The claims of indolence are thus proven false. "If the Hurlbut-Howe affidavits cannot be trusted on matters that can be quantified and tested, there seems little reason to trust their judgments in the less tangible matter of character. Clearly, they reflect religious hostility and perhaps envy from their less successful neighbors."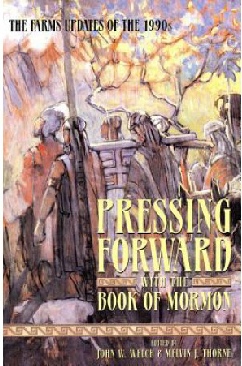 17 And thus saith the Lord, thy Redeemer, the Holy One of Israel; I have sent him, the Lord thy God who teacheth thee to profit, who leadeth thee by the way thou shouldst go, hath done it.
18 O that thou hadst hearkened to my commandments -- then had thy peace been as a river, and thy righteousness as the waves of the sea.
19 Thy seed also had been as the sand; the offspring of thy bowels like the gravel thereof; his name should not have been cut off nor destroyed from before me.
20 Go ye forth of Babylon, flee ye from the Chaldeans, with a voice of singing declare ye, tell this, utter to the end of the earth; say ye: The Lord hath redeemed his servant Jacob.
21 And they thirsted not; he led them through the deserts; he caused the waters to flow out of the rock for them; he clave the rock also and the waters gushed out.
22 And notwithstanding he hath done all this, and greater also, there is no peace, saith the Lord, unto the wicked.