A Library Tour through 2 Nephi 3
1 And now I speak unto you, Joseph, my last-born. Thou wast born in the wilderness of mine afflictions; yea, in the days of my greatest sorrow did thy mother bear thee.
2 And may the Lord consecrate also unto thee this land, which is a most precious land, for thine inheritance and the inheritance of thy seed with thy brethren, for thy security forever, if it so be that ye shall keep the commandments of the Holy One of Israel.
3 And now, Joseph, my last-born, whom I have brought out of the wilderness of mine afflictions, may the Lord bless thee forever, for thy seed shall not utterly be destroyed.
4 For behold, thou art the fruit of my loins; and I am a descendant of Joseph who was carried captive into Egypt. And great were the covenants of the Lord which he made unto Joseph.
5 Wherefore, Joseph truly saw our day. And he obtained a promise of the Lord, that out of the fruit of his loins the Lord God would raise up a righteous branch unto the house of Israel; not the Messiah, but a branch which was to be broken off, nevertheless, to be remembered in the covenants of the Lord that the Messiah should be made manifest unto them in the latter days, in the spirit of power, unto the bringing of them out of darkness unto light -- yea, out of hidden darkness and out of captivity unto freedom.
The Holy Qur'an – Another Testament of Restored Truth
by Jonathan K. Crockett
Quoted from the book:
XII:03 We do relate unto thee the most beautiful stories, in that We reveal to thee this portion of the Qur'an: before this, thou too was among those who knew it not.
XII:04 Behold, Joseph said to his father: "O my father! I did see eleven stars and the sun and the moon: I saw them prostrate themselves to me!"
XII:05 Said the father: "My dear little son! Relate not thy vision to thy brothers, lest they concoct a plot against thee: for Satan is to man an avowed enemy!
XII:06 "Thus will thy Lord choose thee to teach thee the interpretation of stories and events and perfect His favour to thee and to the posterity of Jacob – even as he perfected it to thy fathers Abraham and Isaac aforetime! For thy Lord is full of knowledge and wisdom."
XII:07 Verily in Joseph and his brethren are Signs for Seekers after Truth.
How is it that the story of Joseph contains Signs for Seekers of the Truth? Although there are many lessons to learn in this story concerning righteousness, how to accept whatever we are given and to praise the Lord is of utmost importance. There are also lessons about the importance of leaders and prophecy.
The Truth is with God and the Seekers of Truth seek God's religion. Where are the Signs pointing the Seekers of Truth to God's religion in the story of joseph? One Sign is in the importance of living prophets and leaders. But this Sign can be found in the writings of any Messenger. There is another Sign, the most important for those seeking the Religion of God, found in two stories of Joseph contained in the Old Testament or the Torah. All true Muslims must believe in the scriptures which went before and which the Qur'an confirms. It is therefore important to search out all of the stories of Joseph.
The scriptures referred to are unique in that they concern Joseph and the future of his posterity. They are the Signs for the Seekers of Truth to which this verse is referring, and are Signs of the True religion that would be restored. Thus Seekers of Truth might know which religion is true from the stories of Joseph.
Genesis 49:22 says: "Joseph is a fruitful bough, by a wall; whose branches run over the wall." It says that Joseph will be fruitful, and that his posterity will branch out, and cross the barriers which are like a wall. We know that the prophets who wrote the Book of Mormon are descendants of Joseph, that they came from Jerusalem and crossed the barrier of the great ocean.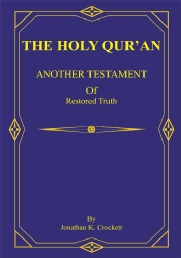 6 For Joseph truly testified, saying: A seer shall the Lord my God raise up, who shall be a choice seer unto the fruit of my loins.
7 Yea, Joseph truly said: Thus saith the Lord unto me: A choice seer will I raise up out of the fruit of thy loins; and he shall be esteemed highly among the fruit of thy loins. And unto him will I give commandment that he shall do a work for the fruit of thy loins, his brethren, which shall be of great worth unto them, even to the bringing of them to the knowledge of the covenants which I have made with thy fathers.
8 And I will give unto him a commandment that he shall do none other work, save the work which I shall command him. And I will make him great in mine eyes; for he shall do my work.
9 And he shall be great like unto Moses, whom I have said I would raise up unto you, to deliver my people, O house of Israel.
10 And Moses will I raise up, to deliver thy people out of the land of Egypt.
11 But a seer will I raise up out of the fruit of thy loins; and unto him will I give power to bring forth my word unto the seed of thy loins -- and not to the bringing forth my word only, saith the Lord, but to the convincing them of my word, which shall have already gone forth among them.
The Book of Mormon Miracle: 25 Reasons to Believe, by Randal A. Wright.
Chapter 20 – the Character of Joseph Smith
Dr. Wright writes: "For those who are still trying to decide whether Joseph Smith was a prophet and the Book of Mormon is true, it would help to learn a little more about him from those who knew him best. Those who are able to observe an individual are far more likely to paint an accurate picture than are his or her enemies." He then presents statements from several dozen "character witnesses" who knew Joseph Smith personally and observed him firsthand, many but not all Latter-day Saints.
"These men and women knew Joseph Smith in many different circumstances. Some observed his behavior with children and saw compassion and energy. Some told of their experience with him as a political or military leader and described his dignity. Some were awed by his countenance. Some experienced his congenial nature and friendship. Some were with him when extreme persecution, scorn, and abuse fell upon them and they saw calm, righteous power and peace. Some knew him from close association and reported his great love, tenderness, and prophetic nature. But all saw him as an extraordinary man of integrity, spiritual strength, and faith. Joseph Smith was admired, loved, and revered by those who knew him best."
You are sure to find a new respect and admiration for Joseph Smith after reading these diverse and fascinating accounts.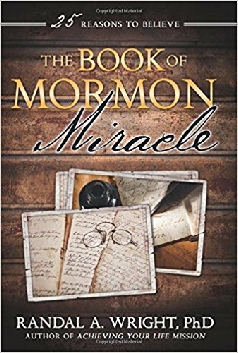 12 Wherefore, the fruit of thy loins shall write; and the fruit of the loins of Judah shall write; and that which shall be written by the fruit of thy loins, and also that which shall be written by the fruit of the loins of Judah, shall grow together, unto the confounding of false doctrines and laying down of contentions, and establishing peace among the fruit of thy loins, and bringing them to the knowledge of their fathers in the latter days, and also to the knowledge of my covenants, saith the Lord.
Seven Claims of the Book of Mormon: A Collection of Evidences
John A. Widstoe and Franklin S. Harris, Jr.
Claim Six: The contents of the Book are inspired
In this chapter are several thematic lists from the Book of Mormon, (by himself, by B.H. Roberts, by J.M. Sjodahl, and by William A. Hyde) all of them inviting the reader to study further to see the "singular beauty" of this information.
However, the list he begins the chapter with was written by an anti-Mormon:
"Alexander Campbell, learned divine and famous preacher, avowed opponent to 'Mormonism,' urged as a main objection against the Book of Mormon that modern theological controversies were known among the Nephites. Since, however, all modern theological controversies are as old as the hills, the appearance of them at any time is not unexpected, and this appearance becomes a witness of the truth of the Book in view of the limited training, experience and outlook of the translator.
"Mr. Campbell lists the controversial points on which the Book of Mormon passes decision. An unlearned boy would hardly know these subjects, much less be able to deal with them intelligently. Here is the list of Campbell's subjects:
"a. Infant baptism. b. Ordination. c. The Trinity. d. Regeneration. e. Repentance. f. Justification. g. The Fall of man. h. The Atonement. i. Transubstantiation. j. Fasting. k. Penance. l. Church government. m. Religious experience. n. The call to the ministry. o. General resurrection. p. Eternal punishment. q. Who may baptize. r. Freemasonry. s. Republican government. t. The rights of man.
"Many of the solutions of these controversies offered by the Book of Mormon have been adopted during the last century by most of the controversialists, without of course mentioning the Book of Mormon. This may be verified by an examination of the present creeds of the churches as compared with the creeds one hundred years ago."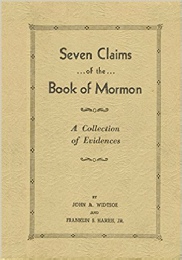 13 And out of weakness he shall be made strong, in that day when my work shall commence among all my people, unto the restoring thee, O house of Israel, saith the Lord.
The Book of Mormon Miracle: 25 Reasons to Believe, by Randal A. Wright.
Chapter 21 – What Joseph Smith Left Behind
Following Jesus's guide to determine truth, "by their fruits ye shall know them," Dr. Wright creatively presents a resume for Joseph Smith, astounding in its depth. Moving through basic information, education, and publications, it covers church organization, temple builder, newspaper publisher, and more. "Truths revealed" is an impressive three-page list, beginning with "God appears to man in our day." A separate section of the chapter is a variety of quotes which reveal Joseph Smith's character and aspirations, all of them uplifting and encouraging.
"One of the grand fundamental principles of Mormonism is to receive truth, let it come from whence it may." – Joseph Smith
14 And thus prophesied Joseph, saying: Behold, that seer will the Lord bless; and they that seek to destroy him shall be confounded; for this promise, which I have obtained of the Lord, of the fruit of my loins, shall be fulfilled. Behold, I am sure of the fulfilling of this promise;
15 And his name shall be called after me; and it shall be after the name of his father. And he shall be like unto me; for the thing, which the Lord shall bring forth by his hand, by the power of the Lord shall bring my people unto salvation.
The Book of Mormon Is True – Evidences and Insights to Strengthen Your Testimony, by Marilynne Todd Linford.
Chapter 18 – Words in the Book of 3 Nephi
In addition to the extensive list of words unique to the Book of 3 Nephi, and the several speakers represented therein, Marilynne Todd Linford presents an interesting parallel between Jesus Christ and the Book of Mormon, including the fact that the body of Jesus and the gold plates were both entrusted to "Joseph."
16 Yea, thus prophesied Joseph: I am sure of this thing, even as I am sure of the promise of Moses; for the Lord hath said unto me, I will preserve thy seed forever.
17 And the Lord hath said: I will raise up a Moses; and I will give power unto him in a rod; and I will give judgment unto him in writing. Yet I will not loose his tongue, that he shall speak much, for I will not make him mighty in speaking. But I will write unto him my law, by the finger of mine own hand; and I will make a spokesman for him.
18 And the Lord said unto me also: I will raise up unto the fruit of thy loins; and I will make for him a spokesman. And I, behold, I will give unto him that he shall write the writing of the fruit of thy loins, unto the fruit of thy loins; and the spokesman of thy loins shall declare it.
19 And the words which he shall write shall be the words which are expedient in my wisdom should go forth unto the fruit of thy loins. And it shall be as if the fruit of thy loins had cried unto them from the dust; for I know their faith.
20 And they shall cry from the dust; yea, even repentance unto their brethren, even after many generations have gone by them. And it shall come to pass that their cry shall go, even according to the simpleness of their words.
21 Because of their faith their words shall proceed forth out of my mouth unto their brethren who are the fruit of thy loins; and the weakness of their words will I make strong in their faith, unto the remembering of my covenant which I made unto thy fathers.
22 And now, behold, my son Joseph, after this manner did my father of old prophesy.
23 Wherefore, because of this covenant thou art blessed; for thy seed shall not be destroyed, for they shall hearken unto the words of the book.
24 And there shall rise up one mighty among them, who shall do much good, both in word and in deed, being an instrument in the hands of God, with exceeding faith, to work mighty wonders, and do that thing which is great in the sight of God, unto the bringing to pass much restoration unto the house of Israel, and unto the seed of thy brethren.
25 And now, blessed art thou, Joseph. Behold, thou art little; wherefore hearken unto the words of thy brother, Nephi, and it shall be done unto thee even according to the words which I have spoken. Remember the words of thy dying father. Amen.