An Artistic Tour of Jacob
Jacob 5:72
BOOK OF MORMON ART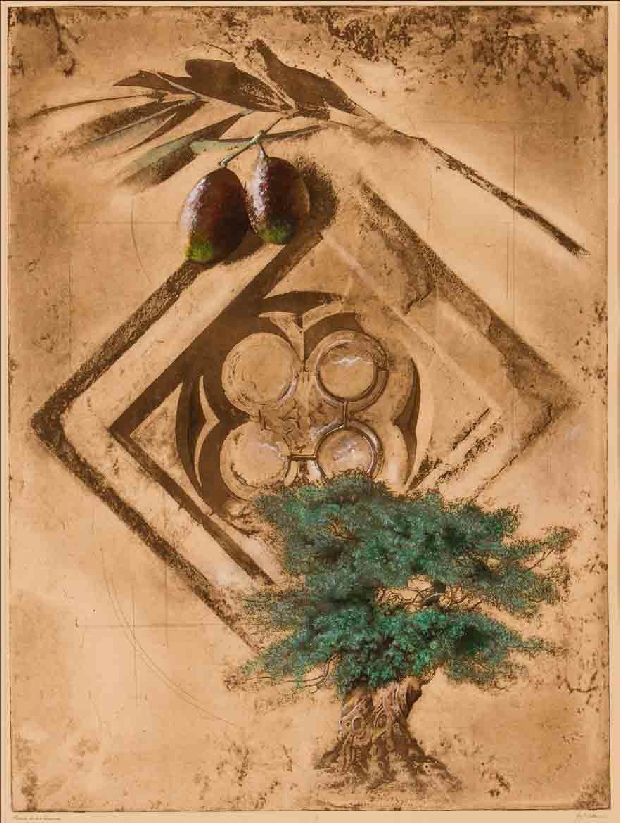 Jay Wallace
tinted intaglio print on paper
The allegory of the olive tree, recorded in Jacob 5, makes known to me God's wonderful works. It is an allegory of the Master, of His devotion and work in the vineyard throughout the world and of the work of his servants. The olive tree is one of the archetypal elements of the earth, known for its ability to grow in dry, unforgiving soil. In the center of the artwork lies the quatrefoil from Christian symbolism. A window represents the four gospels and all servants who labor diligently for the salvation of man. In Native American culture, the leaves of the quatrefoil symbolize the four outermost parts of the vineyard.
Jacob 5:74
BOOK OF MORMON ART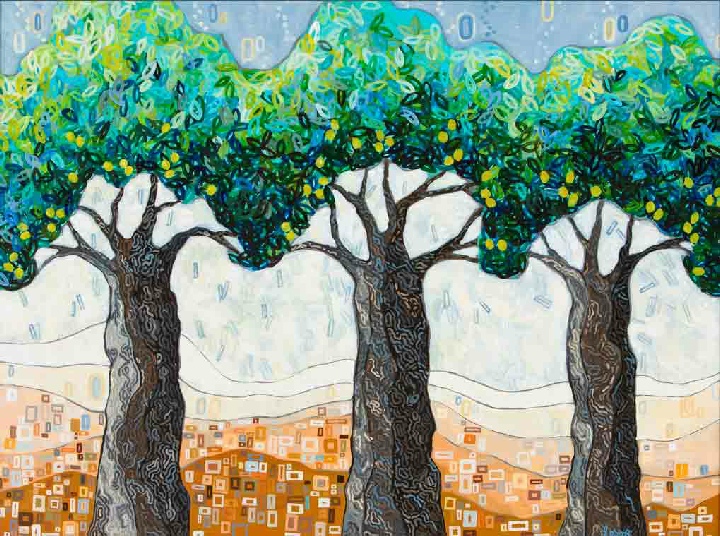 Leslie Graff
acrylic on canvas
This piece explores the symbolic use of olive trees in the scriptures. Jeremiah 11:16 states that it is an honor to be likened to an olive tree: "The Lord called thy name, A green olive tree, fair, and of goodly fruit." The promise of God's covenant blessings is symbolized in the tame olive trees, and our individual lives and works in the good fruit. The painting is set in the modern day to represent the gathering of the house of Israel and the final proliferation of good fruit. It testifies of the Savior's ministry of hope and salvation.
Jacob 7:11
BOOK OF MORMON ART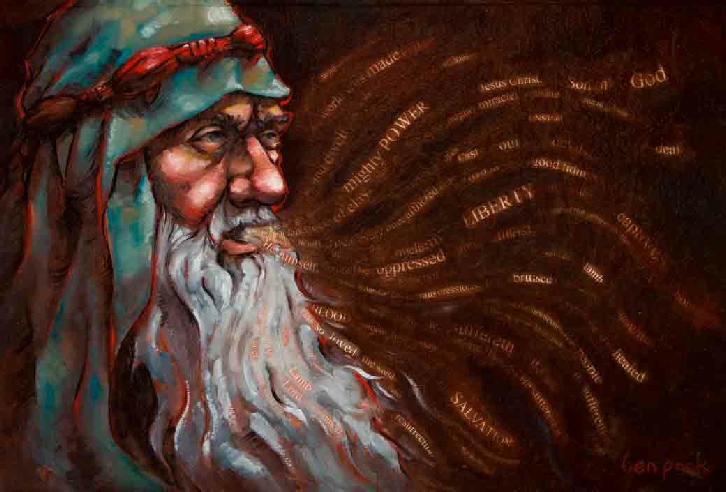 None of the Prophets Have Written, Nor Prophesied,
Save They Have Spoken Concerning This Christ
Benjamin Austin Pack
Oil on panel. 2012
The message of this painting is that Christ is the source we look to for our salvation. Prophets have testified of Christ's mission and His saving role throughout the ages. Prophets today repeat what has been said concerning Him, prophesy of His future coming, and teach us what He would have us do. The prophet in this painting represents all the prophets throughout time. The words coming from his mouth are statements found in the scriptures about Christ. How marvelous are God's works in giving us prophets to lead us to Him.