A Musical Tour of Helaman
Helaman 3:28-30
The Book of Mormon tells of a time when many people repented and joined the church. Mormon says that the Word of God will lead the man of Christ in a strait and narrow course across that everlasting gulf of misery and land their souls in the kingdom of heaven.
Jeanne Evans - American Sign Language
words by Marvin K. Gardner, b. 1952; music by Vanja Y. Watkins
Helaman 5
Christian missionaries Nephi and Lehi were imprisoned by the Lamanites. But the Book of Mormon tells how God was merciful to these Lamanites, and showed them the amazing miracle of surrounding His servants with fire.
"Surrounded by Fire," by Marilyn Arnold and Maurine Ozment, recounts this marvelous event. The song is from their book, Sacred Hymns of the Book of Mormon, 19.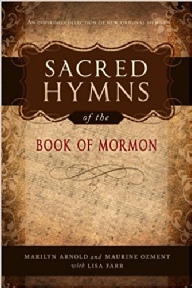 Helaman 5:9
Book of Mormon prophet Helaman taught his sons, "There is no other way nor means whereby man can be saved, only through the atoning blood of Jesus Christ, who shall come; yea, remember that he cometh to redeem the world."
Again We Meet Around the Board
Cantiques Karaoke
words by Eliza R. Snow; music by George Careless
words by Joseph Smith; music by Vanja Y. Watkins
Helaman 5:12
The Book of Mormon records the teachings of Helaman to his sons:
"And now, my sons, remember, remember that it is upon the rock of our Redeemer, who is Christ, the Son of god, that ye must build your foundation; that when the devil shall send forth his mighty winds, yea, his shafts in the whirlwind, yea, when all his hail and his mighty storm shall beat upon you, it shall have no power over you to drag you down to the gulf of misery and endless wo, because of the rock upon which ye are built, which is a sure foundation, a foundation whereon if men build they cannot fall."
Tania Finn
words by Robert Keen; music attributed to J. Ellis
The Tabernacle Choir at Temple Square
words by Joseph L. Townsend; music by William Clayson
General Conference of the Church of Jesus Christ of Latter-day Saints
The Wise Man and the Foolish Man
The Cedarmont Kids
The Book of Mormon records, "many did preach with exceedingly great power and authority, unto the bringing down many of them into the depths of humility, to be the humble followers of God and the Lamb."
Natalia Wolfgramm
Susan Evan McCloud
The Book of Mormon teaches, "[Christ] is God, and he is with [our fathers], and he did manifest himself unto them, that they were redeemed by him; and they gave unto him glory, because of that which is to come."
Garrett F. Martin
Text by Theodulf of Orleans in 820, translated by John Mason Neale in 1851.
Music by Melchior Teschner in 1603. Arrangement by Dan Miller
Rodgers Infinity 361 organ, Sacred Heart Chapel of Loyola Marymount University,
Los Angeles, California
Helaman 10:4,5
In the Book of Mormon, the Lord commended the prophet Nephi for his faithfulness in declaring His word with unwearyingness. He then grants special blessings to this faithful servant.
The Tabernacle Choir at Temple Square
anonymous text; music by George Kaillmark
Helaman 12:24
Mormon wrote, "May God grant, in his great fulness, that men might be brought unto repentance and good works, that they might be restored unto grace for grace, according to their works."
Amira
Helaman 13:2-4
The Book of Mormon tells of the Lamanite prophet Samuel, who prophesied of the birth and death of the Savior.
Samuel Tells of the Baby Jesus
Missionaries at Christmas zone conference
words by Mabel Jones Gabbott; music by Greitje Terburg Rowley
Helaman 14
Book of Mormon prophet Samuel the Lamanite told not only of Jesus Christ's birth and death in the land of Jerusalem, but of the signs in America that would accompany these momentous events.
Marilyn Arnold and Maurine Ozment, in "Then He Comes, Then He Comes," from their book Sacred Hymns of the Book of Mormon, 20, memorialize Samuel's words.
Helaman 14:14-19
Samuel the Lamanite taught the Book of Mormon people that "He surely must die that salvation may come; yea, it behooveth him and becometh expedient that he dieth, to bring to pass the resurrection of the dead, that thereby men may be brought into the presence of the Lord."
words by Vilate Raile; music by Leroy J. Robertson
Helaman 14:30,31
In the Book of Mormon, Samuel the Lamanite prophet warned the people that they alone were responsible for how they responded to his message of the Savior:
"And now, remember, remember, my brethren, that whosoever perisheth, perishet unto himself; and whosoever doeth iniquity, doeth it unto himself; for behold, ye are free; ye are permitted to act for yourselves; for behold, God hath given unto you a knowledge and he hath made you free."
Know This, That Every Soul Is Free
Priesthood choir from the Logan and Ogden institutes of religion
anonymous words; music by Roger L. Miller
General Conference of the Church of Jesus Christ of Latter-day Saints
Helaman 15:13
Samuel the Book of Mormon Lamanite prophet was familiar with the history and prophesies concerning his people. He knew that they would degenerate back into unbelief, but after that "They shall again be brought to the true knowledge, which is the knowledge of their Redeemer, and their great and true shepherd, and be numbered among his sheep."
Bass singer Chris Douglas Clark
words by James Montgomery; music by Thomas Koschat
The Tabernacle Choir and Orchestra at Temple Square
words by James Montgomery; music by Thomas Koschat