An Artistic Tour of 1 Nephi 1-7
1 Nephi 1:1
BOOK OF MORMON MUSIC
"We'll Bring the World His Truth" – by Janice Kapp Perry
Nephi says that he was born of goodly parents and he knows the goodness of God, therefore he wrote a record which brings truth to the world. Acapella group Inside Out illustrates the song with pictures of Latter-day Saint missionaries serving and teaching, bringing God's truth throughout the world.
Children's Songbook, 172
1 Nephi 2:15
BOOK OF MORMON POETRY
"And My Father Dwelt in a Tent," - Michael R. Collings
1 Nephi 3:1-7
BOOK OF MORMON MUSIC
"Nephi's Courage" – Bill N. Hansen Jr. & Lisa T. Hansen
The Lord gave Nephi's family a difficult assignment: return to Jerusalem and acquire the plates of brass, the history of his people, which was kept by a wealthy relative. Nephi's brother complained, but Nephi expressed his faith: "I will go and do the things which the Lord hath commanded, for I know that the Lord giveth no commandment unto the children of men, save he shall prepare a way for them that they may accomplish the thing which he commandeth them."
This Linda Mat Kids presentation is illustrated.
Children's Songbook, 120
1 Nephi 3:24
BOOK OF MORMON ART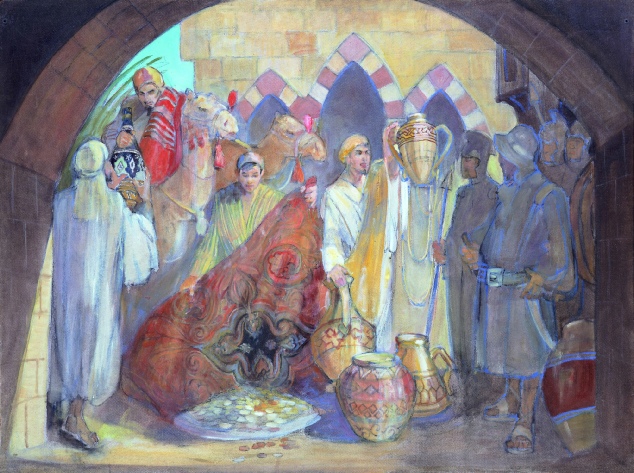 Treasures in Exchange for the Plates of Brass
Minerva Teichert
Lehi's sons's second attempt to get the Plates of Brass, as commanded by the Lord: "And it came to pass that we went in unto Laban, and desired him that he would give unto us the records which were engraven upon the plates of brass, for which we would give unto him our gold, and our silver, and all our precious things."
1 Nephi 4:6
BOOK OF MORMON ART
Elspeth Young
"And I was led by the Spirit, not knowing beforehand the things which I should do." Thus Nephi describes his final successful acquisition of the plates of brass, as directed by the Lord.
In the Book of Mormon, young Nephi and his brothers have the commission to obtain the sacred record, so that their descendants will know the commandments of the Lord. They've unsuccessfully tried several ways to obtain them, and Nephi knows that he can only rely upon the Lord for help, because he is on the Lord's errand.
1 Nephi 4:7-9
BOOK OF MORMON ART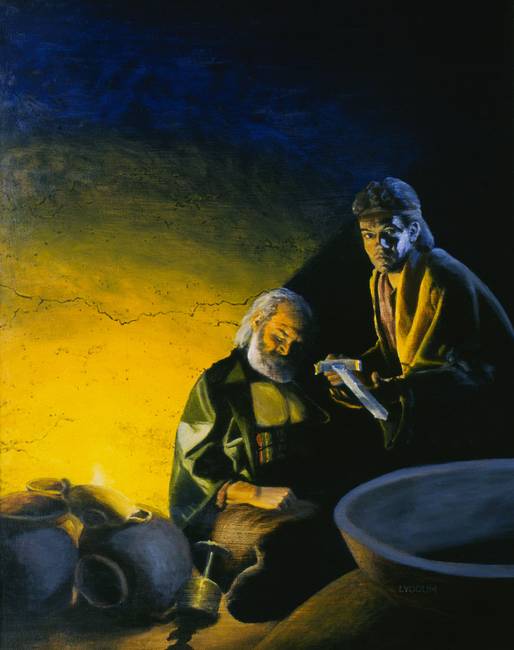 Lester Yocum
"Nevertheless I went forth, and as I came near unto the house of Laban I beheld a man, and he had fallen to the earth before me, for he was drunken with wine. And when I came to him I found that it was Laban. And I beheld his sword, and I drew it forth from the sheath thereof."
Artist's notes:
"Nephi ponders what to do with the man who has done so much harm to his family, now found drunk and helpless in an alley at night."
1 Nephi 4:10-13
BOOK OF MORMON ART
Real Heroes Posters – Steve Nethercott
Nephi faced a dilemma – to stay in his comfort zone, or to do a difficult thing that the Lord was commanding him. The Book of Mormon says,
"And it came to pass that I was constrained by the Spirit that I should kill Laban; but I said in my heart: Never at any time have I shed the blood of man. And I shrunk and would that I might not slay him.
"And the Spirit said unto me again: Behold the Lord hath delivered him into thy hands.
"Yea, and I also knew that he had sought to take away mine own life; yea, and he would not hearken unto the commandments of the Lord; and he also had taken away our property.
"And it came to pass that the Spirit said unto me again: Slay him, for the Lord hath delivered him into thy hands. Behold the Lord slayeth the wicked to bring forth his righteous purposes. It is better that one man should perish than that a nation should dwindle and perish in unbelief."
BOOK OF MORMON ART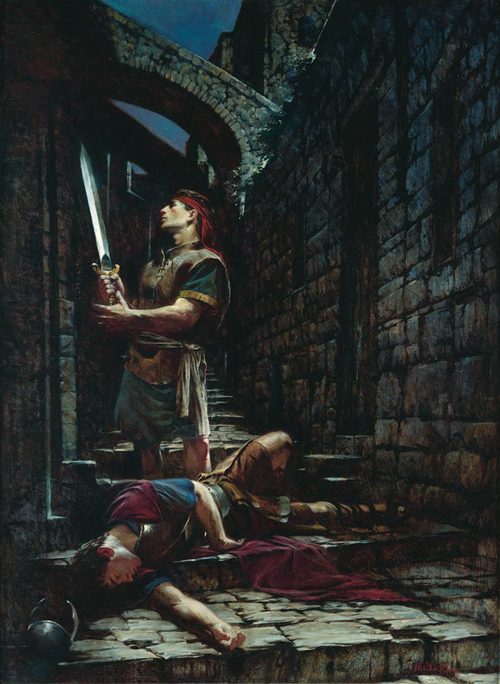 I Did Obey the Voice of the Spirit
Walter Rane
Oil on board
Nephi made his decision:
"Therefore I did obey the voice of the Spirit, and took Laban by the hair of the head, and I smote off his head with his own sword."
BOOK OF MORMON ART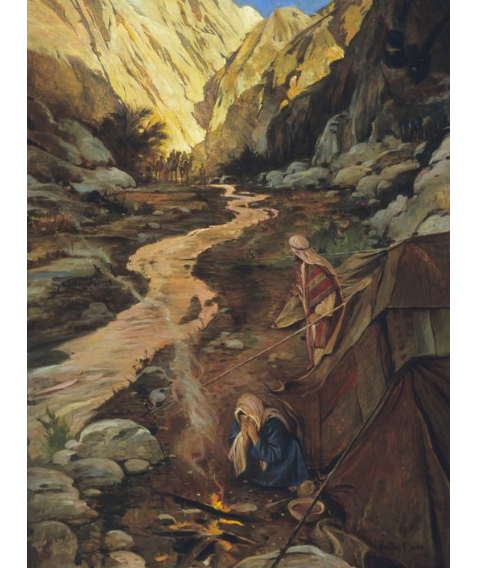 She Had Supposed That We Had Perished
Walter Rane
Oil on board
Sariah, the wife of Book of Mormon prophet Lehi, followed him with her family out of Jerusalem and into the wilderness. But when her sons delayed their return while on their Brass Plates acquisition mission, she began to doubt her husband's call and the Lord's protection.
The Book of Mormon records, "For she had supposed that we had perished in the wilderness; and she also had complained against my father, telling him that he was a visionary man; saying: Behold thou hast led us forth from the land of our inheritance, and my sons are no more, and we perish in the wilderness."
BOOK OF MORMON ART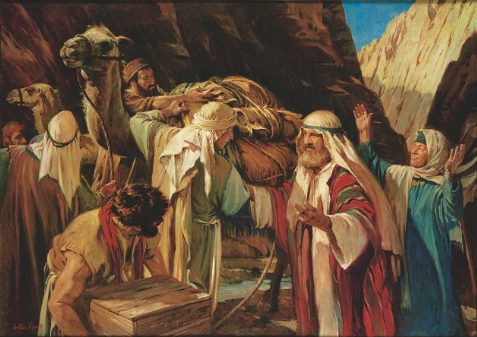 Walter Rane
Oil on board.
The Book of Mormon tells of the joyful reunion when the boys returned, after successfully completing their mission:
"And when we had returned to the tent of my father, behold their joy was full, and my mother was comforted."
1 Nephi 5:8
BOOK OF MORMON ART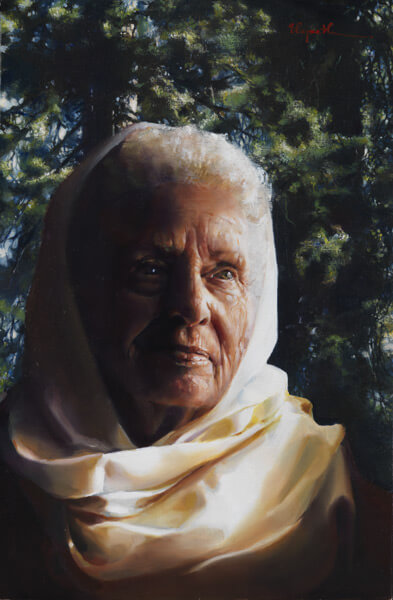 Elspeth Young
Artist's Comments:
The story behind The Promised Land
The Book of Mormon begins with an account of the family of Lehi, a prophet living in Jerusalem during Zedekiah's reign in 600 BC (1 Nephi 1:4). Lehi is commanded by the Lord "that he should take his family and depart into the wilderness…wherefore, he did as the Lord commanded him...And he left his house, and the land of his inheritance, and his gold, and his silver, and his precious things, and took nothing with him, save it were his family, and provisions, and tents, and departed into the wilderness" (1 Nephi 2:2-4).
During the family's wilderness journey, Lehi dreams a dream in which he sees the tree of life "whose fruit was desirable to make one happy" (1 Nephi 8:10). This tree and its fruit represent the "love of God" (1 Nephi 11:22). In this dream, Lehi partakes of the fruit and then invites his family (including his wife Sariah) to partake of the fruit also, which they do (see 1 Nephi 8:13-16). Though but a simple portrait, this image of Sariah is meant to portray the faith and hope of one who has partaken of that fruit "which is most precious, which is sweet above all that is sweet..." (Alma 32:42). Nephi tells us that Sariah's "joy was full, and [she] was comforted" (1 Nephi 8:7) during the wilderness journey. That peace and comfort is seen in her face.
As mother to both the Nephite and Lamanite races, Sariah is a mother of nations. The differences between the two races are symbolized by the stark contrast visible in her face.
BOOK OF MORMON ART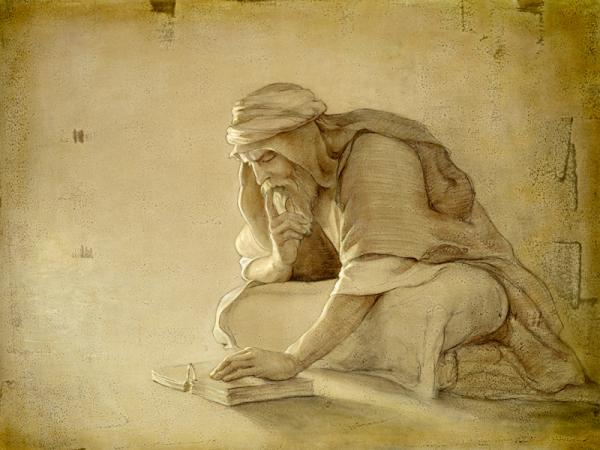 Joseph Franklin Brickey
The Book of Mormon says that after the sons returned with the plates of brass, Lehi gave thanks unto the Lord. "And after they had given thanks unto the God of Israel, my father, Lehi, took the records which were engraven upon the plates of brass, and he did search them from the beginning."