An Artistic Tour of 1 Nephi 8
1 Nephi 8
BOOK OF MORMON ART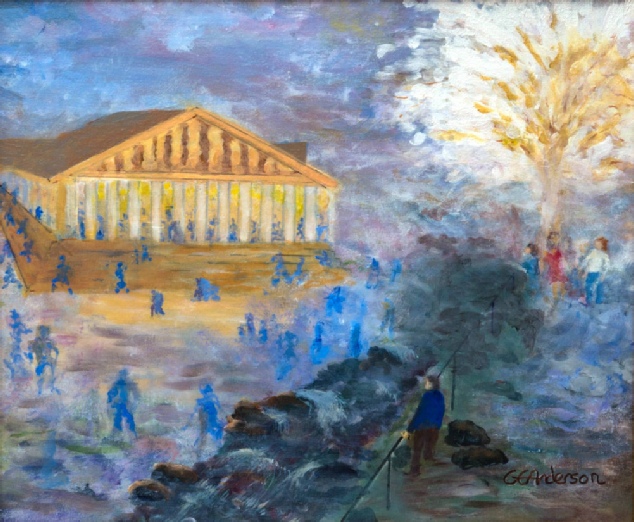 GG Anderson
Painting with a Stroke
This is my realization of a dream had by Lehi, a powerful prophet of God from 'The Book of Mormon'. He saw a large open field. In this field he could see a large tree that was white. The tree had beautiful fruit. He walked up to the tree and partook of the fruit. It tasted wonderful to him so he wanted his family to also taste it. He looked and saw his mother and his sons and invited them to come enjoy the fruit with him. He looked for other sons who were a great distance away. When he invited these sons they refused. There are other items in this picture to help us understand this dream. There was a rod of iron leading to the tree. This rod of iron traveled a mist of darkness before it got to the tree. When he looked around he could see there was a river between the tree and a great and spacious building. When his prayer was completed, God revealed the meaning of the items in the dream. He began to understand that the Tree of Life providing fruit that brought them into the presence of God. The rod of iron was the word of God bringing people to the Tree of Life. Many people were trying to enter the great and spacious building, which represents the cares of the world and the physical desire. It makes it more difficult to choose which one to follow; the path of Satan or the plan of our Heavenly Father. Look at my blog for a full description.
1 Nephi 8
BOOK OF MORMON ART
Damir Krivenko
1 Nephi 8
BOOK OF MORMON METALWORK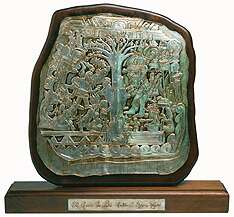 Damaris Puga de Garcia
Metal work
1 Nephi 8
BOOK OF MORMON MUSIC
"The Iron Rod" – Joseph L. Townsend & William Clayson
In Lehi's powerful and visually descriptive vision of the Tree of Life, he saw an iron rod that led to the tree. The iron rod is the word of God, and "whoso would hearken unto the word of God, and would hold fast unto it, they would never perish; neither could the temptations and the fiery darts of the adversary overpower them unto blindness, to lead them away to destruction."
A Priesthood Choir from BYU, under the direction of Ronald Staheli, performed "The Iron Rod" at the Priesthood Session of the April 2010 General Conference of the Church of Jesus Christ of Latter-day Saints. LDS Hymns, 274.
1 Nephi 8
BOOK OF MORMON ART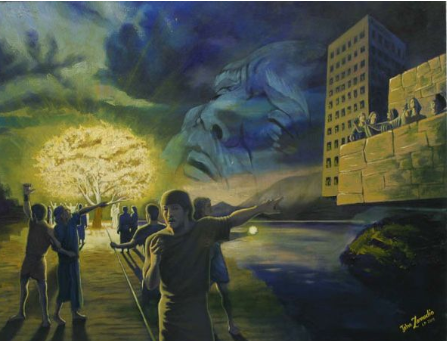 Perhaps, in Lehi´s dream, you were among the crowd trying to decide which path to take. Keep in mind that there are people who will show you the path they think is the right one and pressure you to follow it; however, in front of you, there is an iron rod that will guide you to eternal happiness. It all depends on the path you choose now, even at this moment. This is all clearly explained in Nephi 8 in the Book of Mormon.
1 Nephi 8:2
BOOK OF MORMON ART
"Behold, I have dreamed a dream, or in other words, I have seen a vision."
Thus Lehi introduces one of the most memorable and spiritually impressive scenes in the Book of Mormon, now referred to as the Tree of Life vision.
This Liahona article combines a number of beautiful interpretations by various artists of Lehi's Tree of Life vision.
1 Nephi 8:2
BOOK OF MORMON ART
Jorge Cocco Santangelo
1 Nephi 8:5
BOOK OF MORMON ART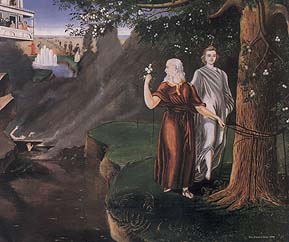 Lehi's Dream
David Hyrum Smith
about 1875. oil on canvas (61 x 45 cm).
The artist was born a few months after his father, the Prophet Joseph Smith, was martyred in 1844.
In the painting, Lehi is accompanied by the "Spirit of the Lord" (see 1 Ne. 8:5–6; 1 Ne. 11:11).
(Courtesy of Reorganized Church of Jesus Christ of Latter Day Saints Archives, Independence, Missouri; photograph by R. T. Clark.)
1 Nephi 8:8
BOOK OF MORMON ART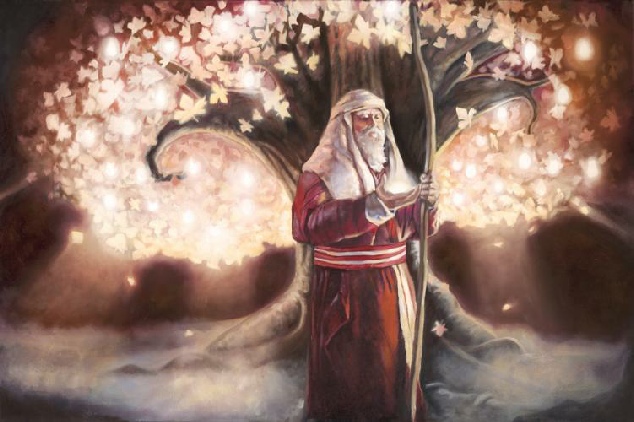 This painting is a message of hope. My father once told me, "It doesn't matter where you are in the path of life, you can turn around and walk forward towards the light. It is never too late to have a new beginning." Just like Father Lehi, when you find yourself surrounded by darkness, turn to the Lord and He will guide you.
1 Nephi 8:9
BOOK OF MORMON CARVED WOOD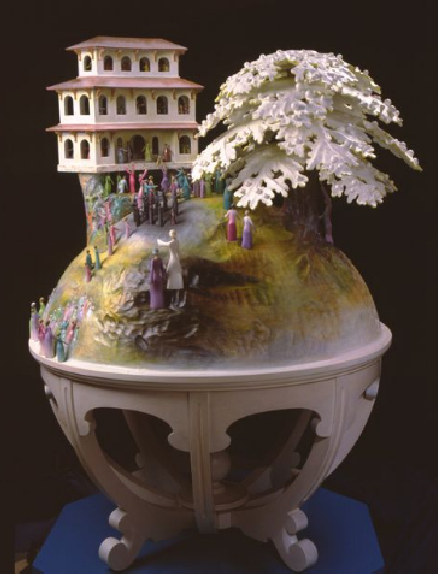 Lehi's Dream of the tree of Life
Kurt Sjökvist, 1995, Mockfjärd, Sweden
Carved wood, painted (157 x 101 x 101 centimeters).
Lehi's reference to "a large and spacious field, as if it had been a world" is interpreted as a globe upon which the allegory is presented. (Photo by R. T. Clark, Museum of Church History and Art.)
1 Nephi 8:10
BOOK OF MORMON ART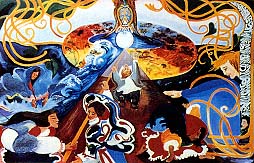 Joseph Smith and the Tree of Life
Juan M. Escobedo
1987, Caliente, Nevada, United States; oil on board (127 x 76 cm).
The Prophet Joseph Smith leads the way in this Mexican folk art interpretation of the tree of life.
1 Nephi 8:10
BOOK OF MORMON SCULPTURE BLACK-ON-BLACK FIRED CLAY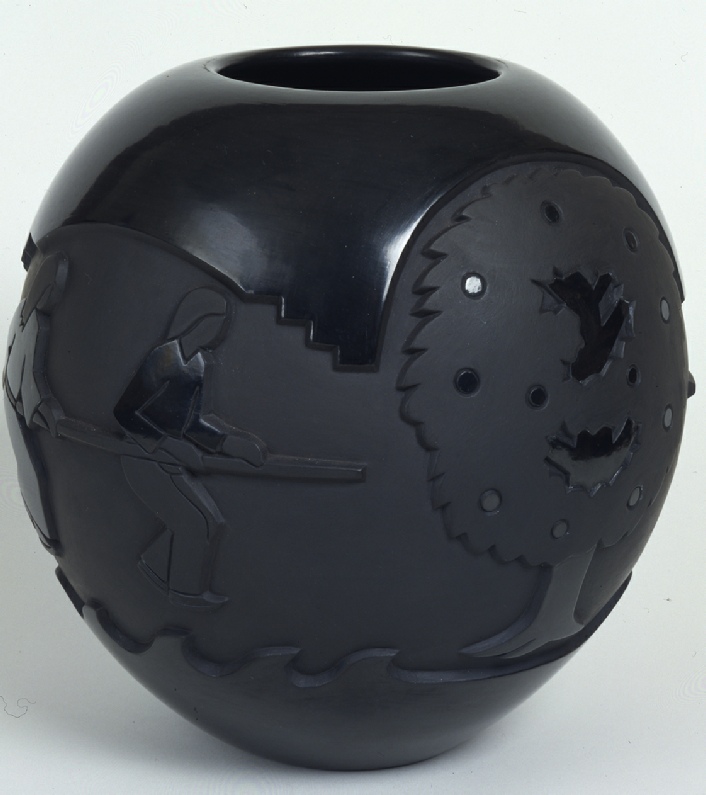 Harrison Begay Jr.- Haashké yah Níyá ("The Wandering Boy")
Navajo Indian artist (1914-2012)
1994, Espanola, New Mexico, United States
(23 x 18 x 18 cm).
1 Nephi 8:10
BOOK OF MORMON ART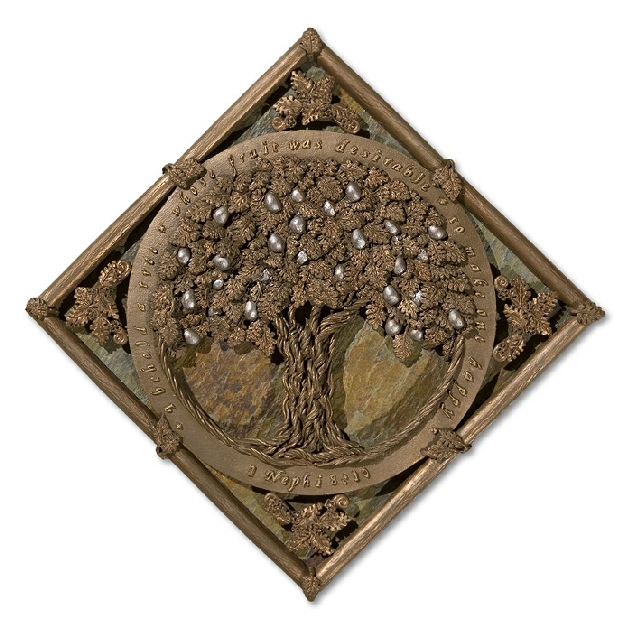 James Slowik
1 Nephi 8:10-35
BOOK OF MORMON ART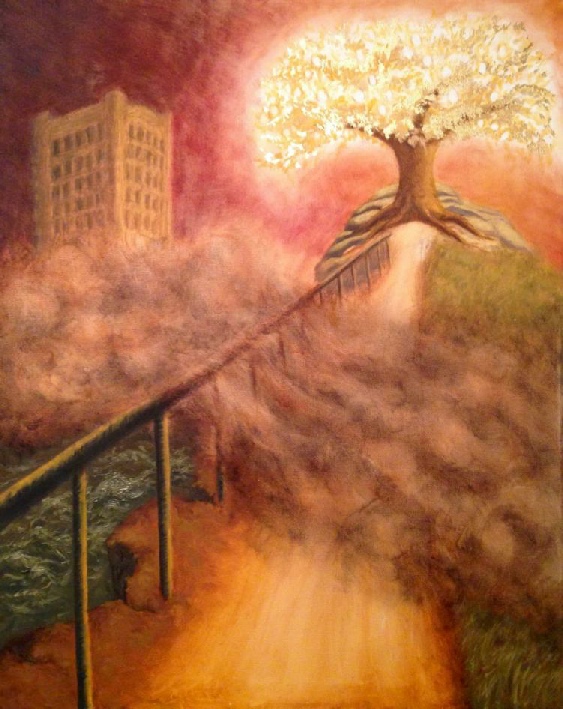 Krista Maureen Jones
Honorable Mention in the 2017 Book of Mormon Central Art Contest.
1 Nephi 8:10-35
BOOK OF MORMON ART
Honorable Mention in the 2017 Book of Mormon Central Art Contest