An Artistic Tour of 1 Nephi 2-3
1 Nephi 2:1
BOOK OF MORMON ART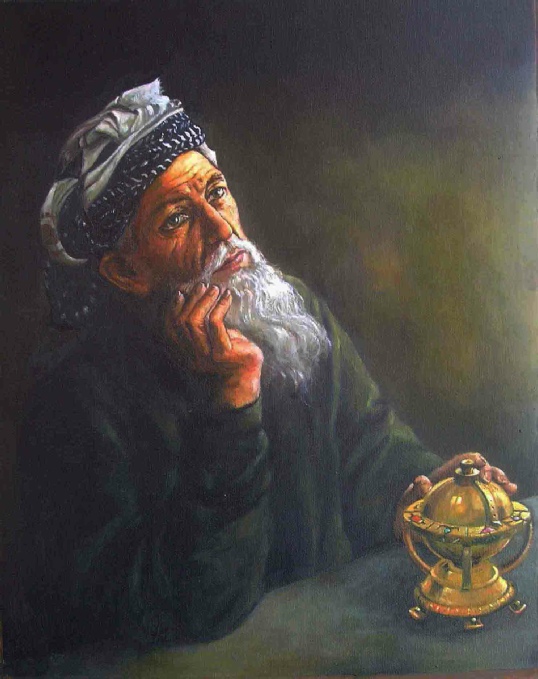 Jorge Cocco Santangelo
1 Nephi 2:1-4
BOOK OF MORMON ART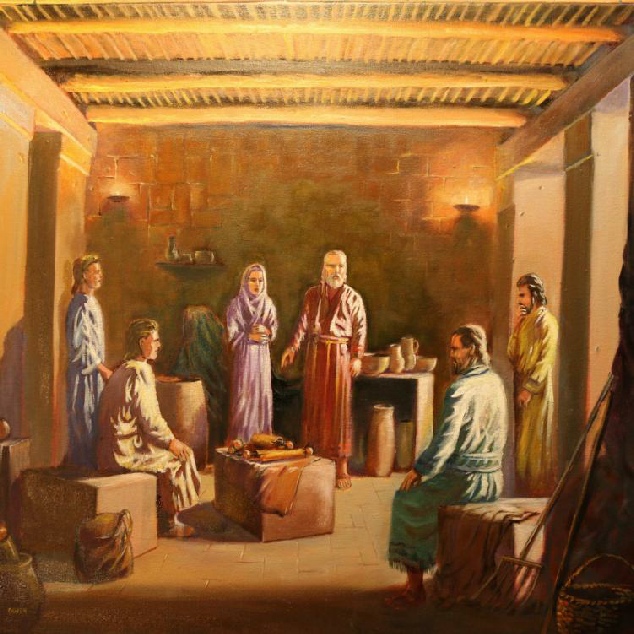 1 Nephi 2:1-7
BOOK OF MORMON ART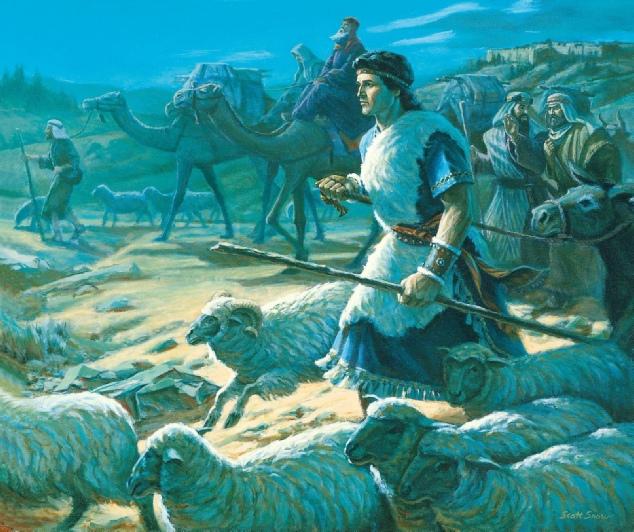 Lehi's Family Leaving Jerusalem
Scott Snow
1 Nephi 2:2
BOOK OF MORMON POTTERY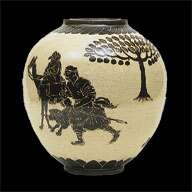 Missionaries Going into the World
Taiichi Aoba
Ceramic, by Taiichi Aoba of the Niihama Branch, Matsuyama Japan District. Among the images displayed on this decorative Japanese vase are Lehi's family fleeing Jerusalem, Abinadi testifying before King Noah, and an angel appearing to Alma.
1 Nephi 2:4
BOOK OF MORMON ART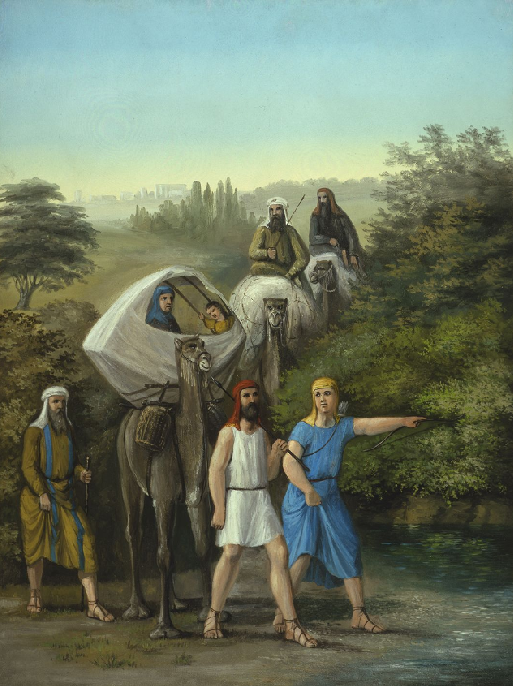 C.C.A. Christensen
Oil on board
1 Nephi 2:5
BOOK OF MORMON ART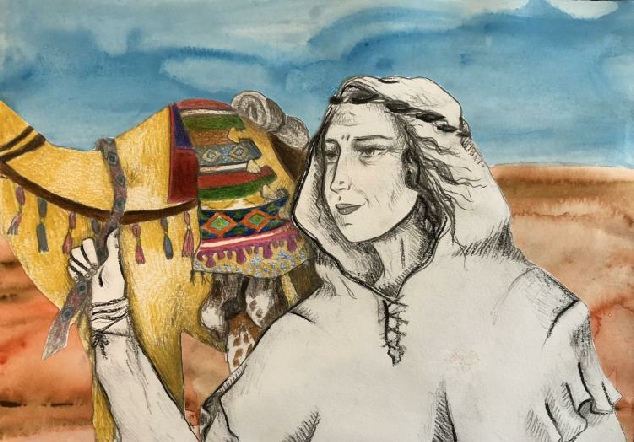 Laura Contreras
This piece was inspired in Sariah, mother of Nephi whose name is the only woman's to appear in Nephi's writings. Sariah's trials were inconceivable, but with steadfastness in Christ, faith and endurance she was able to obey and follow the will of the Lord. The piece consists watercolor (in the background) and the use of carbon pencils (Sariah)
1 Nephi 2:7
BOOK OF MORMON ART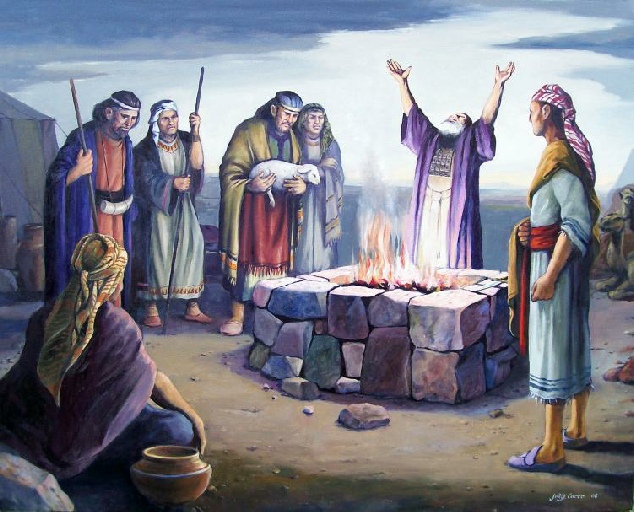 Jorge Cocco Santangelo
1 Nephi 2:9-10
BOOK OF MORMON ART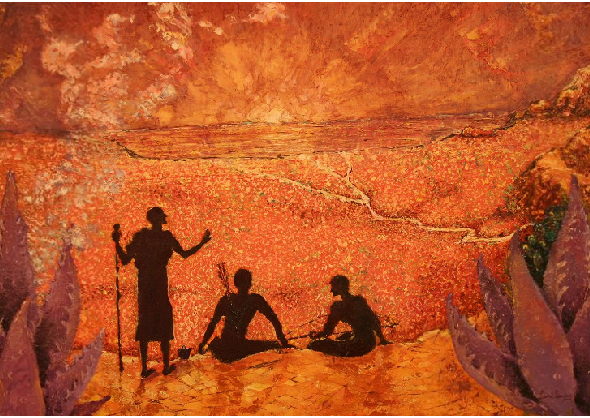 Laura Lencina
Acrylic on paper board
1 Nephi 2:15
BOOK OF MORMON POETRY
"And My Father Dwelt in a Tent," - Michael R. Collings
1 Nephi 3:1-7
BOOK OF MORMON MUSIC
"Nephi's Courage" – Bill N. Hansen Jr. & Lisa T. Hansen
The Lord gave Nephi's family a difficult assignment: return to Jerusalem and acquire the plates of brass, the history of his people, which was kept by a wealthy relative. Nephi's brother complained, but Nephi expressed his faith: "I will go and do the things which the Lord hath commanded, for I know that the Lord giveth no commandment unto the children of men, save he shall prepare a way for them that they may accomplish the thing which he commandeth them."
This Linda Mat Kids presentation is illustrated.
Children's Songbook, 120
1 Nephi 3:7
BOOK OF MORMON ART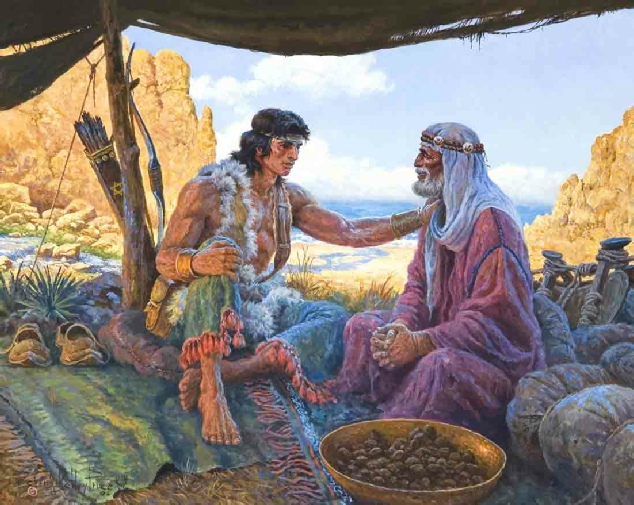 Clark Kelley Price
I am depicting the incident from 1 Nephi, chapter 3, where Nephi returns from speaking with God to the tent of his Father and learns that he is to go to Jerusalem to get the brass plates. His father tells Nephi that he has already spoken to Laman and Lemuel and that they have said the assignment is too hard. Nephi brings joy to Lehi when he tells him that he will do it because he believes the Lord will help them do it. The message of my painting is that Nephi set a great example and heritage of faith for the whole Church forever by what he said and did.
1 Nephi 3:24
BOOK OF MORMON ART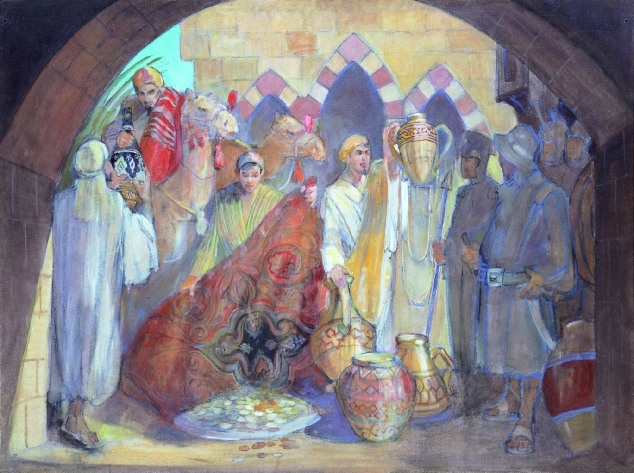 Treasures in Exchange for the Plates of Brass
Minerva Teichert
Lehi's sons's second attempt to get the Plates of Brass, as commanded by the Lord: "And it came to pass that we went in unto Laban, and desired him that he would give unto us the records which were engraven upon the plates of brass, for which we would give unto him our gold, and our silver, and all our precious things."