An Artistic Tour of 3 Nephi 17
3 Nephi 17
BOOK OF MORMON MUSIC
Come, Come, My Child - Marilyn Arnold and Maurine Ozment
Sacred Hymns of the Book of Mormon, 24
The people of the Book of Mormon had the transcendent experience of a personal visit from the risen Savior Jesus Christ, who showed them His love, taught them, prayed for them, and blessed them.
"Come, Come, My Child" is a sequel to "Tell Me the Stories of Jesus."
Come, come, my child, and I will tell
the story that you love so well,
How Jesus came, God's Holy Son,
and blessed the children one by one
As 'round his feet they gathered there,
with heads bowed low to hear His prayer.
They saw Him weep for joy and love,
and when they raised their eyes above,
Down angels came in bursts of light,
fire transcendent, circling bright.
3 Nephi 17:1-3
BOOK OF MORMON ART
Prepare Your Minds for the Morrow - Elspeth Young
Jesus taught the people of the New World, as recorded in the Book of Mormon, after His resurrection. At the end of the first day He instructed them to go to their homes and ponder upon the things which He had said, and prepare their minds for the morrow, for He would come again and teach them.
3 Nephi 17:5
BOOK OF MORMON ART
Tarry a Little Longer. Gary L. Kapp
Jesus Christ told the people of the Book of Mormon that He would go visit other civilizations, as He was commanded by His Father.
"And it came to pass that when Jesus had thus spoken, he cast his eyes round about again on the multitude, and beheld they were in tears, and did look steadfastly upon him as if they would ask him to tarry a little longer with them."
In His compassion, He did change His plans and minister further to them.
3 Nephi 17:7
BOOK OF MORMON SCULPTURE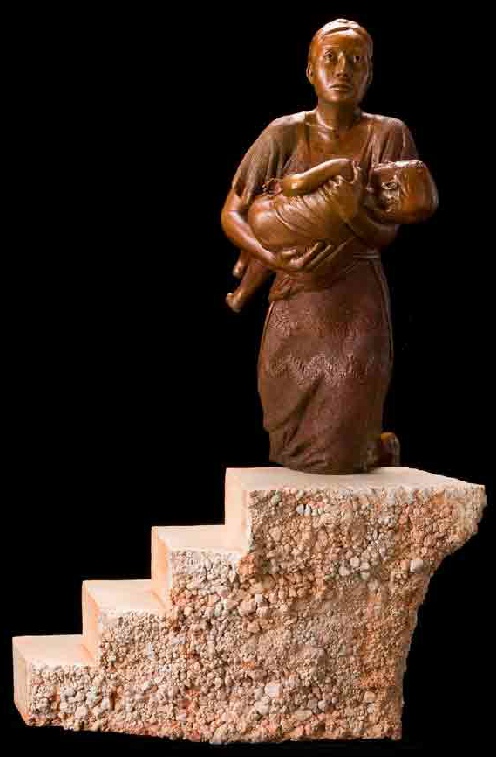 And Christ Did Heal His Other Sheep
Jacob Elton Dobson
2012 – cast bronze figure, cement base
" I have done two versions of this sculpture. The first represented Christ healing in the Old World. This version represents the Book of Mormon account of Christ healing His "other sheep . . . which are not of this fold" (John 10:16). Christ asked the people if there were any sick among them and said, "Bring them hither and I will heal them, for I have compassion upon you; my bowels are filled with mercy. . . . And he did heal them every one as they were brought forth unto him. . . . And it came to pass that he commanded that their little children should be brought. . . . And he spake unto the multitude, and said unto them: Behold your little ones" (3 Nephi 17:7, 9, 11, 23)."
3 Nephi 17:7-9
BOOK OF MORMON ART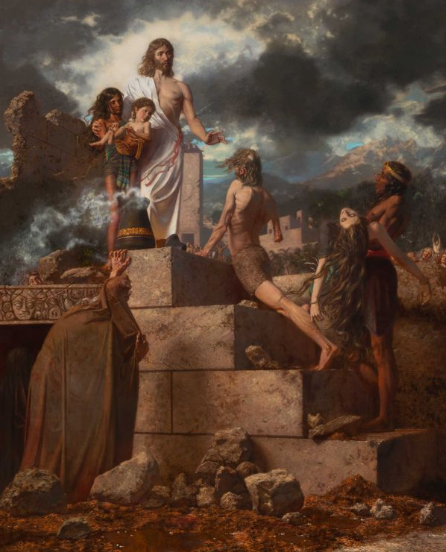 Patrick Devonas
oil on board, 2007
3 Nephi 17:9
BOOK OF MORMON ART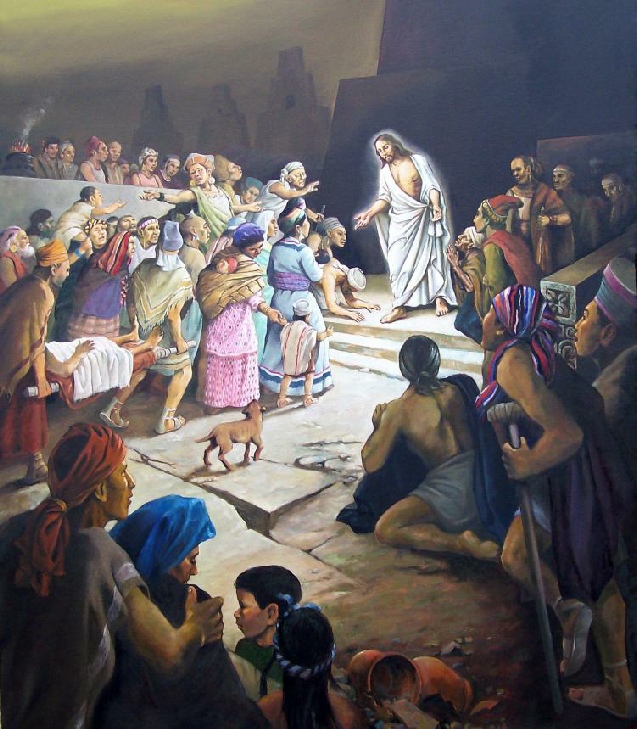 Jorge Cocco Santangelo
3 Nephi 17:9
BOOK OF MORMON ART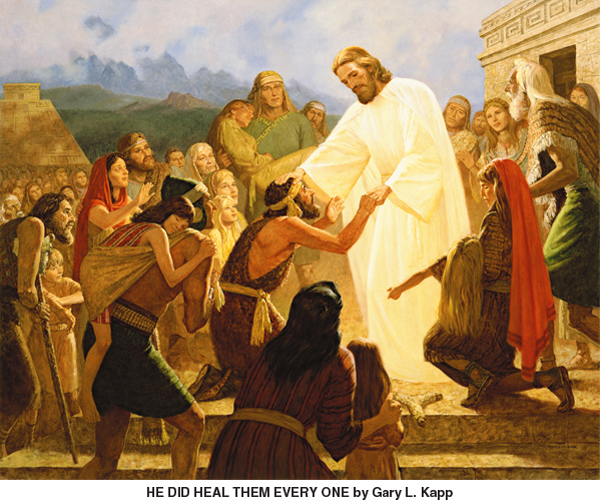 Gary L. Kapp.
The Book of Mormon records that when Jesus Christ visited the people of ancient America, He taught them wonderful things, some of which were similar to what He had taught during His mortal life in the Holy Land. Before He left that first day, He looked upon them with compassion, as He did through His mortal ministry, and invited those who were sick or hurt in any way to come to Him, and He would heal them.
"And it came to pass that when he had thus spoken, all the multitude, with one accord, did go forth with their sick and their afflicted, and their lame, and with their blind, and with their dumb, and with all them that were afflicted in any manner; and he did heal them every one as they were brought forth unto him."
(This painting is the 8th of 9 on the page. Scroll down.)
3 Nephi 17:10
BOOK OF MORMON ART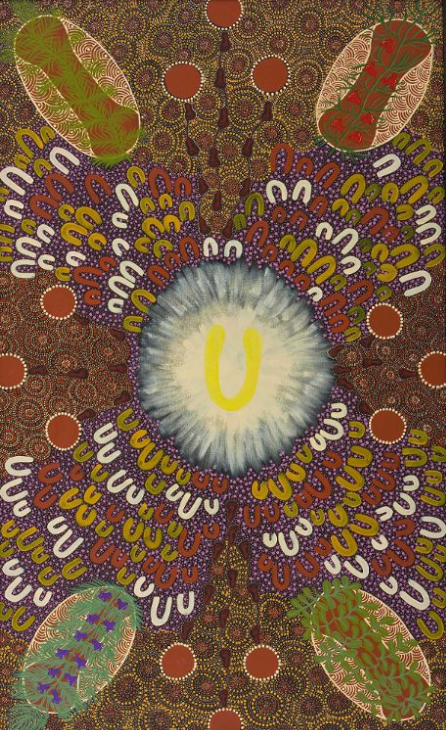 Colleen Wallace
acrylic on canvas, 2008.
Artist's Comment:
"I live in the only Latter-day Saint Aboriginal community in Australia, a rural village called Angkula. Since my baptism, missionaries have been reading the Book of Mormon to me. It has transformed my life and art. My artwork is my testimony of the greatest things of God—the hope of eternal life through the Atonement. The painting narrates Christ's visit to America. He is the central figure, healing the throngs of diverse people. In each corner of the painting there is a 'coolamon,' a wooden dish, containing a sprig of a medicinal plant, illustrating His healing. In Aboriginal art, dots signify the 'dreamtime,' a mythological realm in ancient spiritual beliefs. However, in this context, they show that Christ's coming is being adopted into Aboriginal culture, significant because the Aboriginal race is just beginning to accept the restored gospel."
BOOK OF MORMON ART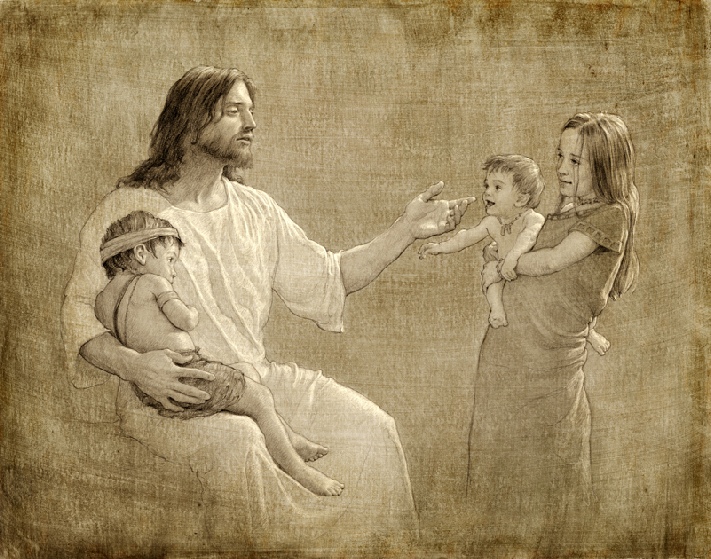 Joseph Franklin Brickey
In the Book of Mormon, the resurrected Lord Jesus Christ made a glorious visit to the people.
"And it came to pass that he commanded that their little children should be brought."