An Artistic Tour of 3 Nephi 18-30
3 Nephi 18:1-4
BOOK OF MORMON ART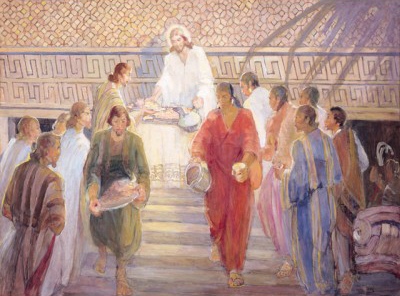 Minerva Teichert
"In this painting, against the backdrop of an elaborate Meso-american temple, the resurrected Savior administers the sacrament with the help of his newly chosen leaders."
3 Nephi 18:1-9
BOOK OF MORMON ART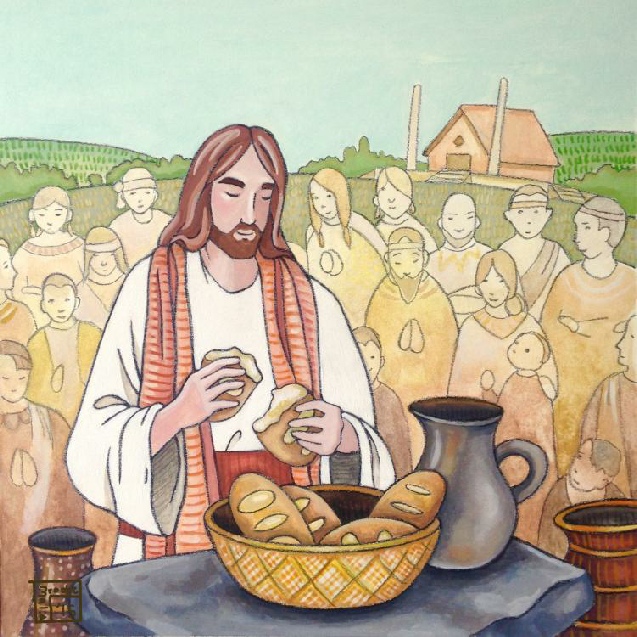 Jesus Christ Administering the Sacrament in America
3rd Place in the 2017 Book of Mormon Central Art Contest
Brooke Malia Mann is an art teacher for individuals with mental impairments and is also a freelance illustrator. Christ's visit to the people in the Americas is one of the most powerful scriptural accounts in the whole Book of Mormon. This piece depicts the moment when Christ administers the sacrament to the Nephites. This piece is meant to span all ages, so that even children can relate to and love the scriptures.
BOOK OF MORMON ART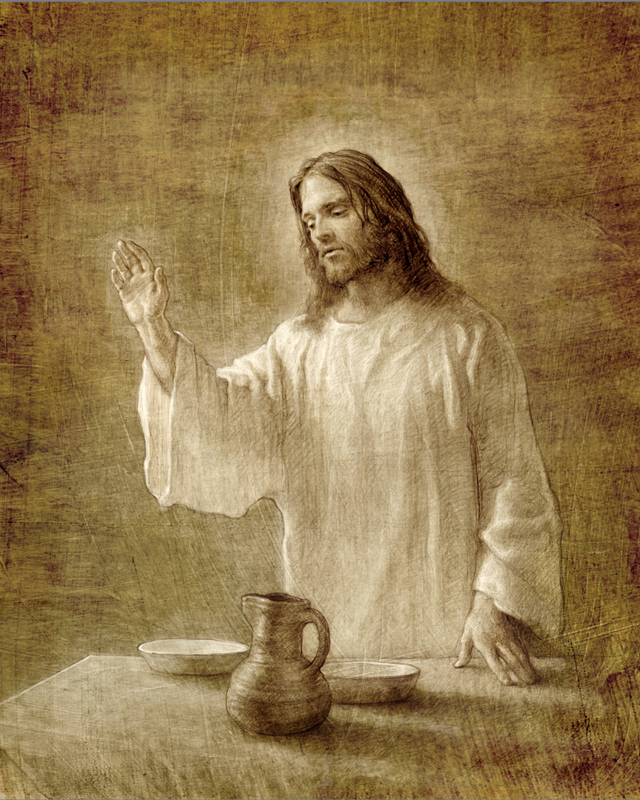 Joseph Franklin Brickey
The Book of Mormon teaches that Jesus blessed the bread and wine for the people of the Promised Land, telling them, "This shall ye do in remembrance of my body, which I have shown unto you. And it shall be a testimony unto the Father that ye do always remember me. And if ye do always remember me, ye shall have my Spirit to be with you."
3 Nephi 18:7
BOOK OF MORMON SCULPTURE

Jacob Elton Dobson
Hydrocal plaster
3 Nephi 19
BOOK OF MORMON MUSIC
I Was There When He Came - Marilyn Arnold and Maurine Ozment
Sacred Hymns of the Book of Mormon
Mormon has written some of the wondrous things that happened and things that Jesus said when He visited the people of ancient America, but the experience of the people present at that time surpasses anything that we can imagine. They made certain to certify, individually, that He came, that He lives, and that He redeems and loves. This song expresses some of the wonder of that supernal visit, as recorded in the Book of Mormon.
3 Nephi 19:4
BOOK OF MORMON MOLDED AND PAINTED CLAY SCULPTURE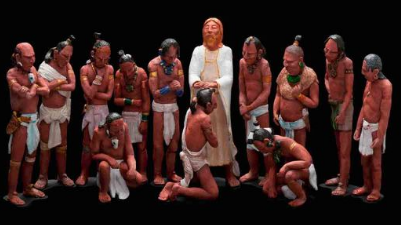 Filiberto Gutierrez
2012
"I can almost name each piece as I form it, for its expression of solemnity almost brings out a personality that I can recognize. The scriptural source for this sculpture is 3 Nephi, chapters 12, 15, and 28, in the Book of Mormon."
3 Nephi 19:24,25
BOOK OF MORMON ART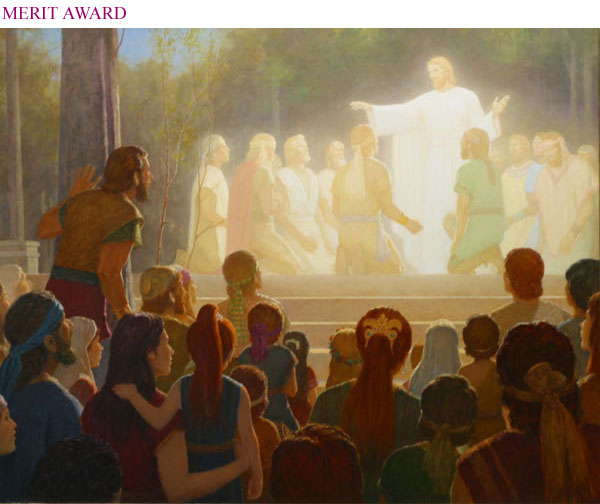 The Light of His Countenance Did Shine Upon Them
Gary Kapp
Oil on canvas
Merit Award
3 Nephi 20:3
BOOK OF MORMON COPPER WORK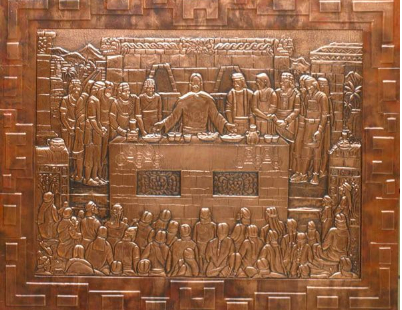 Bread of Life in the Land of Abundance
Miguel Angel Gonzales
This artwork refers to the importance of the sacrament that was administered by our Lord here in the Americas.
3 Nephi 20:29
BOOK OF MORMON ART

Enrique Manuel Garcia
oil on board, 1999
3 Nephi 20:30
BOOK OF MORMON ART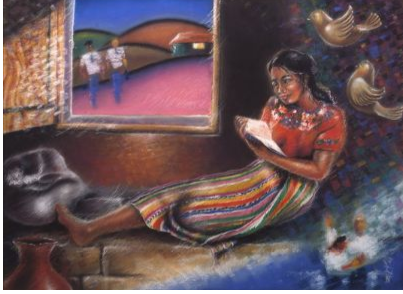 Erick Duarte
pastel on paper, 1990
Church History Museum
3 Nephi 23:1
BOOK OF MORMON QUILT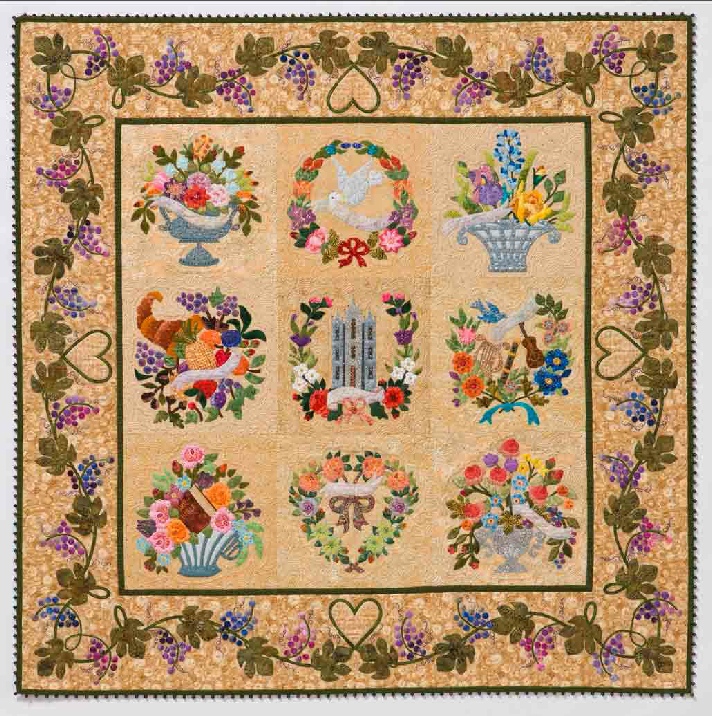 Joyce Stewart
cotton fabric with crystal embellishments
Scriptures from Isaiah are represented on banners in each of the nine floral blocks. The Salt Lake Temple is depicted in the center block. The grapevine border suggests abundance of life and the life of the Savior.
3 Nephi 23:7
BOOK OF MORMON ART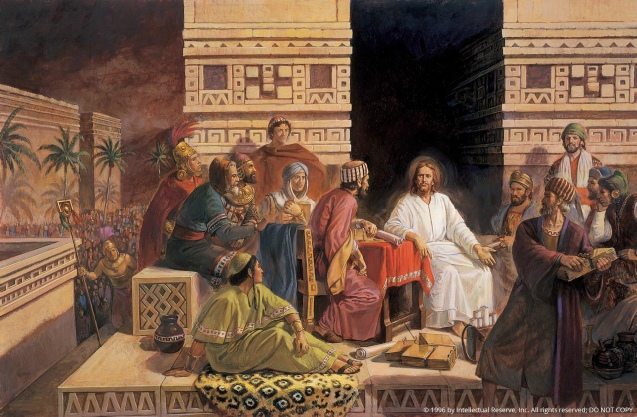 Robert T. Barrett
3 Nephi 23:8
BOOK OF MORMON ART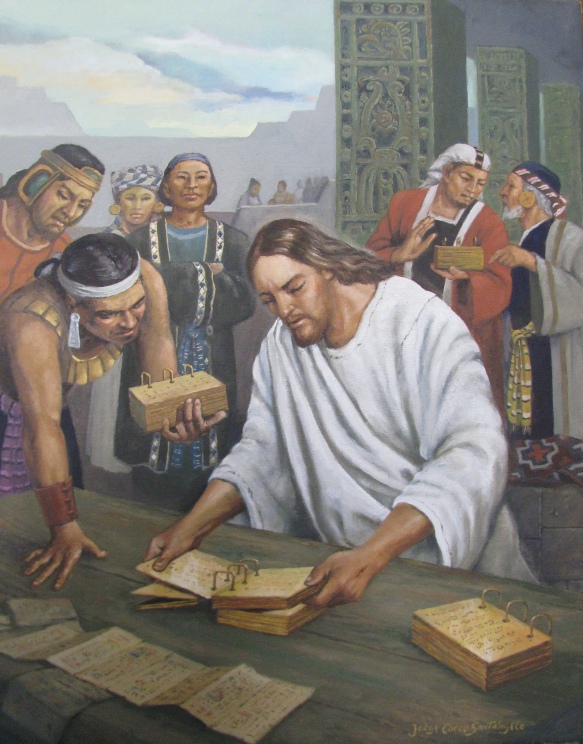 Jorge Cocco Santangelo
3 Nephi 24:17
BOOK OF MORMON GLASS ART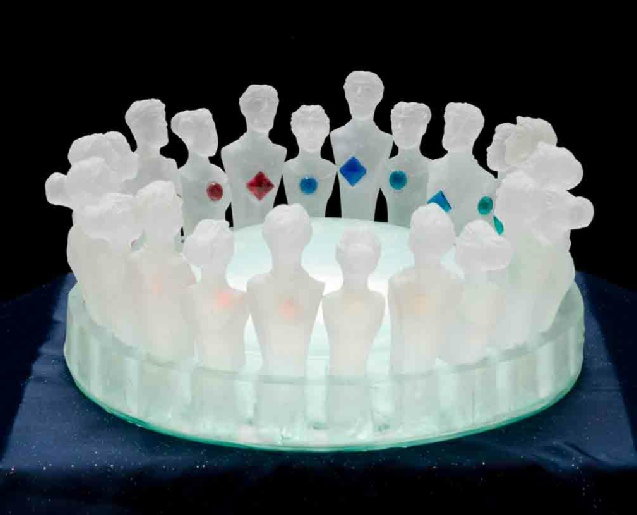 They Shall Be Mine in That Day When I shall Come to Make Up My Jewels
Yvonne Bent
glass figures and etched glass base
Abraham sought for the blessings of the fathers, which would be the heritage of his children. Those future children were described by the Lord as stars and sands. Sand is unstable until tried through fire. Once refined, sand becomes glass. Light passing through a prism of glass is refracted into separate colors. Each tribe of Israel had a separate gem that identified it. Though the exact stone for each tribe is not known, I can see how each tribe could make up the complement of colors that join together to make white light. As each house or tribe of Israel gives their special color and gift, they create one eternal round.
3 Nephi 25:6
BOOK OF MORMON PATCHWORD FABRIC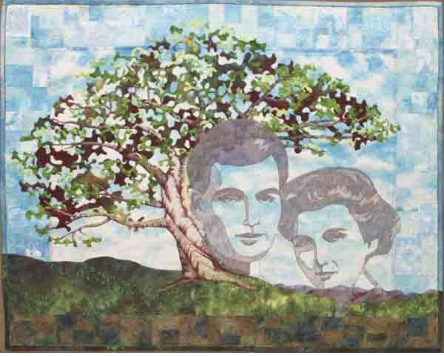 Lyric Montgomery Kinard
Adam and Eve began the process of mortality through which countless generations of children have been brought into the world. Lehi's vision of the Tree of Life is a beautiful symbolic representation of the linking of families through God's love, power, and priesthood ordinances found in holy temples. Latter–day Saints are acutely aware of the linking of generations and of our connection to humans as brothers and sisters who are the literal children of our Heavenly Father. In this quilt, photographs of ancestors were scanned and digitally collaged, and then printed onto fabric to create both the individuals in the portraits and the families in the border of the quilt.
3 Nephi 27:2
BOOK OF MORMON ART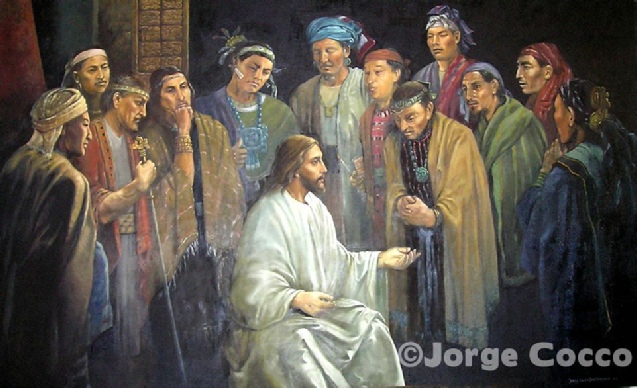 Cristo con los doce discípulos en América
Jorge Cocco Santangelo
3 Nephi 27:14
BOOK OF MORMON ART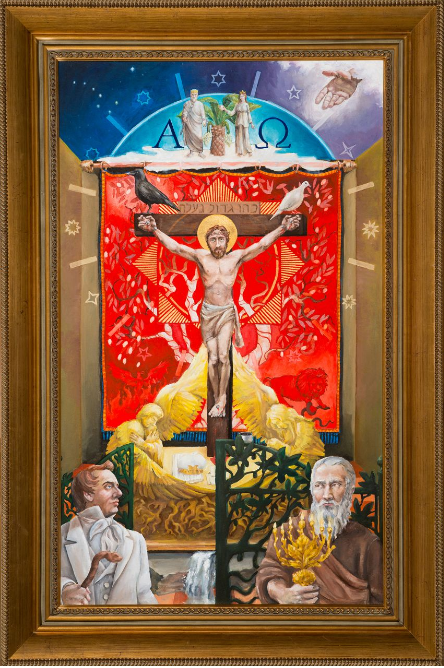 Benjamin Pack
Oil on canvas on board
Paul speaks of Christ as the Great High Priest, who, instead of offering animal sacrifices, laid down His own life to provide the way for us to be brought back into God's presence (Hebrews 4:14). He sacrificed His life upon the cross and taught that because He did so, all men can be drawn unto Him (3 Nephi 27:14). He is the Redeemer of the world, and His Atonement makes God's eternal plan efficacious.
Merit Award Winner
BOOK OF MORMON MUSIC
We Three Were Caught Up - Marilyn Arnold and Maurine Ozment
Sacred Hymns of the Book of Mormon
When Jesus Christ visited the people of ancient America, he chose 12 men whom He designated as disciples, to organize His church and teach the people after He again ascended into heaven. During His time with these men, He granted unto each their own desire. Three of them desired to live on earth until He came again, so that they could continue to serve Him and minister to the world in the flesh. He took those three up to heaven for further instruction.
3 Nephi 28
BOOK OF MORMON ART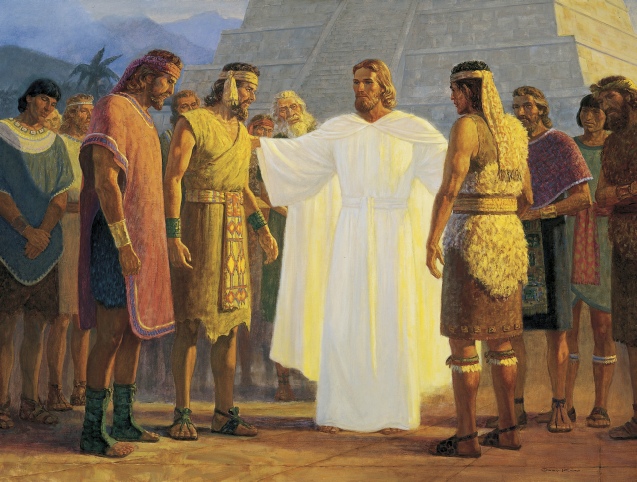 Christ with the Three Nephites
Gary L. Kapp
3 Nephi 28:13
BOOK OF MORMON ART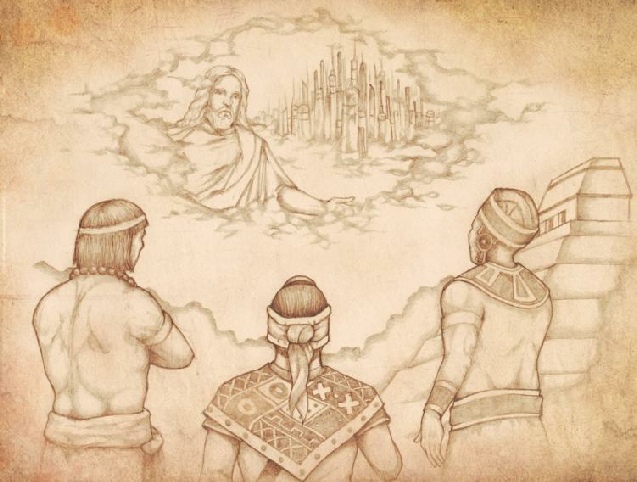 The Three Nehites Seeing and Hearing Unspeakable Things
Jody Livingston