A Library Tour through
3 Nephi 23-24
3 Nephi 23
1 And now, behold, I say unto you, that ye ought to search these things. Yea, a commandment I give unto you that ye search these things diligently; for great are the words of Isaiah.
2 For surely he spake as touching all things concerning my people which are of the house of Israel; therefore it must needs be that he must speak also to the Gentiles.
3 And all things that he spake have been and shall be, even according to the words which he spake.
4 Therefore give heed to my words; write the things which I have told you; and according to the time and the will of the Father they shall go forth unto the Gentiles.
5 And whosoever will hearken unto my words and repenteth and is baptized, the same shall be saved. Search the prophets, for many there be that testify of these things.
6 And now it came to pass that when Jesus had said these words he said unto them again, after he had expounded all the scriptures unto them which they had received, he said unto them: Behold, other scriptures I would that ye should write, that ye have not.
7 And it came to pass that he said unto Nephi: Bring forth the record which ye have kept.
8 And when Nephi had brought forth the records, and laid them before him, he cast his eyes upon them and said:
9 Verily I say unto you, I commanded my servant Samuel, the Lamanite, that he should testify unto this people, that at the day that the Father should glorify his name in me that there were many saints who should arise from the dead, and should appear unto many, and should minister unto them. And he said unto them: Was it not so?
10 And his disciples answered him and said: Yea, Lord, Samuel did prophesy according to thy words, and they were all fulfilled.
11 And Jesus said unto them: How be it that ye have not written this thing, that many saints did arise and appear unto many and did minister unto them?
52 Life-changing Questions from the Book of Mormon
John Hilton III & Brad Wilcox
Chapter 47: How be it that ye have not written this thing?
This is one of 35 direct questions asked by Jesus himself, as recorded in the Book of Mormon. After requesting to view their records, and reading through the account of Samuel the Lamanite, he pointed out that, while they had written his prophecies, they had not written all of the fulfillment. Surely those months after the cataclysms of Jesus's death and resurrection had been a busy, hectic, and perhaps emotional and traumatic time. The Book of Mormon does not tell us that Nephi offered such excuses to the Lord, only that he remembered that it hadn't been written, so he rectified the problem.
From the book: "Likening this account to ourselves can make us a bit uncomfortable. How excited would we be if the Lord asked to see the records we have kept? It is unnerving for you to imagine having a similar conversation with Him at some future date? He knows all the blessings, trials, experiences, insights, and tender mercies that He has bestowed upon us. What if He were to look over our journals and say, 'How be it that ye have not written about these things?'
"God already knows everything about us, so keeping a journal is not to inform Him but to inform ourselves of the challenges we have encountered, the lessons we have learned, and the ways in which we have grown – or need to grow. Along with being a record of our lives, a journal can be a wonderful tool to help us live our lives on a higher level. It can also be a resource from which we can teach and edify others.
"Someone once asked Brad why he is such an avid journal writer. He responded, It's cheaper than counseling!' Truly, a journal does provide a safe place where we can explore our innermost feelings and deal with them appropriately. Journals validate our feelings as well as our observations, ideas, and dreams. If we are wise, we don't wait to write until we have something important to say. Most of the time, it is in the act of writing that we realize what we have to say and why it's important. . . .
"As we seek for the hand of the Lord in our lives, we will find it. Writing down what we see will increase our ability to recognize and remember these blessings.
"President Spencer W. Kimball counseled, 'Write. . . your goings and your comings, your deeper thoughts, your achievements and your failures, your associations and your triumphs, your impressions and your testimonies.' People sometimes respond by saying, 'But I don't have any deep thought or grand triumphs worth recording. Nothing great or spiritual ever happens to me.'
"Others have felt this same way. On Saturday, June 20, 1942, Anne Frank, a young Jewish girl who eventually died in the Holocaust, wrote the following in her personal journal:
"'I haven't written for a few days, because I wanted first of all to think about my diary. It's an odd idea for someone like me to keep a diary; not only because I have never done so before, but because it seems to me that neither I – nor for that matter anyone else – will be interested in the unbosomings of a thirteen-year-old schoolgirl. Still, what does that matter? I want to write, but more than that, I want to bring out all kinds of things that lie buried deep in my heart.'
"And now millions have read Anne Frank's diary, very much 'interested' in what this 'thirteen-year-old schoolgirl' recorded.
We, too, have things buried deep inside that must find a way out. They can be freed in our journals. Perhaps our journals will never be published like Anne Frank's was. . . . we still benefit from writing them. Like shooting baskets all alone in your driveway or running all alone on a track, writing is an activity that does not require an audience beyond yourself to be worthwhile or enjoyable. . . . Personal journals are an ideal environment in which we may 'become.' . . . Our journals help us build our relationship with the Lord. They are also tools that help us become more like Jesus Christ and reach our highest potential."
When you finish reading this book, that doesn't have to be the end of pondering scriptural questions. The authors list several more questions for personal consideration, including, "of course, every deacon's favorite question: 'Whither shall I go to obtain food?' (1 Nephi 16:23). . . .
"And these questions only scratch the surface. Almost every question in the Book of Mormon invites pondering and could be addressed from a variety of angles and different points of view. And let's not stop with the 543 questions in the Book of Mormon. There are 3,444 questions in the other standard works, and we receive new inspired questions from God's chosen servants in every general conference. . . .
"Prophets throughout the Book of Mormon have recorded questions that deserve answers. Write your answers to those questions!"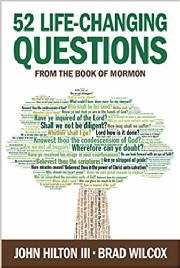 12 And it came to pass that Nephi remembered that this thing had not been written.
13 And it came to pass that Jesus commanded that it should be written; therefore it was written according as he commanded.
14 And now it came to pass that when Jesus had expounded all the scriptures in one, which they had written, he commanded them that they should teach the things which he had expounded unto them.
3 Nephi 24
1 And it came to pass that he commanded them that they should write the words which the Father had given unto Malachi, which he should tell unto them. And it came to pass that after they were written he expounded them. And these are the words which he did tell unto them, saying: Thus said the Father unto Malachi -- Behold, I will send my messenger, and he shall prepare the way before me, and the Lord whom ye seek shall suddenly come to his temple, even the messenger of the covenant, whom ye delight in; behold, he shall come, saith the Lord of Hosts.
2 But who may abide the day of his coming, and who shall stand when he appeareth? For he is like a refiner's fire, and like fuller's soap.
3 And he shall sit as a refiner and purifier of silver; and he shall purify the sons of Levi, and purge them as gold and silver, that they may offer unto the Lord an offering in righteousness.
4 Then shall the offering of Judah and Jerusalem be pleasant unto the Lord, as in the days of old, and as in former years.
5 And I will come near to you to judgment; and I will be a swift witness against the sorcerers, and against the adulterers, and against false swearers, and against those that oppress the hireling in his wages, the widow and the fatherless, and that turn aside the stranger, and fear not me, saith the Lord of Hosts.
6 For I am the Lord, I change not; therefore ye sons of Jacob are not consumed.
7 Even from the days of your fathers ye are gone away from mine ordinances, and have not kept them. Return unto me and I will return unto you, saith the Lord of Hosts. But ye say: Wherein shall we return?
8 Will a man rob God? Yet ye have robbed me. But ye say: Wherein have we robbed thee? In tithes and offerings.
9 Ye are cursed with a curse, for ye have robbed me, even this whole nation.
10 Bring ye all the tithes into the storehouse, that there may be meat in my house; and prove me now herewith, saith the Lord of Hosts, if I will not open you the windows of heaven, and pour you out a blessing that there shall not be room enough to receive it.
11 And I will rebuke the devourer for your sakes, and he shall not destroy the fruits of your ground; neither shall your vine cast her fruit before the time in the fields, saith the Lord of Hosts.
12 And all nations shall call you blessed, for ye shall be a delightsome land, saith the Lord of Hosts.
13 Your words have been stout against me, saith the Lord. Yet ye say: What have we spoken against thee?
14 Ye have said: It is vain to serve God, and what doth it profit that we have kept his ordinances and that we have walked mournfully before the Lord of Hosts?
15 And now we call the proud happy; yea, they that work wickedness are set up; yea, they that tempt God are even delivered.
16 Then they that feared the Lord spake often one to another, and the Lord hearkened and heard; and a book of remembrance was written before him for them that feared the Lord, and that thought upon his name.
17 And they shall be mine, saith the Lord of Hosts, in that day when I make up my jewels; and I will spare them as a man spareth his own son that serveth him.
18 Then shall ye return and discern between the righteous and the wicked, between him that serveth God and him that serveth him not.