An Artistic Tour of Alma 54-63
BOOK OF MORMON ART
People of Ammon – Home Embrace
Scott Snow
Alma 56
Alma 56 – 58
BOOK OF MORMON MUSIC
"My Little Band"
Marilyn Arnold and Maurine Ozment
Sacred Hymns of the Book of Mormon, 16
My little band, my sons, my sons, will ye to battle go?
Will you fight fiercely for the right against our ruthless foe?
What say ye, sons, so young and pure, will you coarse weapons wield?
Will you fight bravely at my side, with virtue as your shield?
Alma 56:5
BOOK OF MORMON ART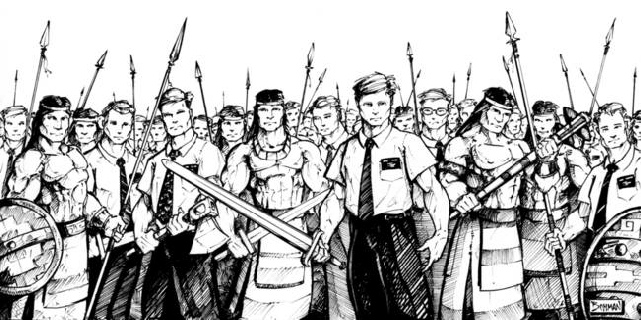 Mike Bohman
A group of young men determined to fight to defend their country, choosing the prophet Helaman to be their leader.
Alma 56:9
BOOK OF MORMON ART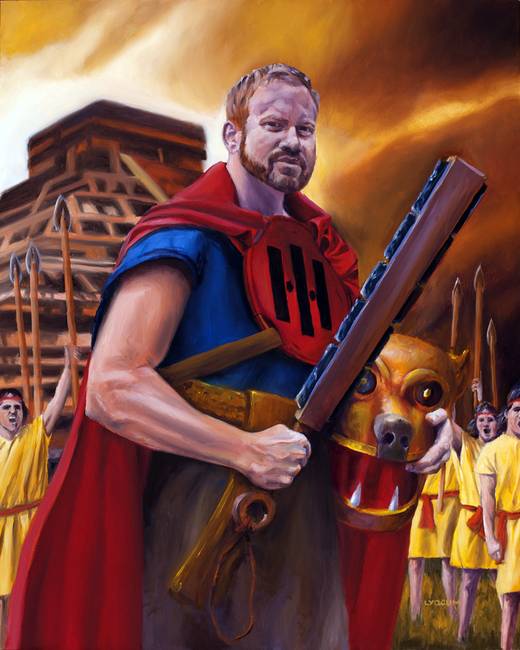 Lester Yocum
Artist's notes:
Helaman, a Nephite prophet and warrior, stands in front of some of the 2060 young Lamanite warriors who have rallied to defend their adopted nation. Faithful and exactly obedient in all things, their miraculous preservation through some terrible battles was an inspiration to their fellow warriors as well as to the man who so ably led them, Helaman.
Alma 56:27
BOOK OF MORMON ART
Covenant of Fathers Faith of Sons
Scott Snow
Alma 56:47
BOOK OF MORMON ART
People of Ammon – Teaching in their Youth
Scott Snow
Alma 56:47-48
BOOK OF MORMON ART
Elspeth Young
In the Book of Mormon, a group of faithful youth went to war to defend their people's liberties from aggressors. "They had been taught by their mothers, that if they did not doubt, God would deliver them. And they rehearsed unto me the words of their mothers, saying, 'We do not doubt our mothers knew it.'"
BOOK OF MORMON ART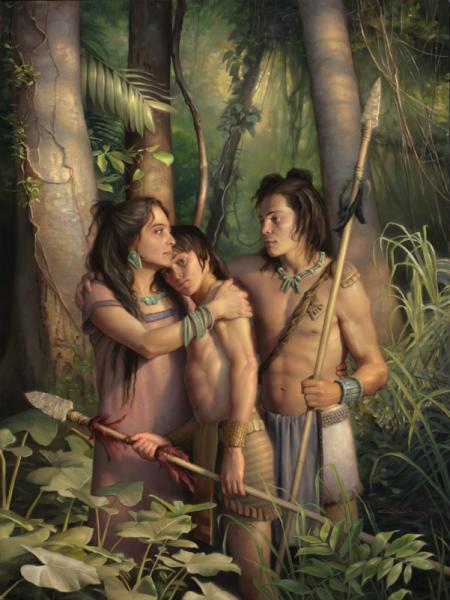 Joseph Franklin Brickey
Alma 56:46-48
BOOK OF MORMON ART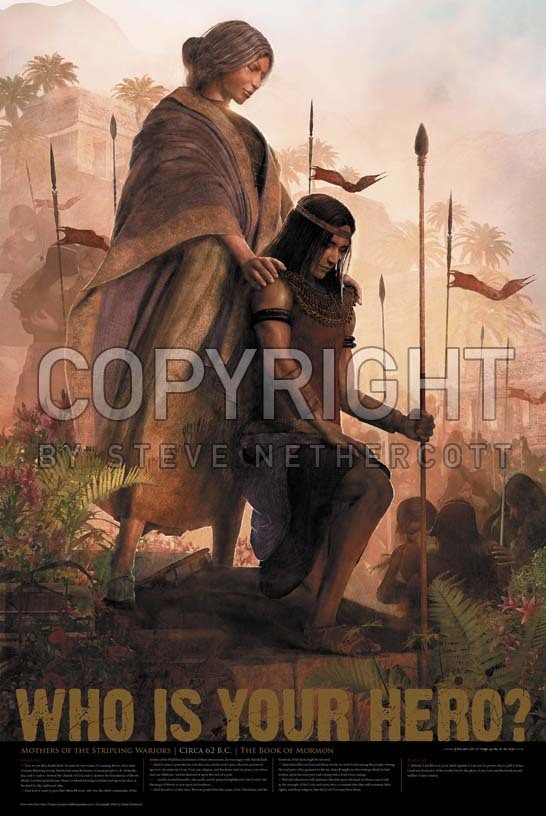 Mothers of the Stripling Warriors
Steve Nethercott – Real Heroes Posters
The Book of Mormon records the faith of Helaman's "Stripling Warriors:"
"As I had ever called them my sons, (for they were all of them very young), even so they said unto me, 'Father, behold, our God is with us, and he will not suffer that we should fall. Then let us go forth; we would not slay our brethren if they would let us alone. Therefore let us go, lest they should overpower the army of Antipus."
BOOK OF MORMON ART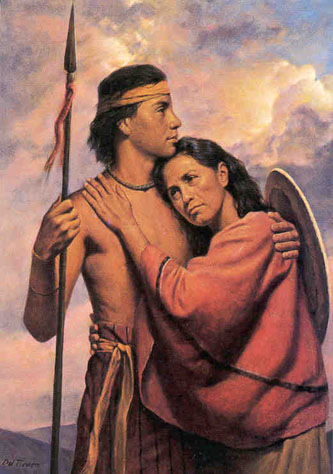 Del Parson
This image was inspired by my wife and son when he was leaving on his mission. We were at the airport saying our good-byes, and I watched him as he hugged my wife. She was hanging on, having a very hard time letting him go, and he was hugging her, but he was looking beyond her — toward the airplane. He was obviously ready to go. The expression on her face was one of trepidation. It was as if she were asking herself, "Have I prepared him for this? Have I done all I could?" While his expression was one of eager determination. He had been preparing so long for this and he was ready to get started.
That moment made me think of the story of the Stripling Warriors. Those two thousand young men had never fought before. They had no idea what they were up against, or what to expect going into battle against the Lamanites, but that didn't matter to them. They were prepared in spirit and in faith. They knew that the things their mothers had taught them were true, and they were willing to march into the unknown, with their strength and courage coming from their faith. I think about those young men and their resolve to defend their families and their homes. They went forth with bravery and they succeeded. Then I think about their mothers. I know how worried and afraid they must have been. That's what moms do. They worry and they wonder if they have prepared their sons. That is really the feeling I wanted to portray in this painting.
Alma 56:47,48
BOOK OF MORMON ART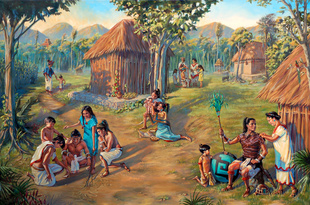 Megan Rieker
A
Alma 56:48
BOOK OF MORMON ART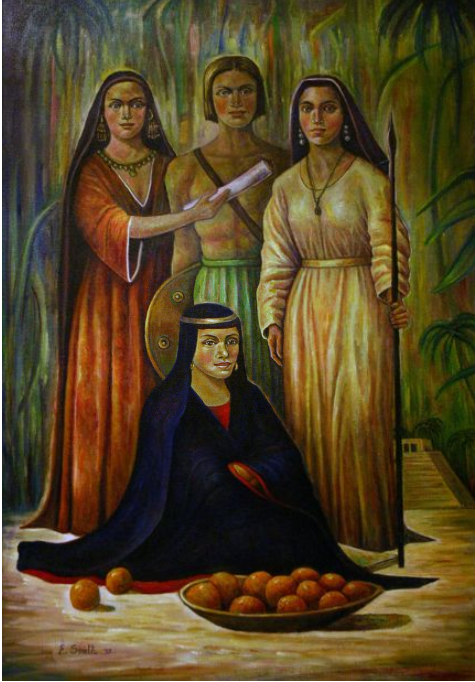 What Power a Mother's Teachings
Elaine Smith
Oil on canvas, 1999
Alma 57:19
BOOK OF MORMON SCULPTURE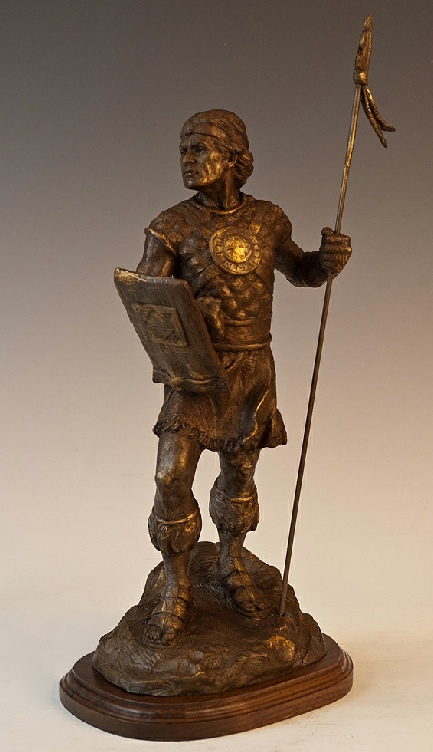 Mike Call
The story of the stripling warriors in the Book of Mormon has always been a favorite of mine.
This piece was inspired by my community. During the summer of 2012, well over 2000 young men dressed up and marched as stripling warriors in our Pioneer Day parade.When I heard about the plans to reenact the march of the stripling warriors as a part of the parade, I was very excited. A thrill went through me and I wanted to create a sculpture to commemorate what I knew would be memorable event. It was my hope that a small statue might serve as an effective remembrance to those who participated. One thing that surprised me was that how many mothers came to my studio to purchase these for their sons. I was able to meet many mothers who deeply desired the protection that the stripling warriors received for their own families.
I hope that this statue helps remind us that these young men, who were taught by their mothers, who did not doubt, and who were faithful and obedient in all things were protected and preserved by the Lord. It is also my hope that our families may be blessed in a similar way.
Alma 57:25
BOOK OF MORMON ART

It's True, Sir, All Present and Accounted For
Oil on canvas, by Clark Kelley Price, Thayne Second Ward, Thayne Wyoming Stake.
"According to the goodness of God, … there was not one soul of them who did perish" (Alma 57:25). Helaman's stripling warriors, fatigued and wounded, stand faithfully in their ranks.
BOOK OF MORMON ART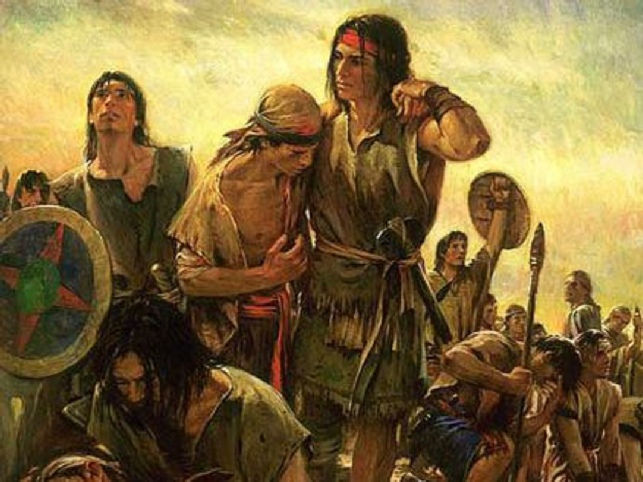 Walter Rane
Oil on board, 2003. Commissioned.
Helaman spoke admiringly of the youth whom he led to battle:
"Now this was the faith of these of whom I have spoken; they are young, and their minds are firm, and they do put their trust in God continually."
Alma 58:8
BOOK OF MORMON ART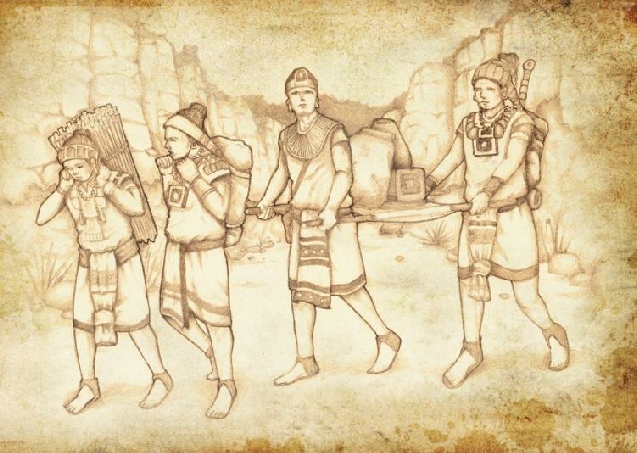 Jody Livingston
Alma 58:13
BOOK OF MORMON ART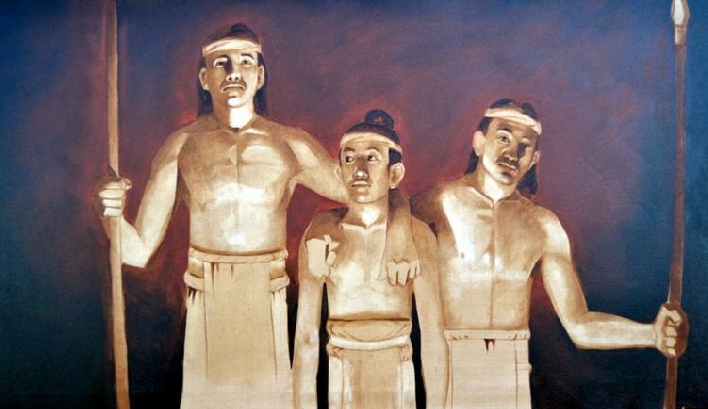 Daniel Kaonohi
The painting is depicting three brothers before they join the fight with the two thousand other stripling warriors. I wanted to show the older brothers with their arms around their younger brother in the middle showing their confidence and showing their protection of their younger sibling.
I had my nephews pose for me and their ages are 15, 14, and 13 the ages of those young men who fought. We are of Hawaiian decent and believe we are literal descendants of Lehi and Nephi, giving the painting a more authentic look than just having any young men pose for the picture.
Alma 58:39
BOOK OF MORMON ART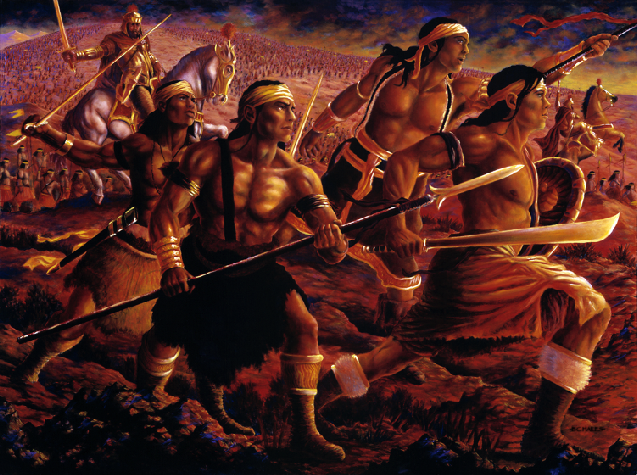 Brian C. Hailes
oil on masonite, original 36"x48"
Alma 60:36
BOOK OF MORMON ART
The Epistle – Defending the Cause of Freedom
Alma 62:41-43
BOOK OF MORMON ART
Conferring the Mantle of Liberty
Alma 63:6
BOOK OF MORMON ART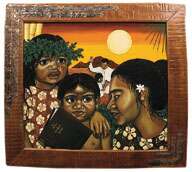 Taking the Stick of Joseph to the Children of Hagoth
painting, mixed media collage, by Sylvia Huege de Serville, Takapuna Ward, Auckland New Zealand Harbour Stake. Polynesian descendants of Book of Mormon peoples receive and accept the Book of Mormon—the stick of Joseph (see Alma 63:5–8; "Conference in Samoa," Ensign, April 1976, 74).