An Artistic Tour Through Moroni
Moroni 1:1-3
BOOK OF MORMON ART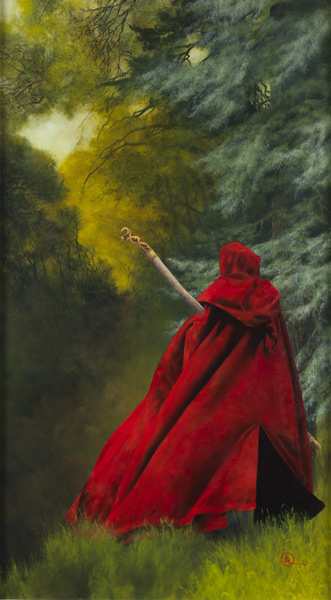 And I Will Not Deny the Christ
Elspeth Young
The Book of Mormon plates were finally deposited in the Hill Cumorah by Moroni, a faithful servant of Jesus Christ. He was the last Christian left alive after the battles that destroyed his people, who had already fallen into darkness.
He wrote, "Because of their hatred they put to death every Nephite that will not deny the Christ. And I, Moroni, will not deny the Christ; wherefore, I wander whithersoever I can for the safety of mine own life."
Moroni 10
BOOK OF MORMON MUSIC
"Ye May Know If I Write What Is True"
Marilyn Arnold & Maurine Ozment
Sacred Hymns of the Book of Mormon, 31
An astounding, unique, and very precious feature of the Book of Mormon is the promise, as expressed by Moroni:
"And when ye shall receive these things, I would exhort you that ye would ask God, the Eternal Father, in the name of Christ, if these things are not true.
"And if ye shall ask with a sincere heart, with real intent, having faith in Christ, He will manifest the truth of it unto you, by the power of the Holy Ghost."
Millions of people have tested this promise and received the witness from the Holy Ghost that the Book of Mormon is true, that it is the word of God. There is no expiration date on the promise. God is faithful and will fulfill what He has promised, to those who are willing to follow where He leads.
Moroni 10:32
BOOK OF MORMON ART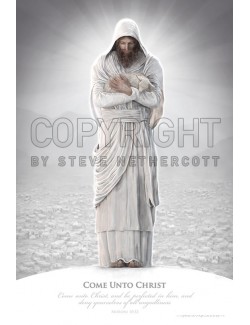 Steven Nethercott, Real Heroes Poster
Moroni, the last writer of the Book of Mormon, encourages his readers to believe in Jesus Christ and to believe in the words of the Book of Mormon, which came to us by the gift and power of God:
"Yea, come unto Christ, and be perfected in him, and deny yourselves of all ungodliness. And if ye shall deny yourselves of all ungodliness, and love God with all your might, mind, and strength, then is his grace sufficient for you, that by his grace ye may be perfect in Christ. And if by the grace of God ye are perfect in Christ, ye can in nowise deny the power of God."
"Real Heroes, Real Power. Real Hero Posters strives to capture the spirit of real heroes, the uniqueness of their world, the strength of their character, and the reality of their heroism."