An Artistic Tour of Alma 19-22
Alma 19:10
BOOK OF MORMON COLORED PENCIL ART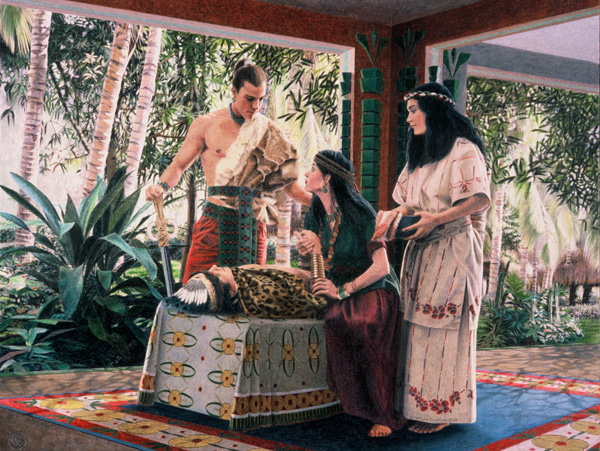 Because of thy Exceeding Faith
Sheri Lynn Boyer Doty
Winner of 1999 International Art Competition
When Ammon taught the gospel to King Lamoni, he was so overcome that he fell to the ground, and was unconscious for several days. The queen called for Ammon. Ammon told her that the king would awaken the next day, and the queen expressed her belief in Ammon's words. Ammon recognized great faith in this answer, and said, "Blessed art thou because of thy exceeding faith." Her husband was raised according to the word of Ammon, and her faith was verified.
BOOK OF MORMON ART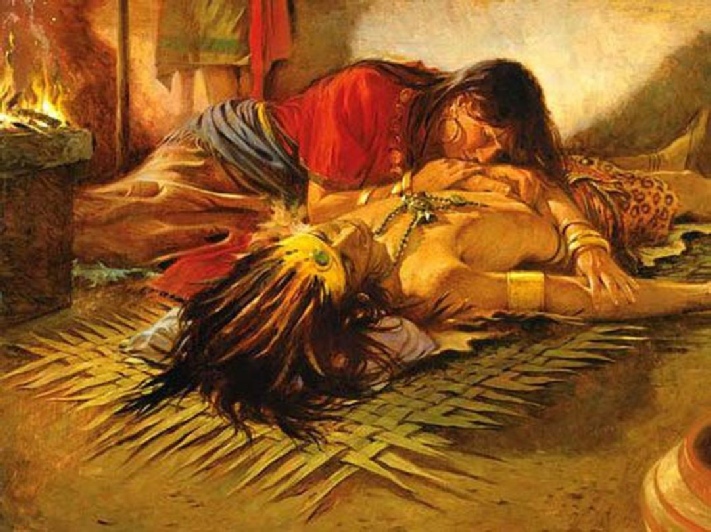 Walter Rane
Oil on board. Commissioned.
Alma 19:11
BOOK OF MORMON ART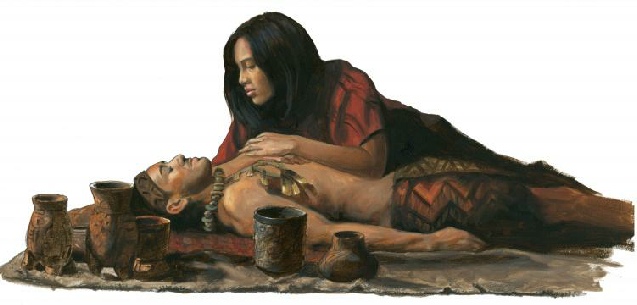 James H. Fullmer
Alma 19:12
BOOK OF MORMON ART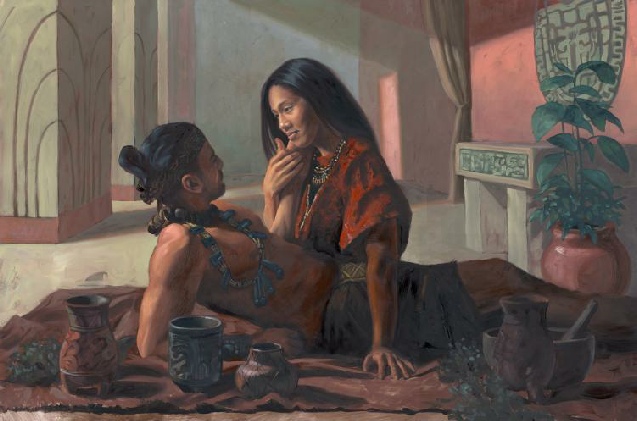 The wife of king Lamoni and the mother of sons and daughters. She showed remarkable faith in the words of Ammon and is told by him that, "There has not been such great faith among all the people of the Nephites."
The queen stayed up all night to watch over her unconscious husband and, in the morning, when he arose in fullfillment of Ammon's prophesy, king and queen share a powerful spiritual experience which fells them to the ground.
Abish awakens the queen who then praises God, blesses her people and speaks in tongues before helping Lamoni to his feet. Together they ministered to their people and created a haven in their kingdom for the followers of the true God.
Alma 19:17
BOOK OF MORMON ART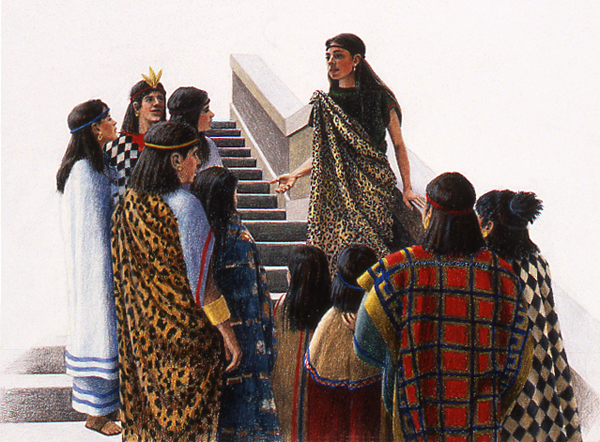 Sheri Lynn Doty
In fact, when the king arose he testified of God's works and plan. The Spirit came upon the queen and all those who listened, and they all fell to the earth. This was witnessed by a lone individual - Abish, who had already been converted to the Lord on account of a vision.
The Book of Mormon records, "Therefore, when she saw that all the servants of Lamoni had fallen to the earth, and also her mistress, the queen, and the king, and Ammon lay prostrate upon the earth, she knew that it was the power of God; and supposing that this opportunity, by making known unto the people what had happened among them, that by beholding this scene it would cause them to believe in the power of God, therefore she ran forth from house to house, making it known unto the people."
Alma 19:28-30
BOOK OF MORMON ART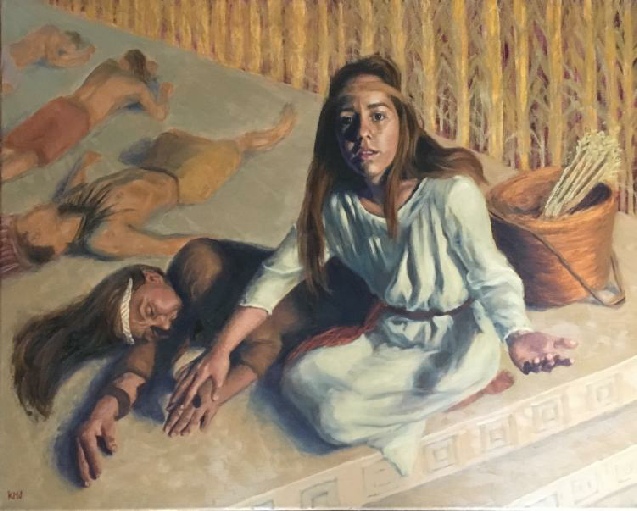 Krista Jones
I chose to portray the story of Abish at the moment right before she touches the Queen. Although Abish's story is a small part in the Book of Mormon, I find it to be incredibly powerful and inspirational. When researching for the piece, I made a list of several verbs describing Abish's actions. She saw, she ran, she gathered, she wept, she believed, she touched. I took these into account when creating this highly symbolic piece. Abish and the Queen are painted in dramatic lighting and suspense, and although difficult to detect in the photo, the crops contain hints of gold. Abish was painted on a 24" x 30" canvas in oil paints.
Alma 19:28-30
BOOK OF MORMON ART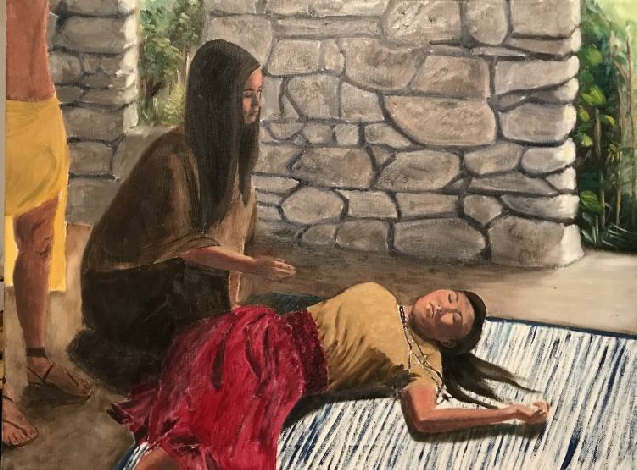 Megan Schaugaard
I love the story of Abish because it shows that even when something goes wrong, the Lord can still have a purpose in it. Though Abish was brought to tears when her actions of gathering others to witness the miracle had seemed to backfire, many were present to witness the testimony of the queen after the queen woke up. This led to the conversion of many. Abish played a vital role. Here Abish is reaching to see if she can wake the queen.
Alma 19:29
BOOK OF MORMON ART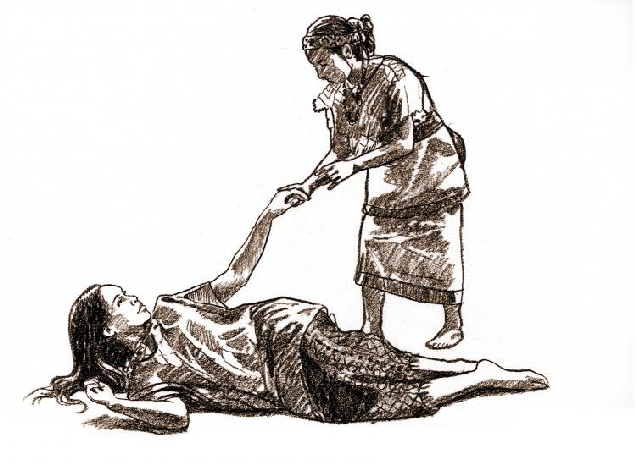 James H. Fullmer
Alma 19:29
BOOK OF MORMON ART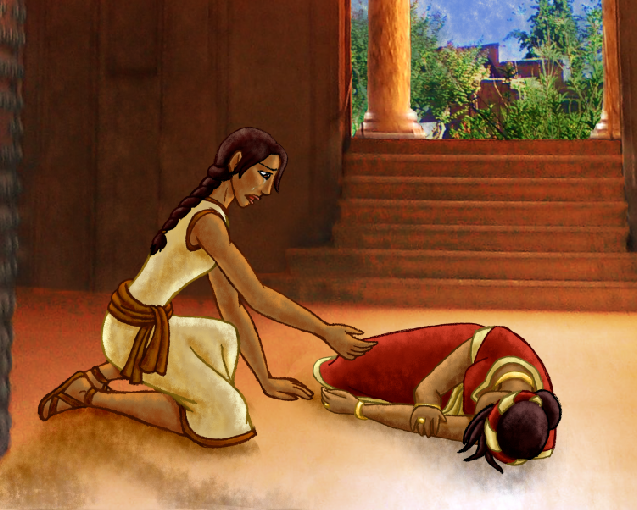 Chelsea Lewis
Alma 19:29
BOOK OF MORMON ART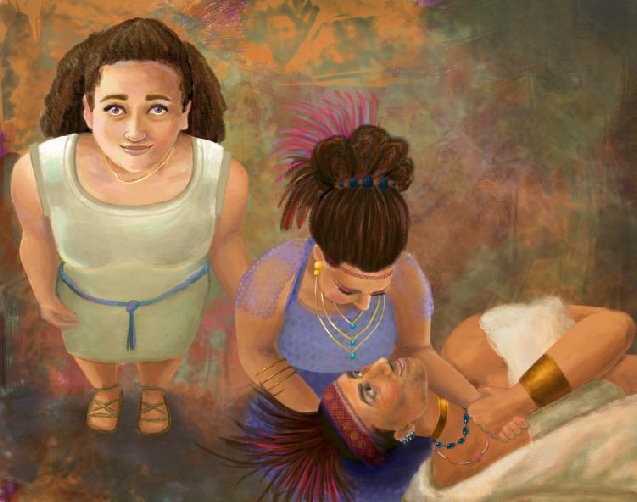 Emily Tueller
"...and as soon as [Abish] touched [the queen], she arose... and cried with a loud voice, saying: O blessed Jesus, who has saved me from an awful hell! O blessed God, have mercy on this people! "[The queen] then took the king, Lamoni, by the hand, and behold he arose..." (Alma 19:29-30)
Abish had a powerful testimony that she had cultivated quietly for years. When she finally had her moment, there was no hesitation. The result changed hundreds of lives.
There will be times in each of our lives when we will be called upon to act based on what we believe.
Raise your faith, and Let your faith raise others.
Alma 22:11
BOOK OF MORMON MUSIC
"I Will Believe"
Marilyn Arnold & Maurine Ozment
Sacred Hymns of the Book of Mormon, 11
Aaron, one of the sons of Mosiah, went to the king over all the Lamanites to teach him the gospel. The king had observed the behavior of the missionaries and wanted to understand their beliefs. As Aaron began to teach him, he asked the king if he believed. The king's answer showed great faith:
"Yea, I believe that the Great Spirit created all things, and I desire that ye should tell me concerning all these things, and I will believe thy words."
He heard Aaron's words, the great Lamanite king,
The words of redemption and hope.
They touched the king's heart and he hungered for truth;
in meekness he fervently spoke:
"If you say tha
t God lives, I'll
believe, I'll believe, . . .
I'll believe what you teach, I'll believe, I'll believe."
Alma 22:18
BOOK OF MORMON ART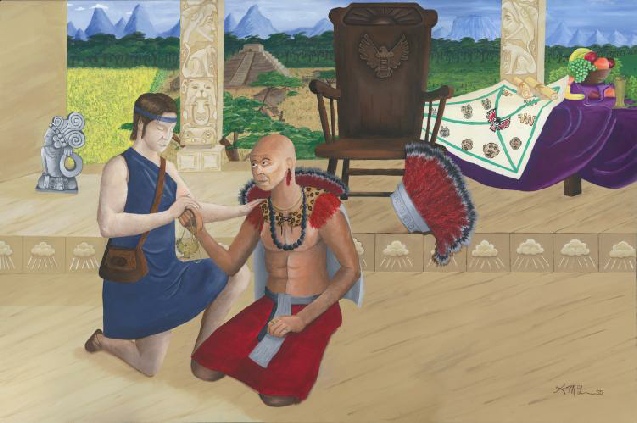 "Do you understand, that everything we have is required by God our Father, to be laid upon the altar? Is there anything that is nearer your heart than the Gospel of the Lord Jesus Christ? Is there anything that stands between you and perfect obedience, to the will of God?" - George Q. Cannon
King Lamoni's father was so hard-hearted that he was prepared to kill his own son for the relationship that he had with a Nephite. His astonishment for the charity which Ammon had for Lamoni helped him become humble and teachable. This wicked man felt the Spirit so strongly that he was willing to give up everything to know God better. And, when asked to offer a broken-heart he did so without hesitation, seeing the blessing of being called one of God's own. (Alma 20-22)
Some symbolism on The Salt Lake temple that I love I have added to my painting:
The Cloud stones; The gospel piercing through superstition and spiritual darkness.

Big-dipper; The lost may look to the priesthood…and find their way back to God.
The all-seeing eye; God always sees you and when you need His help.
Alma 22:27
BOOK OF MORMON ART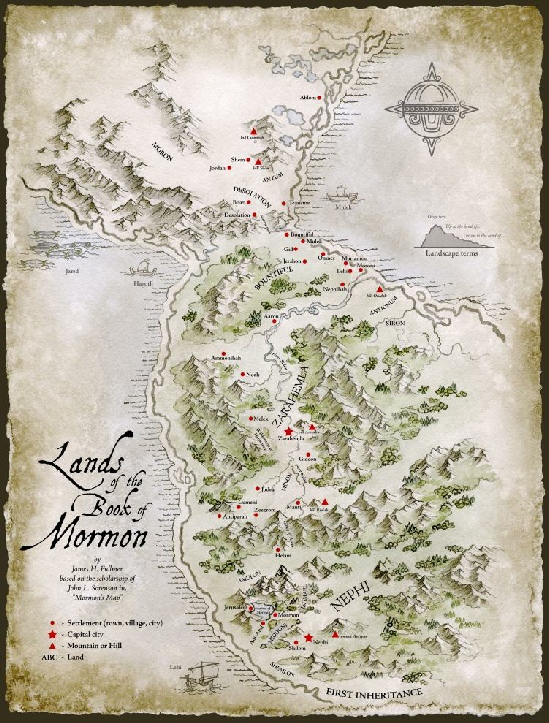 James H. Fullmer
Alma 22:28
BOOK OF MORMON ART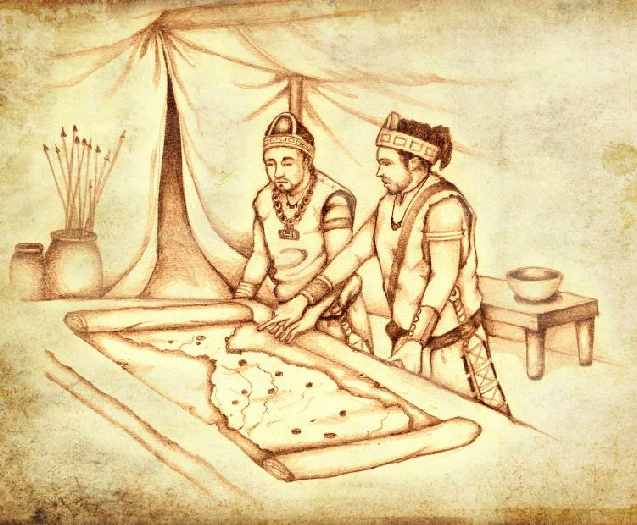 Jody Livingston